Main content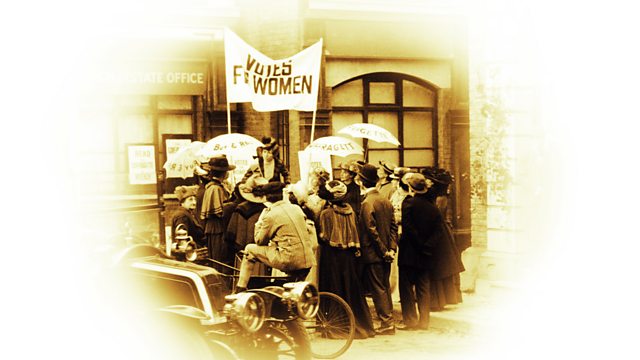 Free Thinking Festival: Suffrage Dramas
A cast of actors local to Gateshead perform extracts from some of the little-known plays by over 400 female playwrights who were helping in the campaign for votes for women.
From a factory worker who mistakenly goes to an anti-suffrage meeting and can't stop herself speaking out, to a titled lady seeking her friend's help in writing an anti-suffrage speech, only to be constantly interrupted by a stream of highly qualified and articulate women, this specially recorded programme presents a selection of Suffrage dramas hosted by Eleanor Rosamund Barraclough and performed by actors local to the area in front of an audience at the Free Thinking Festival in St Mary's Church, Gateshead.
There were over 400 women playwrights in Britain from 1900- 1920 and, in 1908, the Actresses' Franchise League and Women Writers' Suffrage League were both formed specifically to help the campaign for votes for women. The background to the plays will be discussed by Naomi Paxton, a researcher for 'What Difference Did the War Make? World War One and Votes for Women', which is part of Parliament's Vote 100 project. She's also a New Generation Thinker who has edited the Methuen Drama book of Suffrage Plays. They are joined by Diane Atkinson, historian, biographer and author of 'Rise up, Women!: The Remarkable Lives of the Suffragettes'.
The plays are:
A Pageant of Great Women by Cecily Hamilton
Lady Geraldine's Speech by Beatrice Harradan
Tradition by George Middleton
The Mother's Meeting by Mrs Harlow Philbbs
10 Clowning Street by Joan Dugdale
Which by Evelyn Glover
The cast is
Phillippa Wilson
Christopher Connel
Karen Traynor
Rosie Stancliffe
Sarah Lewis Obuba
Producers: Marion Nancarrow and Fiona McLean.
Last on
Music Played
Robert Schumann

Piano Concerto in A minor, Op. 54, Allegro affettuoso

Performer: Lucy Parham. Orchestra: BBC Concert Orchestra.
Broadcast