Main content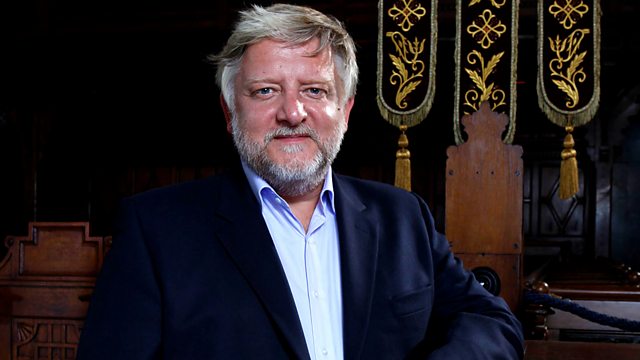 Concerto: The One and the Many
Simon Russell Beale explores the complex dynamic relationship in concertos between soloist and ensemble, from the Baroque to the virtuosity of the Romantic era to today's music.
Acclaimed actor Simon Russell Beale is fascinated by the concerto and how the role of the soloist has evolved from baroque times to now. In this Sunday Feature (exploring the theme of this year's Free Thinking Festival - The One and the Many), Simon explores the complex dynamics between the soloist and orchestra, drawing parallels between the world of the concerto and that of the stage. He asks whether the concerto really is a competition between the soloist and the orchestra or a deeper musical communion. He also asks why the concerto has endured beyond the symphony and ponders whether the spectacle of the virtuosic solo voice pitted against the many is the secret success behind the concerto.
Simon Russell Beale talks to violinists and period-performance experts Margaret Faultless and Simon McVeigh about the emergence of the baroque concerto, to the violinist Nicola Benedetti about what it is like to be a soloist in a highly virtuosic work like the Beethoven Violin Concerto, and to the conductor Marin Alsop about her role in a concerto performance. He also talks to Cliff Eisen about how the rise of the virtuoso led to more heroic concerto writing in Mozart, Beethoven and Liszt, and to composer and clarinettist Mark Simpson about what the concerto means today. Plus musicians from the Philharmonia as they prepare to perform Bartok's democratic masterpiece, the Concerto for Orchestra, and pianist Lucy Parham with whom he studies the piano and has collaborated in concerts of words and music.
Simon Russell Beale is one of the most respected actors in the UK, playing great Shakespearean roles from Benedict in Much Ado about Nothing to Richard III and King Lear. More recently, he has won Best Supporting Actor at the Evening Standard Film Awards for his role as the malevolent Lavrentiy Beria in Armando Iannucci's satirical film, The Death of Stalin. Simon Russell Beale is also a keen musician who was educated as a chorister and still plays the piano. He has also made TV programmes on choral music and the symphony.
Last on

Broadcasts