Main content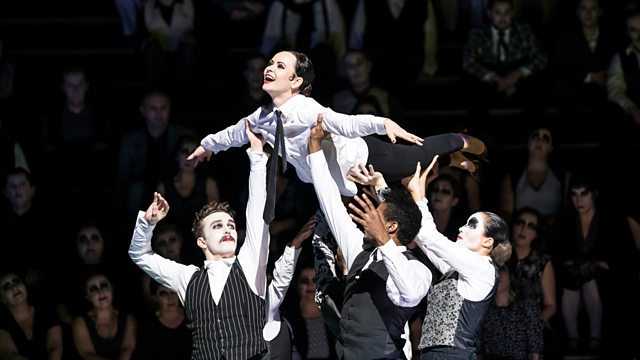 Opera on 3: Bizet's Carmen
Jakub Hrusa conducts Bizet's Carmen in a new production from Barrie Kosky, with a cast featuring the mezzo Anna Goryachova.
Bizet's Carmen is one of the most popular and frequently performed of all operas. With famous hit numbers such as the "Habanera" and the "Toreador Song" it has proved to be a powerful work of music drama open to many different interpretations. The new production from Barrie Kosky shines a new light on the opera as well as reintroducing parts of the score which are not normally heard in performance. With an exciting cast featuring the mezzo Anna Goryachova, the performance is conducted by Jakub Hrůša.
Introduced by Martin Handley with guest Sarah Hibberd.
Carmen ..... Anna Goryachova (mezzo-soprano)
Don José ..... Francesco Meli (tenor)
Escamillo ..... Kostas Smoriginas (bass-baritone)
Micaëla ..... Kristina Mkhitaryan (soprano)
Zuniga .... David Soar (bass)
Frasquita .... Jacquelyn Stucker (soprano)
Mercédès ..... Aigul Akhmetshina (mezzo-soprano)
Le Dancaïre ..... Pierre Doyen (baritone)
Le Remendado ..... Jean-Paul Fouchécourt (tenor)
Moralès ..... Gyula Nagy (baritone)
Royal Opera Chorus
Orchestra of the Royal Opera House
Jakub Hrůša (conductor)
6.30pm Acts 1 and 2
8.25pm Interval
8.35pm Act 3.
Bizet's Carmen: Synopsis
Act I
Seville
The brigadier Moralès and his soldiers look on as men pester a young woman, Micaëla, who is looking for Don José, a corporal. She runs off, telling the soldiers that she will come back as soon as José is back on duty. The women who work at the cigarette factory are taking a break, surrounded by soldiers. Carmen has the most admirers. Only one man, José, takes no notice of her until she throws him a flower. José sees Micaëla again. An orphan raised by José's mother, she gives him a letter, money, and, best of all, a kiss from his mother, which makes him forget Carmen for a moment. Carmen is arrested for injuring one of her colleagues in the factory with a knife. Lieutenant Zuniga orders José to take her to prison. She seduces José with a song and promises of love. He helps her escape and is arrested.
Act II
Lillas Pastia's tavern
Carmen and her friends Mercédès and Frasquita work with the smugglers Dancaïro and Remendado. Escamillo, the winner of the bullfight in Granada, appears with his friends. He is strongly attracted to Carmen. But she is waiting for José, who is due to be released from prison that day, the reason why she refuses to take part in the next smuggling operation. José arrives at last. While Carmen dances for him, the tattoo is heard. The soldier, conscious of his duty, tells Carmen he must go. She is furious with him, and doubts his love. Lieutenant Zuniga suddenly appears. José, driven by jealousy, attacks his superior. Zuniga is disarmed by the smugglers. There is now no turning back for José: he deserts.
Interval
Act III
Scene 1: In the mountains
The smugglers try and transport their wares to Seville under the cover of darkness. José now lives with them and Carmen, who is fed up with José's jealousy. The cards prophesy that first Carmen and then José will die. When Escamillo, searching for Carmen, meets José, the men fight a duel, during which Carmen saves Escamillo's life. He invites her and the smugglers to the bullfight in Seville. Micaëla bravely approaches the smugglers to try and persuade José to come home. Only the news that his mother is on her deathbed can move him to follow Micaëla.
Scene 2: Outside the bullring
Escamillo enters the arena for the bullfight, cheered on by the people. Carmen wants to follow him. José blocks her way. While the bullfight is going on, José begs Carmen, for the last time, to follow him and start a new life. She refuses, throwing the ring he gave her to the ground. José stabs Carmen.