Main content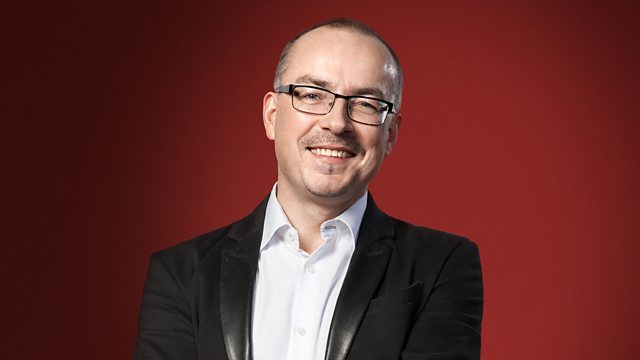 Record Review at Free Thinking
Building a Library focuses on Britten's Piano Concerto with Erica Jeal, and Kirsten Gibson reviews recent releases of discs featuring music from the 16th and 17th centuries.
with Andrew McGregor, live from Sage Gateshead as part of Radio 3's Free Thinking festival of ideas.
9.30
Building a Library: Erica Jeal chooses her favourite from among the available recordings of Britten's Piano Concerto, Op 13.
Benjamin Britten, prey to lifelong performance anxiety on stage, famously excelled as pianist in chamber music and as accompanist. So his Piano Concerto, written as a vehicle for himself to play, is unusual in his output. The 24-year-old Britten gave the premiere at the 1938 Proms. In a programme note for the occasion Britten said that the four movements were 'conceived with the idea of exploiting various important characteristics of the pianoforte... it is not by any means a Symphony with pianoforte, but rather a bravura Concerto with orchestral accompaniment', a comment belying the brilliant interplay between piano and orchestra.
10.55
Kirsten Gibson reviews recent releases of 16th- and 17th-century music.
11.45
Andrew chooses an outstanding new release as his Disc of the Week.
Record Review
 9.00am
ARGERICH & OZAWA: BEETHOVEN
LUDWIG VAN BEETHOVEN:
Symphony No. 1 in C major, Op. 21
Piano Concerto No. 1 in C Major, Op. 15
Martha Argerich (piano), Mito Chamber Orchestra, Seiji Ozawa
Decca 4832566 (CD)
METAMORPHOSIS, HORN & PIANO
LUDWIG VAN BEETHOVEN:
Horn Sonata in F major, Op. 17
ROBERT SCHUMANN:
Adagio and Allegro in A flat major, Op. 70
Fantasiestücke, Op. 73
Romances (3), Op. 94
GISELHER KLEBE:
Sonata for Horn & Piano, Op. 95 (Alteration of Beethoven Piano Sonata Op. 27 No. 2)
Přemysl Vojta (horn), Tobias Koch (piano)
Avi Music AVI8553383 (CD)
GEDANKENVERLOREN
FRANZ SCHUBERT:
Nacht und Träume, D827
Heimliches Lieben, Op. 106 No. 1, D. 922
Frühlingsglaube, D686
MANFRED TROJAHN:
3 Gesänge an Philomele
Die kleinen Lieder
CLAUDE DEBUSSY:
Apparition - song (1884)
Clair de Lune (from Suite Bergamasque)
2 Romances, L. 79: No. 1, L'âme évaporée
LILI BOULANGER:
Clairières dans le ciel
SERGEY RACHMANINOV:
15 Romances, Op. 26: No. 10, Before My Window
12 Romances, Op. 21: No. 7, How Fair This Spot
6 Romances, Op. 38: No. 5, The Dream
ERNST KRENEK:
Ô Lacrimosa, Op. 48
LORI LAITMAN:
I Never Saw Another Butterfly
RICHARD STRAUSS:
Lieder (4), Op. 36, TrV 18, No. 1, Das Rosenband
Vier Lieder Op. 27, No. 4, Morgen!
Katharina Konradi (soprano), Gerold Huber (piano), Andreas Lipp (clarinet)
Genuin GEN18490 (CD)
THE GASPARINI ALBUM
FRANCESCO GASPARINI:
Astianatte
L'oracolo del fato
Ciro
Il Bajazet
Engelberta
Tamerlano
Santa Eufrosina
Ambleto
L'oracolo del fato
Cantate da camera a voce sola, Op. 1
Concerto in A major
Roderico
Atalia
Roberta Invernizzi (soprano), Auser Musici, Carlo Ipata
Glossa GCD922905 CD
9.30am – Building a Library – Erica Jeal on Britten's Piano Concerto, Op. 13
Composer:                 Benjamin Britten
Piece:                         Piano Concerto, Op. 13
                       
Reviewer:                  Erica Jeal

Recommended Recording:

Steven Osborne (piano)
BBC Scottish Symphony Orchestra; Ilan Volkovn (conductor)
From Britten: Complete Works for Piano & Orchestra
Hyperion CD67625

Other Recommended Recordings:
Below are other recordings that Erica also liked, although we can't guarantee availability.

Sviatoslav Richter (piano)
English Chamber Orchestra
Decca 4173082
Joanna MacGregor (piano)
English Chamber Orchestra, Steuart Bedford (conductor)
Naxos 8557197
Howard Shelley (piano)
BBC Philharmonic; Edward Gardner (conductor)
Chandos CHAN10764
Elizabeth Joy Roe (piano)
London Symphony Orchestra; Emil Tabakov (conductor)
Decca 478 8189
10.20am New Releases:
CHRISTA LUDWIG: THE COMPLETE RECITALS ON WARNER CLASSICS
Works by…
Ludwig van Beethoven, Alban Berg, Johannes Brahms, Christoph Willibald Gluck, George Frideric Handel, Franz Joseph Haydn, Gustav Mahler, Henry Purcell,  Sergey Rachmaninov,  Maurice Ravel, Max Reger, Antonio Rossini, Camille Saint-Saëns, Franz Schubert, Robert Schumann, Richard Strauss, Richard Wagner, Hugo Wolf.
http://www.warnerclassics.com/shop/551564,0190295690205/christa-ludwig-the-complete-recitals-on-warner-classics
Warner Classics 9029569020 (11 CDs)
1050 New Releases:
IN CHAINS OF GOLD: THE ENGLISH PRE-RESTORATION VERSE ANTHEM, VOL. 1, ORLANDO GIBBONS – COMPLETE CONSORT ANTHEMS
ORLANDO GIBBONS:
Behold, thou hast made my days
We praise Thee, O Father
In Nomine a5 No.1
This is the Record of John
Great King of Gods
Do not repine, fair sun part 1
Do not repine, fair sun part 2
In Nomine a5 No.2
Glorious and powerful God
Blessed are all they that fear the Lord
O all true faithful hearts
Sing unto the Lord
In Nomine a 5 No. 3
See, see, the Word is incarnate
Lord, grant grace
Fretwork, His Majesty's Sagbutts and Cornetts, Magdalena Consort, Peter Harvey
Signum SIGCD511 (CD)
ORLANDO GIBBONS: FANCIES FOR THE VIOLS
ORLANDO GIBBONS:
Fantasia for 6 Viols (Musica Britannica Vol. 48, No. 39)
Fantasia No. 6 for 3 Viols (Musica Britannica Vol. 48, No. 12)
In Nomine No. 1 a5
Fantasia No. 1 a3
Fantasia for 2 Treble Viols (Musica Britannica Vol. 48, No. 1)
Fantasia a 3 with Double Bass Viol (Musica Britannica Vol. 48, No. 19)
Galliard a 3 with Double Bass Viol (Musica Britannica Vol. 48, No. 23)
Fantasia No. 2 a6
Fantasia No. 8 for 3 Viols (Musica Britannica Vol. 48, No. 14)
Dances and Divisions a6
Fantasia a 3 with Double Bass Viol (Musica Britannica Vol. 48, No. 18)
Fantasia for 2 Treble Viols (Musica Britannica Vol. 48, No. 4)
In Nomine No. 2 a5
Fantasia for 4 Viols (Musica Britannica Vol. 48, No. 24)
Fantasia No. 2 a3
Fantasia for 6 Viols (Musica Britannica Vol. 48, No. 33)
Go from my Window (Musica Britannica Vol. 48, No. 40)
Francois Joubert-Caillet (viol), L'Achéron
Ricercar RIC384 (CD)
JOHN JENKINS: CONSORT MUSIC FOR FOUR PARTS
JOHN JENKINS
Fantasia No. 1
Fantasia No. 2
Fantasia No. 3
Fantasia No. 4
Pavan in D Minor
Fantasia No. 5
Fantasia No. 6
Fantasia No. 7
Fantasia No. 8
Fantasia No. 9
Fantasia No. 10
Fantasia No. 11
Fantasia No. 12
Fantasia No. 13
Fantasia No. 14
Pavan in E Minor
Fantasia No. 15
Fantasia No. 16
Fantasia No. 17 Fretwork
Signum SIGCD528 (CD)
ASSASSINI, ASSASSINATI
IGNAZIO ALBERTINI:
12 Violin Sonatas: Sonata No.1
BIAGGIO MARINI:
Capriccio per sonare il violino con tre corde a modo di lira, Op. 8
BELLOROFONTE CASTALDI:
Sonata settima
GIOVANNI ANTONIO PANDOLFI:
6 Sonatas, Op. 4: IV. La Biancuccia
ANON.:
Theorbo improvisation
ALESSANDRO STRADELLA:
Sinfonia No. 2
GIOVANNI ANTONIO PANDOLFI:
Violin Sonata, Op. 3: I. La Stella 
ALESSANDRO STRADELLA:
Sinfonia No. 9
IGNAZIO ALBERTINI:
12 Violin Sonatas: Sonata No.3
ANON.:
Violin improvisation
ALESSANDRO STRADELLA:
Sinfonia No. 5
BELLOROFONTE CASTALDI:
Furiosa  Corrente
GIOVANNI ANTONIO PANDOLFI:
Violin Sonata, Op. 3: V. La Clemente 
Repicco
Ambronay AMY38D (download)
11.45am – Disc of the Week
BEETHOVEN: PIANO SONATAS NOS. 14 & 29
LUDWIG VAN BEETHOVEN:
Piano Sonata No. 29 in B-flat major, Op. 106 'Hammerklavier'
Piano Sonata No. 14 in C sharp minor, Op. 27 No. 2 'Moonlight'
Murray Perahia (piano)
DG 4798353 (CD)