Main content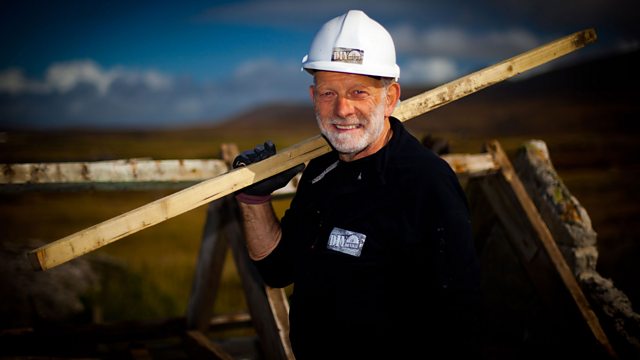 Tha Donnie a' cur làr ùr ann an seada. This episode sees Donnie in Geirinis sorting out a problem with rising damp in a garden shed.
Anns a' phrògram seo, tha Donnie a' dèanamh cobhair air Florence ann an Geirinis. Tha an t-seada aice an-dràsta loma-làn stuth a tha bog fliuch air sgàth 's dampachd a' tighinn a-steach tro na ballachan. Bha i am beachd a leagail agus seada ùr a thogail, ach tha fuasgladh aig Donnie! Às dèidh a h-uile càil a thòirt às an t-seada, faodaidh e dalladh air agus àrd urlàr a chur a-steach! Tha Donnie cuideachd a' tadhal air Cothrom ReStore ann an Ormacleit agus a' feuchainn ri àirneis ùrachadh! Agus tha an obair a' leantainn ann an cidsin Urras a' Chaladh ann am Beinn nam Fadhla.
Donnie is in Geirinis sorting out a problem with rising damp. Florence is considering demolishing her garden shed, as all the material she stores is soaking wet because of moisture coming through the walls. After clearing the space, Donnie can get cracking on his planned solution of a raised floor.
Donnie also visits Cothrom ReStore in Ormacleit and tries his hand at upcycling furniture. And work continues on the Caladh Trust kitchen renovation in Benbecula.
Credit
| Role | Contributor |
| --- | --- |
| Presenter | Donnie Macleod |