Main content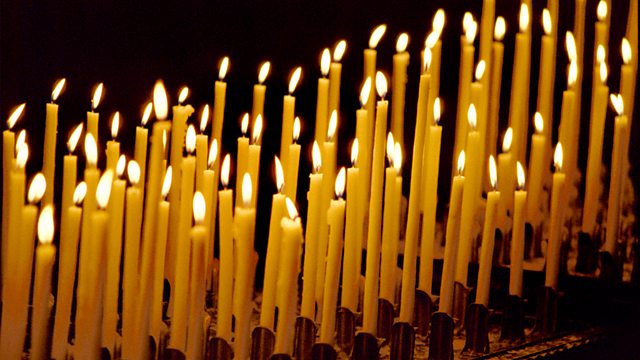 01/03/2018
A reading and a reflection to start the day, with the Reverend Mary Stallard, director of the St Giles Religious Education Centre, Wrexham.
Script:
Good morning and a happy St David's Day!
All over Wales and beyond people with a Welsh connection will be remembering St David. Although there's not much reliable information about this sixth century saint he's important enough that he's become a national symbol with large numbers of churches, clubs, schools and hospitals named after him.
Many Welsh churches have a stained-glass window featuring David. He's often pictured with a bird on his shoulder which is a sign of God's Holy Spirit, by whose power he's said to have been a successful preacher. According to tradition, David attracted a keen following and set a strong example living out his faith with integrity and discipline seeking to help the poor.
One of the things I enjoy about stained-glass windows is the way that they depict holy people as those through whom a beautiful light is perceived.  Just as the windows are lit by the bright light of the sun, so the lives and characters of the saints reflect and point beyond themselves to the glory of their creator.
The simplicity of St David's faith is summed up in the three short messages that are remembered from the last words he's believed to have said to the community that formed around him: "Be joyful, keep the faith and do the little things." This is an encouraging message. It is by attending to small things that we might find hope to grow in faith and goodness  and to discover ways to play our part in bringing light and happiness to others.
God of hope, thank you for St David and for all who've been beacons of grace in our history.  Help us to be encouraged by the example of the saints. Inspire us to seek small opportunities each day to make a positive difference in your world. Amen.