Main content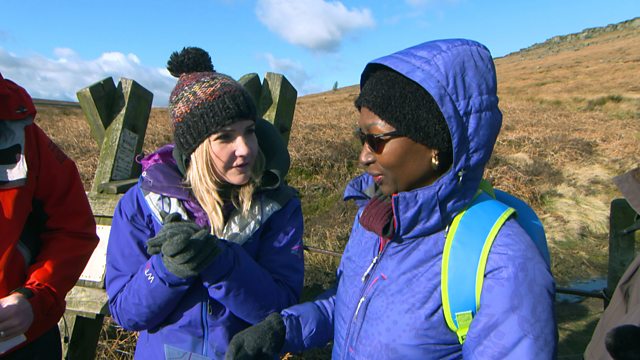 Derbyshire
Matt Baker and Helen Skelton are in Derbyshire, where Matt is exploring the boom in farming alpacas. Tom Heap looks at illegal abattoirs.
Matt Baker and Helen Skelton are in Derbyshire, where Matt is exploring the boom in farming alpacas. He meets Ingrid Rushton, one of the first people in the UK to own them, and visits a blood transfusion drop-in for alpacas where owners have come from all over the region bringing their animals to donate blood which could save baby alpacas' lives.
Helen tries her hand at 'weaselling' - a kind of potholing that happens above ground, which has become the latest craze to sweep the Peaks. She joins a party of schoolchildren who squeeze in and out of the rocky tors that dot the landscape. She also meets countryside champion Yvonne Witter, who has made it her mission to get more people from ethnic backgrounds into our countryside.
Tom Heap looks at illegal abattoirs and asks if the meat on our plates is what we think it is, and Adam is in north Wales meeting the farmer using a special type of working dog to manage his livestock.
Alpaca Boom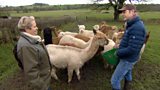 Matt meets one of Britain's first alpaca farmers, Ingrid Rushton, at her farm in the Derbyshire Peaks. Thirty years ago there only about 150 alpacas in Britain, today there's almost 60,000. It's an alpaca boom. Demand for their fleeces comes from far and wide and this high quality yarn is especially sought after by high fashion houses. Matt gets a lesson in weaving the wool with Leigh Woods who makes hats, scarfs and socks.   
Countryside Champion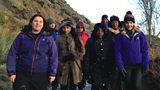 Helen meets Yvonne Witter who is on a mission to get more people from ethnic backgrounds out into the countryside to make sure they get the healthy benefits of making the most of our green spaces. Today Yvonne, along with Helen, is taking a party from Sheffield for a hike in the Peaks to help them brush up on their map reading and conservation skills.   
Abattoirs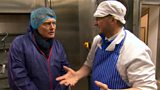 Tom's looking at the demise of local abattoirs. Once they were commonplace across the country, but today most have closed down. As Tom discovers it means that in some places illegal abattoirs have opened up in their place, but they have none of the checks to make sure it's safe for human consumption or that the animals are well treated. Tom catches up with Bob Kennard from the Sustainable Food Trust, who warns that if the current trend continues it could spell the end for locally sourced meat.
Rural Vets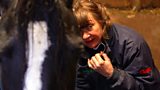 It's our final outing with the rural vets and once again the problems they face are unexpected and varied. This week a routine look at a horse's leg turns into something much more serious and it's crossed fingers time on the dairy farm as the vets check how many cows are in calf.  
Weaselling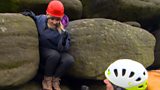 Up they pop just like meerkats, but this isn't the African savannah, it's the Peak District and these are children out playing with the countryside in a new and unusual way. Weaselling, means pretending to be a weasel and crawling through the small spaces formed by the tors and rocks of this landscape. Think potholing above the ground. The children seem quite happy squeezing through the tightest of spaces, but can Helen match them?
Huntaways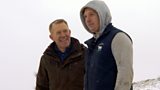 Adam's in mid Wales meeting a farmer who's doing his best to make the most of this land. He's only 24 but already has a 1000 Cheviot ewes. But he's not herding them in the traditional way with a Border Collie. Matt Launder has looked across the globe for his dogs and has chosen Molly and Izzy, Huntaways from New Zealand. With only the internet to teach him how to train these dogs, can Adam and Matt get the sheep down to group them?
Alpaca Blood Bank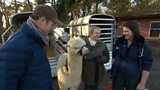 In all his years on the programme Matt's never seen this! When alpacas are first born they have no antibodies, they rely on getting these from their mother's milk, but things can go wrong. So to make sure they can all be saved a vet called Fay Pooley has set up the alpaca blood drive. Matt arrives with alpacas, Wizard and Starbreaker who're donating their antibody rich blood. Matt works with Fay as she takes the blood and with alpacas due to start giving birth in the next few weeks, this could soon be saving lives across the country.     
Credits
| Role | Contributor |
| --- | --- |
| Presenter | Matt Baker |
| Presenter | Helen Skelton |
| Presenter | Tom Heap |
| Presenter | Adam Henson |
| Executive Producer | William Lyons |
| Series Producer | Joanna Brame |