Main content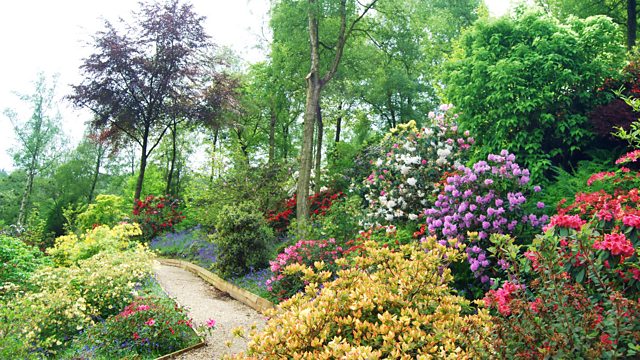 Thornton le Moor
Eric Robson and the panel are hosted by the Thornton le Moor Garden Forum, North Yorkshire. Matthew Wilson, Pippa Greenwood and Chris Beardshaw answer the horticultural questions.
Eric Robson and the panel are hosted by the Thornton Le Moor Garden Forum in North Yorkshire. Matthew Wilson, Pippa Greenwood and Chris Beardshaw answer the horticultural questions.
The panellists offer advice on getting bedding plants to succeed, helping unhealthy Heuchera, and what to put in a community herb garden. They also suggest a whole host of plants that would suit a prairie-style garden and recommend some planting ideas that might tempt birds and birdwatchers into the garden.
Chris gives a masterclass in looking after an Orchid and Matthew visits the Himalayan Garden and Sculpture Park in nearby Grewelthorpe.
Producer: Dan Cocker
Assistant Producer: Hester Cant
A Somethin' Else production for BBC Radio 4.
Fact Sheet
Q – Bedding plants – I can't get them to succeed; why?
Pippa – You need to pinch them out to encourage side shoots.  Put them into good quality compost.  Give them some feed and lots of natural light. And make sure you mimic air movement. 
Chris – Use a soil-based compost
Q – I love Heucheras but they keep going wrong.  Are they under stress because they keep coming out in spots.  It's a Heuchera 'Marmalade'.
Pippa – I thought this might be Heuchera Rust.  But it doesn't look like it has rust spores.  I suspect it is distress.  The soil could have been too wet, it could be Vine Weevils… things like that.  Cut off the worst-affected leaves and give it a feed.
Q – Our daughter in Inverness has a five-foot high Privet hedge which is shared with a neighbour.  Can she cut her side back a foot?
Matthew – You can go pretty hard on Privet and most of the time it will be ok.  It shouldn't affect the neighbour's side.
Q – We're establishing a community garden.  We're cultivating a herb garden; can you recommend some unusual herbs please?
Chris – Not all herbs are culinary.  Saponaria (the soapwort) is beautiful.  Petasites (Butterbur).  Marshmallow. 
Matthew – Rock Samphire.
Q – I like prairie-style gardens – what grasses and perennials can you recommend?  I have heavy, damp soil.
Matthew – Persicaria 'Taurus'.  Boltonia asteroides.  Aster lateriflorus horizontalis.  Grasses: Deschampsias, Calamagrostis brachytricha), Amsonia tebernaemontana. 
Chris – Eupatoriums from the 'Atropurpureum' group.  Rudbeckias.  Nepeta subsessilis. Lysimachia.  Aster 'Coombe Fishacre'.  Perennial geraniums like Psilostemon.  Molinia. 
Q – How far should I cut back my Orchid?
Chris – This is a Moth Orchid (Phalaenopsis).  Trim back to the top of the scales beneath the flowering part of the stems.  Then cut back again to the lowest scale after the next flowering.  Keep it in good, bright conditions and at room temp (18-20C (64-68F)), mist it with an air mister a couple of times a week, and if you can get some Orchid food too that would be great.  Keep it in a translucent pot if possible.
Q – My husband is a keen birdwatcher but not a keen gardener.  Can the panel recommend any plants that are attractive to birds that might encourage him into the garden?
Pippa – Blueberry. 
Eric – Redcurrants
Pippa – Raspberries
Matthew – Crab apples
Pippa – Hawthorns and sloes for nesting and roosting. 
Matthew – Cardamine pratensis is a good food for the larval stage of the Orange-Tip butterfly.  Knautia macedonica is great for birds.  Verbena bonariensis.  Berberis darwinii. 
Pippa – A little patch of teasels. 
Eric – Ivy and a dead ash tree
Chris – Clematis vitalba ('Old Man's Beard').  Rhododendron Blue Tit.  Echinacea 'White Swan'. Penstemon 'Blackbird'.  Colchium autumnale (Naked Ladies).