Main content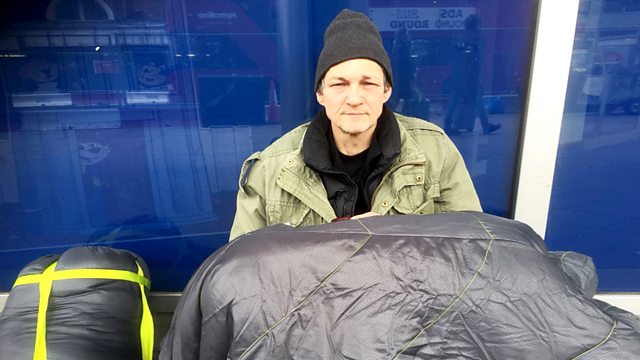 Money Box Live: The Cost of Homelessness
The Prime Minister Theresa May has branded homelessness a "national disgrace." She was speaking just days after freezing weather and snow highlighted the plight of rough sleepers. Official data suggests that thousands of people sleep out each night, but they're just the visible homeless. There are many more "hidden" homeless in temporary accommodation like hostels or bed and breakfasts, sofa surfing with friends and family or in bedsits.
We hear from three people, including John (pictured), about their experiences of living on the streets, in hostels or precarious accommodation, about how they manage their limited income and the tough decisions they have to make.
Also, with a new law coming into force in England next month which extends local authorities' duty of care to homeless people, we also look at the big picture and the financial implications for taxpayers. Could the UK adopt a more effective and more cost-effective approach to homelessness?
Hannah Gousy, Policy and Public Affairs manager at Crisis, a charity for homeless people, joins us. She's worked at the Parole Board and in the mental health sector, as well as at the Centre for Social Justice, which was co-founded by Iain Duncan Smith, the former Conservative Party leader and former Secretary of State for Work and Pensions.
Presenter: Louise Cooper
Producer: Paul Waters.