Main content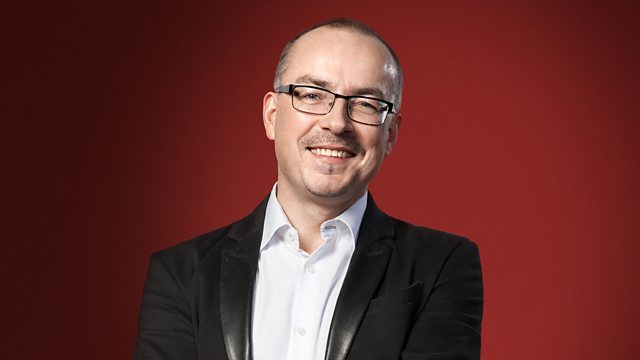 Andrew McGregor with Stephen Johnson
Building a Library focuses on Mahler's Symphony No 7 with Stephen Johnson, and Marina Frolova-Walker picks out her favourites from recent releases of Russian music.
with Andrew McGregor.
9.30
Building a Library: Mahler's Symphony No. 7 with Stephen Johnson.
For much of the last century, Mahler's Seventh Symphony was considered a dud, recorded by a handful of die-hard Mahlerians. Even by 1980, distinguished Mahler scholar Deryck Cooke only reflected the consensus when he described it as 'the Cinderella among Mahler's symphonies,' which 'presents an enigmatic, inscrutable face to the world...one which arouses suspicions as to its quality.' If the middle three movements were considered successful, the first and especially the last were beyond hope.
But the symphony is actually full of some of Mahler's greatest music and these days things are very different: any and every self-respecting Mahler conductor has recorded it and the catalogue groans with a huge number of versions.
11.00
Marina Frolova-Walker picks some plums from recent releases of Russian music including Medtner songs and Rachmaninov piano concertos.
11.45
Andrew chooses an outstanding new release as his Disc of the Week.
Record Review
9.00am
RICHTER: TE DEUM 1781
FRANZ XAVER RICHTER:
Sinfonia No. 52 in D
Te Deum 1781
Oboe Concerto in F Major
Exsultate Deo
Luise Haugk (oboe), Czech Ensemble Baroque Orchestra & Choir, Roman Válek
Supraphon SU42402 (CD)
HINDEMITH: SYMPHONIC METAMORPHOSIS, NOBILISSIMA VISIONE, CONCERT MUSIC FOR STRINGS AND BRASS
PAUL HINDEMITH:
Symphonic Metamorphoses on Themes by Carl Maria von Weber
Nobilissima Visione
Konzertmusik, Op. 50 for strings & brass
WDR Symphony Orchestra, Marek Janowski
Pentatone PTC5186672 (Hybrid SACD)
HANDEL'S LAST PRIMA DONNA: GIULIA FRASI IN LONDON
GEORGE FRIDERIC HANDEL:
Susanna: Crystal streams in murmurs flowing
THOMAS ARNE:
Why is death for ever late? (from Artaxerxes)
GEORGE FRIDERIC HANDEL:
There the brisk sparkling nectar repair (from The Choice of Hercules)
Jephtha: Ye sacred priests
Jephtha: Farewell, ye limpid springs
Solomon: Will the sun forget to streak?
JOHN CHRISTOPHER SMITH
Oh, do not, Adam...It comes, it comes, it must be death (from Paradise Lost)
But see, the night with silent pace...O balmy sleep (from Rebecca)
PHILIP HAYES:
Soon arrives thy fatal  hour (from Telemachus)
VINCENZO CIAMPI:
Oh Dio, mancar mi sento (from Adriano in Siria)
Là per l'ombrosa sponda (from Il trionfo di Camilla)
Chandos CHSA0403 (Hybrid SACD)
9.30am – Building a Library - Stephen Johnson on Mahler's Symphony No. 7
Composer:       Mahler
Piece:               Symphony No. 7
Reviewer:        Stephen Johnson
Recommended Recording:
Berlin Philharmonic; Claudio Abbado (conductor)
DG 4716232 (CD) or DG 4793204 (11 CDs)
Other Recommended Recordings:
Below are other recordings that Stephen also liked, although we can't guarantee availability.
London Phiharmonic Orchestra; Klaus Tennstedt (conductor)
EMI 5729412 (11 CDs)
New York Philharmonic Orchestra; Leonard Bernstein (conductor)
Sony SMK60564 (Digital download), Sony M2S 739 (15 LP set)
10.20am New Releases:
HAYDN: STRING QUARTETS, VOL. 3
JOSEPH HAYDN:
String Quartets, Op. 64 Nos. 1-6
Doric String Quartet
Chandos CHAN10971(2) (2 CDs)
COPLAND: SYMPHONY NO. 3 & CLARINET CONCERTO
ELLIOT CARTER:
Holiday Overture
CHARLES IVES:
Decoration Day
AARON COPLAND:
Symphony No. 3
Clarinet Concerto
Karl Leister (clarinet), Fritz Helmis (harp) & Horst Göbel (piano), Berliner Philharmoniker, Aaron Copland
Testament SBT1516 (CD)
FLORENT SCHMITT: SUITES FROM 'ANTOINE ET CLÉOPÂTRE' & SYMPHONY NO. 2
FLORENT SCHMITT:
Antoine et Cléopâtre: Deuxième Suite
Antoine et Cléopâtre: Première Suite
Symphony No. 2, Op. 137
BBC Symphony Orchestra, Sakari Oramo
CHANDOS CHSA5200 (Hybrid SACD)
1050 New Releases: Marina Frolova-Walker on Medtner and Rachmaninov
MEDTNER: 50 SONGS
NIKOLAI MEDTNER:
Ekaterina Siurina (soprano), Justina Gringyte (mezzo-soprano), Oleksiy Palchykov (tenor), Robin Tritschler (tenor), Rodion Pogossov (baritone), Nikolay Didenko (bass) & Iain Burnside (piano)
Delphian DCD34177 (2 CDs)
RACHMANINOV: PIANO CONCERTOS NOS. 2 & 3
SERGEY RACHMANINOV:
Piano Concerto No. 2 in C minor, Op. 18
Piano Concerto No. 3 in D minor, Op. 30
Yevgeny Sudbin (piano), BBC Symphony Orchestra, Sakari Oramo
BIS BIS2338 (Hybrid SACD)
RACHMANINOV & MOZART: PIANO CONCERTOS
WOLFGANG AMADEUS MOZART:
Piano Concerto No. 20 in D minor, K466
SERGEY RACHMANINOV:
Piano Concerto No. 2 in C minor, Op. 18
Aldo Ciccolini (piano), London Philharmonic Orchestra, Yannick Nézet-Séguin
LPO LPO0102 (CD)
11.45am – Disc of the Week
VENEZIA MILLENARIA (VENICE 700-1797)
Venice in music over seven centuries.
Le Concert des Nations - Hespèrion XXI, La Capella Reial de Catalunya - Panagiotis, Neochoritis, Jordi Savall
Alia Vox AVSA9925 (2 SACDs and book)