Main content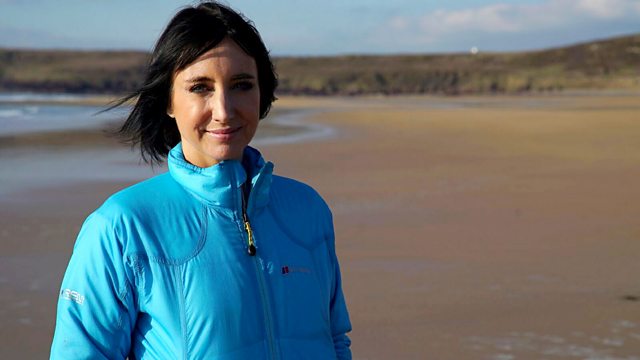 Welsh consumer magazine. The team puts a new smart-parking technology to the test.
Lucy Owen is in Pembrokeshire, joining the fight to reduce plastic waste on the beaches, whilst Rachel Treadaway-Williams looks at what consumers can do to cut their use of plastic. Omar Hamdi investigates the plight of holiday-lodge owners who face being left out of pocket after being asked to sign new contracts. And the team puts a new smart-parking technology to the test. Can the app help Lucy find a parking space on a busy rugby match day in Cardiff?
The battle against plastic waste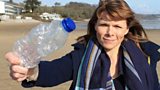 One of the biggest problems in the battle against plastic waste is plastic bottles. Every day in Wales we use almost a million of them, and only around half get recycled.
Lots end up on beaches – either left behind by visitors, or washed up by the tide. On a recent beach clean of Wales, over a hundred plastic bottles were collected for every kilometre of coastline.
But the Welsh Government is considering a new strategy to help tackle the problem. It's called a 'deposit and return' scheme for plastic bottles – where you would pay a deposit on a bottle when you bought it, and then return your empty one to the shop to get your money back. It's been a huge success in countries like Germany and could begin in Wales as early as this year.
Most of our supermarkets have promised to cut plastic waste, with Iceland leading the way by promising to be 100% plastic free on its own products within 5 years.
Smaller businesses are taking the problem seriously too with Wales' first zero waste shop opening in Crickhowell, Powys, run by Robin and Chloe Masefield. The idea is that you bring your own container. You weight it, fill it with the product and weigh it again for the price.
Chloe said, "My husband and I both worked in the natural environment sector for many years and we've seen the impact of plastic pollution first hand. So we wanted to do something to make a difference."
The problem with plastic is that there are lots of different types. If you look on the bottom of most plastic containers you'll find a number between 1 and 7, which tell you what kind of plastic it is.
The lower the number, the more widely recyclable the item will be. Items marked 1, like plastic drink bottler can almost certainly be recycled. At the other end of the scale, items marked 7 will contain more complex plastics, used in things like CD production and baby feeding bottles.
Rachel Treadaway-Williams visited a primary school in Pembrokeshire to find out what they'd been learning about plastic. They were set a task to monitor the volume of waste that they threw away each week in their homes by making a record of what type of plastic they use the most and how recyclable those items were.
Student Ada said, "We thought it would be a good idea since we use so much plastic in our home that it would be great if we switched to using glass milk bottles…we have reduced on plastic a lot more now."
Holiday Lodges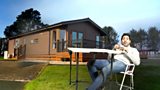 Owning a holiday lodge in the Welsh countryside is a dream for many. But, tread carefully.
Holiday parks all have rules – but even if you sign up to a contract with a park where the rules suit you, we've discovered that things can change.
Moreton Farm Park near Saundersfoot describes itself as a 'luxury lodge holiday park' in an 'idyllic setting', a short distance from the beach. Gillian Davey and her husband Paul Cunningham from Tonypandy fell in love with the place.
Gillian said: "It's been our life-long dream really to have a family resource down in Saundersfoot near Tenby. We've gone there ever since I was a little child with my parents."
In 2015, the couple used inherited money to buy a three year old lodge at Moreton Farm Park at a price of £93,000.
Gillian said: "It's just been lovely you know. A real sort of place that we can get together, just switch off from everyday life, put the barbecue on and just enjoy ourselves and relax."
But last summer the park was sold, to a company called Coastal Resorts Ltd. It's run by Bailey and Rebecca Farr, who also own two other parks in nearby Manobier.
The lodge owners already had contracts with the park's previous owners, which they were happy with.
But when Coastal Resorts took over, they wanted to change some key parts of the contracts and issue some new rules.
For Gillian, the most worrying was a new restriction on the sale of lodges. Now, anyone wanting to sell their lodge would have to arrange for it to be taken off the park - unless they sold it directly to Coastal Resorts.
Gillian says she felt uneasy about the new contract. So she asked the new park owners how much they would pay her for her lodge, but was devastated with their response.
She said: "For our cabin that we paid £93,000 for, we were offered £37,000, which is a massive drop."
The offer came in more than £50,000 lower than a recent independent valuation.
Gillian said: "It will take away all of our choices for the rest of our life and our retirement."
But there are more restrictions on older lodges. We met several other worried lodge owners whose luxury lodges are thirty years old. They use them for family holidays and to rent out.
All of them saw the lodges as a long term investment. One, Zoe Priddy, said: "It was a commitment for us and something we had never done before. But we thought in our contract at the time, we could always sell them. So there was no issue really if things didn't work out."
But Coastal Resorts new rules brought another shock - a complete ban on anyone hiring out lodges which are more than ten years old.
Zoe said: "We need to pay our site fees shortly, which is nearly £13,000 and no way of getting the money back."
Now unable to rent out her four luxury lodges, Zoe asked a local trader if he'd be interested in buying them and taking them off site. But his valuation came as a shock! 
She said: "We had the phone call off the trader to offer us the price of £5,000. And we had nearly paid £20,000 for each one. As you can see you know, it has been so stressful for us."
So what rights do the lodge owners have?
Well there are specific laws to protect people in residential caravans, but not owners of holiday caravans. That means they'd need to go to court to prove their new contracts were unfair – which could be a costly process.
The lodge owners don't want a legal battle. They just want to talk.
Gillian said: "You know they have made a business investment. We have made a very personal investment. And I would be quite willing to sit down and talk if they were."
But the last time the lodge owners asked for a meeting, Gillian had a devastating response.
She said: "The answer we have got to that was to tell us we were evicted from the site and we have until February the 28th to remove our lodge. We weren't expecting this, all we have ever wanted was for our existing contract to be honoured. And we would like to sit down and talk and negotiate but that's just being ignored and refused."
Coastal Resorts told us they have never wanted a fight with the lodge owners. They say their new rules are family-friendly and they want to prevent old, unsuitable lodges being rented out and jeopardising the park's good name.
They say they're surprised by the suggested valuations as most are in poor condition. 
But since we wrote to Coastal Resorts they have agreed to meet with lodge owners individually. They've also withdrawn the threat to evict Gillian and another lodge owner from the site. 
They say they never intended to make changes to owners' rights to sell their caravans and they will now honour the previous agreements.
Credits
| Role | Contributor |
| --- | --- |
| Presenter | Lucy Owen |
| Presenter | Omar Hamdi |
| Reporter | Rachel Treadaway-Williams |
| Series Producer | Joanne Dunscombe |