Main content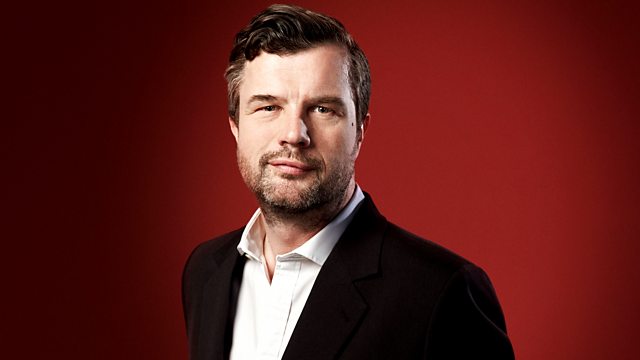 Thursday - Petroc Trelawny
Petroc Trelawny presents Radio 3's classical breakfast show, featuring listener requests.
Email 3breakfast@bbc.co.uk.
Last on
Music Played
William Mathias

Serenade for small orchestra, Op 18 (3rd mvt)

Orchestra: Royal Ballet Sinfonia. Conductor: Andrew Penny.

Welsh Classical Favourites: Royal Ballet Sinfonia/Penny.
Marco Polo.
12.

Maurice Ravel

Tzigane

Performer: Daniel Hope. Performer: Sebastian Knauer.

Ravel/Falla/Schnittke/Bartok/Shankar: East meets West: Daniel Hope.
Warner Classics.
3.

Grace Williams

Hiraeth (Yearning)

Performer: Edward Witsenburg.

Harp Music from Six Centuries.
Globe.
20.

Custódio Castelo

Sobre Lisboa

Performer: Custódio Castelo.

Johann Sebastian Bach

Ich habe genug (Cantata no. 82, BWV.82)

Singer: Matthias Goerne. Orchestra: Freiburg Baroque Orchestra. Conductor: Gottfried von der Goltz.

Bach: Cantatas for Bass.
harmonia mundi.
110.

Frédéric Chopin

Grande Valse Brillante in E flat major Op.18

Performer: Ingrid Fliter.

Chopin: Complete Waltzes.
EMI Classics.
1.

William Grant Still

In Memoriam: The Colored Soldiers Who Died for Democracy

Orchestra: Fort Smith Symphony. Conductor: John Jeter.

William Grant Still: Afro-American Symphony/In Memoriam/Africa (Symphonic Poem).
NAXOS.
1.

Alun Hoddinott

2 Songs from Glamorgan

Singer: Nicky Spence. Performer: Andrew Matthews-Owen.

Alun Hoddinott: Landscapes - Song Cycles and Folk Songs.
Naxos.
6-7.

Ludwig van Beethoven

Quartet in G major Op.18`2 for strings: 2nd movement; Adagio cantabile

Ensemble: Jerusalem Quartet.

Beethoven: String Quartets, Op. 18.
Harmonia Mundi.
10.

Richard Strauss

Der Rosenkavalier (Waltz Sequence No 1)

Orchestra: Gewandhausorchester Leipzig. Conductor: Herbert Blomstedt.

Richard Strauss/Jean-Yves Thibaudet: Gewandhauseorchester Leipzig/Blomstedt.
Decca.
2.

William Walton

Magnificat and Nunc dimittis (Chichester service)

Choir: Polyphony. Performer: James Vivian. Conductor: Stephen Layton.

Coronation Te Deum.
Hyperion.
6-7.

30on30 Sir Andrew Davis introduces Peggy Glanville-Hicks

Peggy Glanville-Hicks

Sappho (Overture)

Orchestra: The Gulbenkian Orchestra. Conductor: Jennifer Condon.

Peggy Glanville-Hicks Sappho.
Toccata Classics.
1.

Thomas Adès

Sonata da Caccia (Galament)

Performer: Michael Niesemann. Performer: Andrew Clark. Performer: Thomas Adès.

Alexander Glazunov

Symphony No.1 in E major, Op. 5 (2nd mvt)

Orchestra: BBC National Orchestra of Wales. Conductor: Tadaaki Otaka.

Joseph Haydn

Piano Trio in D major, H.15.8

Ensemble: Beaux Arts Trio.

Traditional Scottish

O can ye sew cushions?

Author: Robert Burns. Music Arranger: Benjamin Britten. Singer: Philip Langridge. Orchestra: Royal Northern Sinfonia. Conductor: Steuart Bedford.

The English Song Series Volume 13 - Britten: Folk Song Arrangements 2.
Naxos.
21.

Giuseppe Verdi

Anvil Chorus (Il Trovatore)

Music Arranger: Glenn Miller. Ensemble: Glenn Miller and His Orchestra.

The Essential Glenn Miller.
RCA.
4.

Yiddish Traditional

Victory Song ('Nitsokhn Lid')

Music Arranger: Sergei Erdenko. Performer: Sergei Erdenko. Performer: Sergei Erdenko. Performer: Alexander Sevastian. Singer: Psoy Korolenko. Performer: Psoy Korolenko. Ensemble: Trio Loyko. Ensemble: Trio Loyko.

Yiddish Glory: The Lost Songs of World War II.
Six Degrees Records.
16.

Johann Heinrich Schmelzer

Sonata - 1664 no. 4 in D major for violin & bc [Sonatae unarum fidium]

Performer: Georg Kallweit. Performer: Bjorn Colell.

Passaggio: A Baroque Alpine Crossing.
Alpha.
1.

Heitor Villa‐Lobos

Symphony No. 9 (4th mvt)

Orchestra: São Paulo Symphony Orchestra. Conductor: Isaac Karabtchevsky.

Villa-Lobos: Symphonies Nos. 8, 9 & 11.
Naxos.
204.

Robert Schumann

Kuriose Geschichte, Op 15 No 2 (Kinderszenen)

Performer: Lang Lang.

111 Years Of Deutsche Grammophon The Collector's Edition Vol.2.
Deutsche Grammophon.
9.

Traditional Welsh

David of the White Rock [Dafydd Y Garreg Wen]

Singer: Bryn Terfel. Performer: Katherine Thomas.

We'll Keep A Welcome.
Deutsche Grammophon.
3.
Broadcast