Main content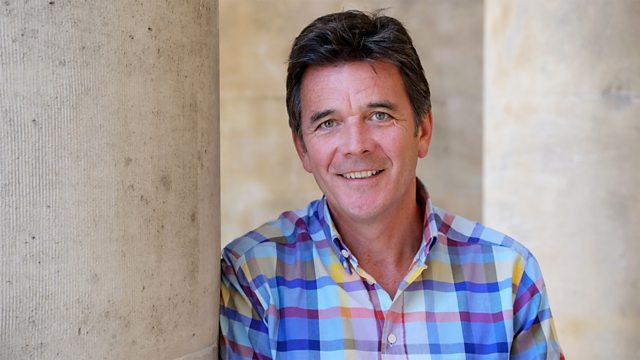 Diabetes Tech, Antidepressants, Stem Cell Therapy and knees
Dr Margaret McCartney reports from Glasgow on the high-tech revolution in glucose monitoring and diabetes care.
First urine testing then finger pricking and now high-tech scanning. The monitoring of glucose levels is undergoing a revolution for patients with Type 1 Diabetes. Dr Margaret McCartney reports from Glasgow on the new sensing devices which allow for endless glucose scanning without the need for multiple finger prick blood tests. She talks to parents like Ben, who's paying for a continuous glucose monitor because the fingers of his young son George, were so sore from constant finger prick testing that he couldn't even play with his lego. And to 18 year old Matthew and his mum, Barbara, about the flash glucose monitor which they say has transformed the control and management of his diabetes. Dr Kenneth Robertson, who's led NHS Greater Glasgow and Clyde's Children's Diabetes Service for the past 25 years tells Margaret that the new technology is a game changer for diabetes, but urges a cautious, evidence-based roll-out of the best devices.
Many patients, as Margaret hears, are paying for the devices out of their own pockets and the charity UK Diabetes is keeping tabs on which areas of the NHS are funding flash glucose monitors after they came on NHS license four months ago. Policy Manager Nikki Joule tells Mark that they'll lobby hard on behalf of patients denied access to this life-changing technology. Meanwhile Dr Partha Kar, Associate National Clinical Director for Diabetes at NHS England urges clinical commissioning groups to review national guidance and where patients are multiple testing or at risk of the life-threatening high sugar level condition, ketoacidosis, allow access.
Enthusiastic headlines following the recent Lancet study of antidepressants claimed the drugs work, that they're better than placebo and that more should be prescribed. Inside Health's Dr Margaret McCartney takes a closer look at the large meta-analysis of over 500 clinical trials.
Every year in the UK almost 200,000 hip and knees get replaced, mainly because of osteoarthritis. But if the damaged cartilage could be repaired in younger people, would this prevent arthritis and a replacement joint later in life? Researchers have been using stem cell therapy to re-line damaged joints but it's an expensive and complex process, which up to now has involved two stages, one to harvest the stem cells and another, weeks later, to put the tissue back into the injured joint. But now a team at the Royal National Orthopaedic Hospital at Stanmore has developed a one stop operation. Stem cells are harvested from the pelvis and then in the same operation, put back into injured knees to "seed" new cartilage . George Bentley, emeritus Professor of Orthopaedics, orthopaedic surgeon James Donaldson and patient, Nick Brown, talk to Inside Health about this pioneering new treatment.
Producer: Fiona Hill.
Programme Transcript - Inside Health
Downloaded from www.bbc.co.uk/radio4
THE ATTACHED TRANSCRIPT WAS TYPED FROM A RECORDING AND NOT COPIED FROM AN ORIGINAL SCRIPT.  BECAUSE OF THE RISK OF MISHEARING AND THE DIFFICULTY IN SOME CASES OF IDENTIFYING INDIVIDUAL SPEAKERS, THE BBC CANNOT VOUCH FOR ITS COMPLETE ACCURACY.
INSIDE HEALTH – Programme 8.
TX:  27.02.18  2100–2130
PRESENTER:  MARK PORTER
PRODUCER:  FIONA HILL
Porter
Hello.  Coming up in the next half hour:  Antidepressants – Margaret McCartney takes a closer look at the research behind recent headlines extolling their virtues.
And stem cell therapy to repair cartilage –  I visit a centre harnessing the healing power of nature to help people with damaged knees.
But first, diabetes and new figures showing that the number of people with the two main forms of the condition in the UK has doubled in the last 20 years to nearly four million.  And while nine out of 10 cases are the Type 2 variety most commonly associated with being overweight and older, there has also been a worrying increase in the insulin dependent Type 1 variety too.  Indeed, the UK now has one of the highest rates of Type 1 diabetes in the world, and it seems to be developing earlier with more young children being affected.
Managing Type 1 diabetes requires careful monitoring of blood glucose levels and constant adjustment of insulin and/or carbohydrate intake to try and keep levels in the healthy range. Too high and it can make you very unwell and increase the risk of long term complications like blindness and kidney disease, too low and it can lead to coma, seizures and even death. So, checking sugar levels using finger prick blood tests – often through the day and night – are a routine for many people with Type 1.
But new technology is changing all that and leading to a revolution in the diabetes world. Inside Health's Margaret McCartney has been learning more in her home city of Glasgow.
McCartney
We can't say for sure why there's been a five-fold increase in Type 1 diabetes over the past 40 years but what we do know is that it's easily missed and once diagnosed it is often challenging to manage.  Around a third of children with Type 1 diabetes aren't diagnosed until they're critically ill with the extremely high sugar levels, a life-threatening condition called threatening condition called ketoacidosis.
Dr Kenneth Robertson is a Consultant Paediatrician who's led NHS Greater Glasgow and Clyde's Diabetes Service for children for the past 25 years.  Good management of Type 1 diabetes in childhood, he says, reaps rewards later on.
Robertson
If you have good blood glucose control for a period of time, years probably but certainly many months, it seems to reset something in your body which means that even if you have a rocky time later on, let's say in adolescence, which is common, you have less complications than somebody who hasn't had that period of good control.  And there is a big change because when I was a boy and started looking after children with diabetes there was a view that it didn't much matter before puberty.  That has been completely squashed and it matters a very great deal.
McCartney
So, for Dr Robertson, here at his clinic at the Royal Hospital for Sick Children in Glasgow, careful monitoring of glucose levels in blood is the bedrock of good control and management of diabetes.
But until recently, the only way to do that was by multiple finger prick tests using glucose strips a minimum of four times a day but often 10 times or more.  It's a lot of finger pricking and parents testify to the difficulties of doing that multiple times a day on their children – especially during the dip in blood sugars that usually happens overnight.
So, the development of new technology that remotely senses glucose, not directly in the blood vessels but in the "tissues" using sensors placed under in the skin, seems to be a game changer.
Ben's young son, George, has recently started using a continuous glucose monitor – a system that alarms when blood glucose levels are dropping.
Ben
He's six years old, loves playing with Lego and he'd had a really bad cold, so we were just finger pricking him every hour or so, we bought him a Lego set and his fingers hurt so much he couldn't play with his Lego and that was really what flipped us.  We were looking at constant glucose monitors and the various options out there and just decided to go with it after that and it's an absolute life changer.
McCartney
So, what were you doing before that then?
Ben
Finger pricks.
McCartney
Through the night?
Ben
Through the night yeah.  My wife's generally up one, three, five, I don't know how she works on no sleep, but she's an absolute superhero. 
McCartney
So, it sounds as though it's made a big difference to you.  Are you paying for this just now?
Ben
Yes, and it is extremely expensive.  The sensors are £205 a month and then every now and again you have to replace the transmitter, which is another £75 or so.  We're looking at funding but it's a bit of a postcode lottery at the moment.
McCartney
There's also a new cheaper glucose monitoring system that's making a big noise in diabetes care called flash glucose monitoring.  Freestyle Libre is the company involved and unusually, it was marketed directly to patients.  It came on NHS licence at the end of last year and Dr Robertson explains the differences between the two. 
Robertson
Continuous glucose monitoring and flash glucose use essentially the same way to measure the tissue juice glucose.  But the fundamental differences between them are that the flash glucose is not linked to anything, so it can't control a pump and there are no alarms.  And so, the essence of the technology is that you have to swipe a reader across your arm, across the sensor, in order to pick up the data that are stored there.  And it doesn't matter what the data show, if you don't swipe you don't know.
Matthew
I'm Matthew, and I've been Type 1 diabetic for about 10 years and I have the Freestyle Libra.  It's like a wee canula, you insert it into your arm and then when you've done that you can just scan your bloods anytime you want without having to finger print all the time. 
McCartney
Can I have a wee look at your scanner?  So, it looks like an iPod type size, like one of those mini-iPod type things.
Matthew
Yeah, so you press the wee blue button to scan, you just go over your arm.
McCartney
Through your clothes.
Matthew
Yeah you can do it through your clothes as well and then it tells you what your bloods are now and it shows you a graph of how they've been over the past few hours.
McCartney
Right okay.
Matthew
It means that at night I sit and check my graphs and it means that I can change what insulin needs adjusted there from running high overnight or anything.
McCartney
Do you still have to test your finger prick?
Matthew
Yeah you do it maybe about once a day and if it comes up on it saying that your bloods are low then you – because it's got a 15-minute kind of delay, so you do a finger prick check and if you're low then you have your Lucozade and your biscuits.
McCartney
So, it tells you what your sugar level was 15 minutes ago.
Matthew
Yeah and it gives you an arrow telling you like if it's going to be steady or if it's going to come down or go up.
McCartney
And Barbara your Matthew's mum?
Barbara
Yes.  It's been life changing, Matthew's quite a deep sleeper, so if we feel that his blood sugar's been a wee bit variable then we can check him overnight or if we know he's going to have a longer lie in the morning then I can go in and scan him very early just to make sure that his bloods are okay and adjust if necessary.  And the difference to his fingers has just been fantastic in just a few short months.
McCartney
So, would you stick with this then, is this something you'd like to continue with?
Matthew
Yeah definitely.
McCartney
And are you getting this funded just now by the NHS?
Matthew
Er no, I'm funding it myself.  It's about a £100 a month, but I'm really looking for the NHS to be funding it soon.
McCartney
It's easy to see how people like Matthew are rightly enthusiastic about the life-changing impact of this technical revolution on the management and control of their diabetes.  But can we demonstrate that this is an evidence based, cost effective spend?
Robertson
The political pressure to fund these new technologies is great and as a diabetologist who wants to have access to these technologies I understand that political pressure but as a scientist, as a professional, I have to be very careful that we don't just run between technologies because otherwise we're going to be into a VHS/Betamax type situation.  And so just jumping on the next bandwagon is not a good idea but we must implement these things well, safely, in a controlled way and in partnership with our patients who must use these things to best advantage.
Porter
Dr Kenneth Robertson talking to Margaret McCartney in Glasgow.
Despite this new technology being broadly welcomed by NICE and the NHS there's currently marked variation across the UK when it comes to funding.  Even for those who meet the eligibility criteria for continuous glucose monitoring.  And as we've just heard some have even resorted to paying for it for themselves. 
It's a similar situation with the more recently approved and cheaper flash glucose monitoring.  Nikki Joule is Policy Manager for Diabetes UK.
Joule
There are some areas that have said absolutely no, they are not going to allow access for anybody at the moment.  And there are areas where access is quite reasonable.
Porter
And looking across the UK is any one country doing better than the others?
Joule
Wales were pretty much first and ahead of the game and more consistent I think and Northern Ireland managed to put together a system very quickly.  In Scotland we were told that they were waiting on a technology appraisal that's being done in Europe but actually Lothian have just announced that they're allowing access and I think one of the other health boards too.  We know that people are making sacrifices to be able to afford this.  I've spoken to a mother who was doing extra shifts as a nurse so that she could afford to fund it for her child.  I saw somebody this morning was saying that they'd spent £3,000 so far.
Porter
And what sort of benefits are they telling you that they're getting because I mean if you're spending £3,000 and you're having to work extra shifts there's got to be some obvious tangible benefit?
Joule
Exactly.  The things that people say are that they understand what's going on with their blood sugar levels, that they actually feel they're in control of their diabetes.
Porter
Because a lot of these patients are very interested, I mean doctors and nurses might think their own diabetes but the individuals own their own diabetes.
Joule
Yeah and that's really why we took it up as an issue because people were coming to us and saying this is one of the most revolutionary things that's happened in diabetes, it empowers us. 
Porter
You've got a map where people can see what's happening in their area in terms of access, I mean is there partly you trying to shame people into doing the right thing, as far as you see it?
Joule
Yes, we want to give information to people about what's happening in their local area but there is certainly part of that is to say look next door – in the next area to you they've got access and you haven't.  So, yes, there is a certain amount of that.  We'll certainly be opposing blanket bans.  Were this has been considered locally and a decision has been made not to allow access, there's no real justification for that.
Porter
And as far as you're aware there are some parts of the country that have put a blanket ban on or are they saying at the moment not in the foreseeable future?
Joule
It varies.  Some areas have said that there's a ban at the moment until they've reviewed it and they're waiting for evidence or guidance.  But these areas aren't so different from each other.  So, the population of Hereford isn't that different from the population on the other side of the Welsh border, so there's no justification for that really.  So, we will be opposing those.  And then there's areas where they've said that they're not going to review it for a year, I think we would see that as unreasonable.
Porter
Too long?
Joule
Too long. 
Porter
Nicky Joule.  Whatever the pace of uptake most people in the diabetes world agree that it's the start of a revolution, a generational shift in the way blood glucose levels are measured.  Dr Partha Kar is Associate National Clinical Director for Diabetes at NHS England.
Kar
We have moved on from dipping urine to finger pricking in the '70s, '80s and this probably is the next generation of checking your glucose levels, so that's where it probably will stand over the course of time.
Porter
The flash technology has been unusual in that it's been directly marketed to patients and patients have run with it, I mean a lot of them are funding this themselves.  Does that concern you or is it something we should welcome?
Kar
I think it's been interesting to see how it's gone but some people have bought it and as one of the roles of NHS England is to try and make the appropriate technology available to people irrespective of their ability to buy and that's the course of the NHS.  So, with that in mind we laid out the policy and negotiated it being on the tariff and that's what we're trying to encourage is better uptake, irrelevant about whether it's being bought by people or not.
Porter
I get the impression, speaking to some patients who are using this technology, some of them are using technology that piggy backs on the back of it, they seem to be running away with it and far ahead of us doctors in many cases.
Kar
Absolutely, I think lots of people are looking at this technology.  My personal view is that we should encourage this, anything that keeps people better or keeps them safe, there's obviously the regulatory side of things which we need to be mindful of, but if patients are doing it and are better that's something we all need to learn from.
Porter
Fears have been raised by some doctors, including Dr Robertson, who we interviewed earlier, that we have to be careful that just because technology is new that we don't jump on the wrong bandwagon, he used the example of Betamax and VHS, that we need to appraise this technology very carefully.  We do need to proceed with some caution do we not?
Kar
Absolutely.  So, it's a bit like buying a new car but without quite the skills to drive it.  Any technology is as good as the person using it with the education base they have.  So, when we talk about flash glucose the guidelines published is very clear that this should be given to people in whom they have some level of education, the healthcare professional has the education, the patient has the education and most importantly shows some benefit.  So, there is a trio of conditions there as well which makes sense and quite rightly too.  Technology, as you say, needs to be used based on the education you have.
Porter
From a purely cost basis, I mean I know there's no such thing as an average person with Type 1 diabetes, but from a purely cost basis if I'm testing say eight to 10 times a day is this likely to cost that much more?
Kar
No, I think that's where the national guidance has been set, that if you're testing more than eight times a day it's looked to be cost neutral.  As regards other costs, if you improve your quality of life, if you improve your admissions or be able to stop yourself from going into lower blood sugar readings then we would expect some more financial benefits over the course of time.
Porter
Is there any evidence yet that this sort of monitoring improves control to the extent that we might reduce the risk of medium to long term complications, which in themselves are very costly not only to the individual – I mean heart disease, stroke, kidney problems, eye problems – but also very costly to the NHS.
Kar
Yes, but there is a real-world study done in about 50,000 patients who have used flash glucose monitoring and if you look at the data it clearly says that there is a significant drop in HP01C or the marker for diabetes control.  And the important thing there is the more you scan the more you seem to improve you overall control.  So, evidence is accumulating and most importantly as we have started to encourage more pick up of this technology in the UK we have also encouraged that a national audit be done and we'll be analysing the data hopefully to see what benefit it shows and glucose control will be one of them.
Porter
Diabetologist Partha Kar, ending Margaret McCartney's report on how technology is changing diabetes.
Margaret is in our Glasgow studio now because she has also been taking a closer look at the research behind recent headlines about antidepressants.  A large meta-analysis of over 500 clinical trials of the drugs, published in the Lancet, concluded that they work well and resulting media coverage suggested more people should be taking them.  Some of you have asked if the study was funded by pharmaceutical companies – it was not – others, including Dr David Stevenson, have been in touch to point out that this research centred on major depression, not the more common mild to moderate forms.  Margaret?
McCartney
Well that's a really good point and this study hasn't got full information about which patients are most likely to benefit from the drugs.  And while I have no doubts that they do help some people, we also have quite clear evidence that they don't make a big difference to the vast majority of people with mild to moderate depression.  And that's why NICE, for example, don't recommend that they're used first line for people with mild depression, they recommend other treatments instead.  And this study, of course, only looked at antidepressants as a treatment for depression, they did not look at the psychological interventions that we know work really well, at least as good as, or better, than antidepressants for many more people.
Porter
One of the surprising findings for me was the difference in how well these drugs worked.  I mean looking at this meta-analysis amitriptyline, one of the oldest antidepressants, came out way on top whereas citalopram, that's one of the newer generation of Prozac-type drugs came close to the bottom, and that's the one we're using mostly these days.
McCartney
Yes, I mean one of the reasons why we don't use amitriptyline so much now, I think it's two-fold.  One is it's what I would describe as a bit of manky drug, it's got lots of side effects, for example sedation, constipation, dry mouth, people just generally not feeling great on it at the high doses that we need for depression.  We still use it quite a lot but in much smaller doses for chronic pain.  So that's one of the reasons why we don't use it so much.  And the other reason is that it's very, very toxic in overdose, there are many fatalities due to amitriptyline taken in overdose by people who are depressed has largely been avoided now because we hardly use it for depression.
Porter
But the takeaway message from this research is that the modern drugs may be better tolerated but they're perhaps not as effective?
McCartney
The researchers tried to look at this in terms of a sliding scale of effectiveness and one of the methods they used was depression questionnaires asking people to plot on a tick box questionnaire how bad their symptoms were and then giving them a score.  And you can have high statistical significance when you get clear differences between the drugs in terms of what the questionnaire showed, how many points people got from their depression score, to say that one is different from the other but these might not be clinically significant.  So, a small change in points might be statistical proven, it might be something that you're quite certain about looking at the analysis but it might not make a really big difference to patients.  And that's the bottom line – are these drugs clinically effective enough for people to put up with the side effects.
Porter
So, these differences might not translate into real world benefits.  And talking of the real world the other thing that struck me about this was the average duration, when they looked at the antidepressants in the study, was just eight weeks and you and I know that the average course, in fact the minimum course, is probably something more like nine months.
McCartney
Or at least and one of the big problems that we have, as yet unanswered, is what is the effect of taking these drugs perhaps on and off or mainly on for years at a time.  And that's where we have real deficits in our information.  It's really tragic that so many trials have been done looking at the short-term when the real-life use is of months and even of years.  It's really appalling that decades have passed without us asking the fundamental questions of how we're using them today and whether that's safe and effectively good practice or not.
Porter
Thank you Margaret.
And for those of you keen to do your own critique there is a link to the Lancet antidepressant meta-analysis on the Inside Health page of the Radio 4 website.  Where you can also subscribe to our podcast service meaning you will never miss an episode again.
Nearly 200,000 hip and knee replacements are performed every year in the UK, the vast majority of them on middle aged or elderly people with osteoarthritis.  What if we could repair damaged cartilage in younger people and prevent them developing arthritis that requires a new joint later in life?
Well, that is one of the aims of researchers harnessing stem cell therapy to grow new cartilage to reline damaged joints.  But it's a complex process that, up until recently, has involved two stages – one to harvest the stem cells and grow them into cartilage, and another to put the new tissue back into the injured joint.
But now a team at the Royal National Orthopaedic Hospital in Stanmore has developed a one stop operation that means the stem cells can be collected and put back into injured knees within a couple of hours.
George Bentley, Emeritus Professor of Orthopaedics at University College London, has been leading the work.
Bentley
Yes, well in the knee the surfaces are lined with articular cartilage, which is unique in the sense that it's extremely tough.  Now the problem is that there's no blood supply nor even nerve supply to the cartilage.  And so, if it gets damaged it doesn't repair.  So, it's crucial for the joint and if the cartilage breaks down for any reason then the joint becomes painful and gradually and progressively deteriorates.
Porter
So, the function of cartilage within the joint, it's a sort of slippery resilience, slightly softer surface than the bone, that allows the joint to work smoothly?
Bentley
Yes, and it's extremely slippery.  The normal joint is probably three or four times more slippery than the best artificial joint that we have.
Porter
So, because it lacks blood supply, cartilage doesn't repair itself effectively, so as a result of injury or other diseases processes if you get a defect in your cartilage you're in trouble?
Bentley
Yeah, yeah absolutely. 
Donaldson
My name is James Donaldson, I'm one of the Consultant Orthopaedic Surgeons at the Royal National Orthopaedic Hospital in Stanmore.  We're talking about the articular cartilage, which is the end of the thigh bone in the knee and the top of the shin bone in the knee.
Porter
How would people injure that?
Donaldson
It can be from trauma, so one of the commonest reasons is an athlete that damages their knee.  Everyone knows about damaging the ligaments or the meniscus but what isn't fully appreciated is an injury to the actual articular cartilage, the lining of the knee joint.  In the past the treatment of that has been less effective.  One of the techniques is to drill into the bone and encourage healing the scar tissue, which is what we call micro-fracture.  That heals with a fibro cartilage which isn't as mechanically sound as normal articular cartilage.
Porter
Sort of scar tissue.
Donaldson
It's a scar tissue, so it's a scar tissue repair.  That does give symptomatic improvement for about five years but after that the results tail off and then they end up again in the osteoarthritic situation requiring further surgery.
Brown
So, I'm approaching 40 this year and in my early 30s I started to get a lot of knee problems after playing rugby my whole life basically, just through wear and tear.  Had a couple of cartilage operations but nothing seemed to really work.  And then the doctor said to me your next step really is to have your whole knee replaced and as a 30 something chap I was thinking oh this is not looking good, I really wanted to try to do everything I could to not have to go through that at such a young age.
Bentley
Everybody knows that stem cells can grow into any sort of other cell.
Porter
A sort of universal starting point.
Bentley
A universal donor cell, yes, I mean it can be neurological tissue or it can be nerve tissue or it can be cartilage.  And so, what we do is we take cells from the bone marrow, which is within the bone of the pelvis, and when you centrifuge it you can recognise a layer of cells which are precursors of the stem cells.  And so, we separate those out.  We also use a high uronic acid matrix, which is of mesh work, and we put the stem cells, precursors, into the matrix and it takes about 30 minutes at maximum to prepare this blood and stem cells and then the matrix.  And so, in the meantime we open the joint, clear the defect and where we had put in cells by injection before we now put in this matrix with the stem cells.  The advantage of that is that it's also very quick because you can actually secure this transplant of cells and mesh work with glue and so you don't need to do any suturing.  And so, the procedure with all of that that I've mentioned takes probably a maximum of an hour and a half.
Brown
The immediate reaction of a lot for people is what are you going to have a mouse growing an ear on the back or something like that, like some sort of Frankenstein operation.  But as I read more and more about it it's actually you're using your own cells to repair your own body.  So, my head got around it quite quickly I think and I've realised actually this is a great idea, great opportunity because if my only other opportunity is to have my knee replaced with metal, which would then have to be replaced again in 10 or so years' time, let's give it a go.
Donaldson
Well we have data coming up to 18 months to two years now and in the correct patient the results are comparable to the two-stage process that has been written about in the literature.  The results are probably in the region of 75% effective in reducing patients' pain and improving their outcome.  So, improving their function. 
Porter
You're a specialist unit here, you've been involved in the research, I can see your patients having access to it, what about people in other orthopaedic units across the country?
Donaldson
Regenerative cartilage procedures are expensive or have been expensive in the past.  NICE at the National Institute for Clinical Excellence, has recently said that autologous chondrocyte implantation is a useful first line procedure for a cartilage injury in a young patient.  That procedure – the ACI – costs in the region of £15-16,000.  We have moved on slightly from that, doing this in a one-stage procedure and we think we can reduce the cost of the procedure to about £3 or £4,000, although any of these procedures are done in specialist units and they need to be done as part of a research trial so that we can monitor the patients, ensure the right patients are having the right operation and looking at the long term outcome.
Brown
Came out of the operation and just had a leg brace, like fixed leg brace, a leg out straight.  It was just like that for a couple of days and then they fitted me with a hinged, like Velcro leg brace, and encouraged me to move the leg as much as possible.  But it was three months non-weight bearing, so not putting any weight through my leg.  Then after three months it was do partial weight bearing, so that was walking with crutches and putting 50% weight through it.  So, it was a slow recovery – so it was about six months before I could probably walk without crutches.
Porter
From a personal and professional point of view I mean how do you feel about the procedure?  It feels a bit like a dawn of a new horizon, we've been there before though.
Donaldson
We've been there before, there's always dawns of new horizons in medicine.  I think medicine and particularly orthopaedics are going to go down a regenerative route, looking to the future and trying to delay the need for more expensive and invasive procedures like joint replacement surgery.  So, it's not just the knee that this is applicable, so the foot and ankle, shoulder, all have very similar cartilage defects and if we can show this is a useful tool, a useful procedure with long term data then it can applied in all parts of the body.
Brown
My father had really bad rheumatoid arthritis, so he could never run around with my brother and I when we were younger and so one thing in my head was I really want to try and be able to run around with my little boy.  And so now, yeah, I can do that, we go to rugby training on a Sunday morning, he's only four but he gets involved in rugby tots and it's just great to be able to experience this growing up with him.  And I could run for a train if I want to, I could go dancing with my wife if I want to.  The physio said I could start skiing again, I've started jogging.  So, it really has gone from just being able to walk in lots and lots of pain and have to take ibuprofen and paracetamol quite regularly to move at any speed I like to now.  It's really changed my outlook on life really.  So yeah, I'm really pleased with it.
Porter
Nick Brown who seems very happy, so far, with the experimental new stem cell treatment being trialled by George Bentley, James Donaldson and the rest of the team at Stanmore.
Just time to tell you about next week when, among other things, I will be finding out why half the people who have heart attacks in the UK are still missing out on an established therapy that could dramatically improve their odds of survival.  And it doesn't involve a pill.  Join me then to find out more.
ENDS