Main content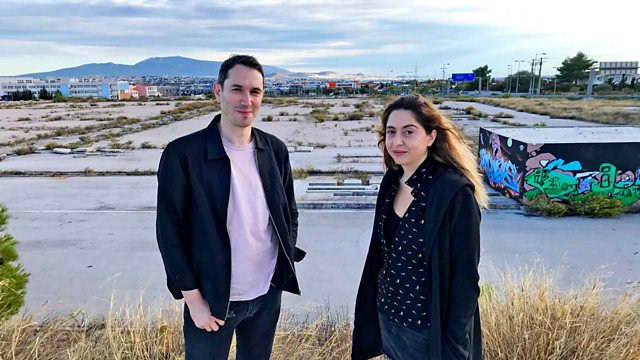 Greek Revival
As Athens struggles through what has been called a 'forever crisis', critic Alastair Sooke reports on the arts boom in Greece.
As Athens struggles through what's been called a "forever crisis", the critic Alastair Sooke reports on the arts boom in Greece.
Culture is experiencing a moment of richness in debt-stricken Athens. In light of declining state support for the arts, young Athenians are taking matters into their own hands. They're benefitting from the city's cheap rents, generous studio spaces and its new galleries popping up in abandoned spaces.
Alastair explores the city, meeting a generation of artists coming to terms with a new Greece. ATH1281, one of the most prolific street artists in Athens, takes him on a graffiti tour, to explain how his murals provide a cutting commentary on modern Athenian life.
At the 2004 Olympic Park on the outskirts of town, many of the buildings are now derelict. Filmmaker Sofia Exarchou used this village as the setting for her award-winning feature film Park. Her collaborator, the musician The Boy (Alexander Voulgaris) also used the crisis as an artistic catalyst, writing and recording an entire album in one week, in response to the 2015 referendum.
When Documenta, one of the world's most influential art exhibitions, was held in Athens last year, Greece's resurgent arts scene was put on the international map. Alastair meets some of the British artists who have moved to Greece, including digital artist James Bridle and recent graduate Catriona Gallagher. What's it like to be a newcomer in a city brimming with new artist-run spaces? And what do they make of the idea that Athens is the "New Berlin" for the arts?
Produced by Paul Smith
A Just Radio production for BBC Radio 4.
Last on