Main content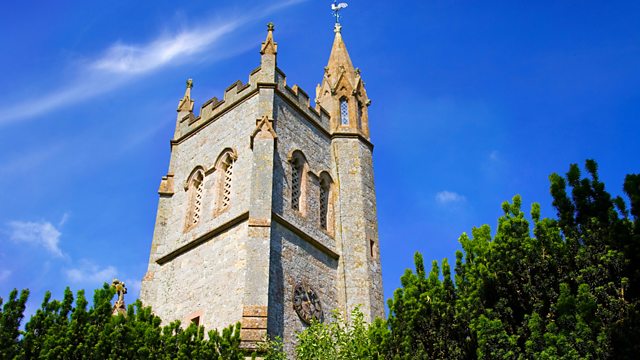 Establishing Authority
On the second Sunday of Lent, the Rev Canon Dr Sarah Rowland Jones preaches on Stories of Hope in a live service from the City Parish Church of St John the Baptist, Cardiff.
On the second Sunday of Lent, the Rev. Canon Dr. Sarah Rowland Jones continues the theme of "Stories of Hope". The live service from the City Parish Church of St. John the Baptist, Cardiff, led by the Rev. Dyfrig LLoyd, explores ways to seek out, know and trust the authority of God. Reading: Mark 6: 7-13. Music by The Cantemus Chamber Choir, directed by Huw Williams and accompanied by Peter King, includes Ubi Caritas (Mealor); Requiem: Psalm 23 (Howells); Love Divine, All Loves Excelling (Blaenwern) and All My Hope on God is Founded (Michael) . Producer: Karen Walker.
Script:
Please note: This script cannot exactly reflect the transmission, as it was prepared before the service was broadcast. It may include editorial notes prepared by the producer, and minor spelling and other errors that were corrected before the radio broadcast.
It may contain gaps to be filled in at the time so that prayers may reflect the needs of the world, and changes may also be made at the last minute for timing reasons, or to reflect current events.

BBC Radio 4.  And now, on the second Sunday of Lent, we go live to the City Parish Church of St. John the Baptist in Cardiff where the Rev'd Dyfrig Lloyd leads this week's Sunday Worship.  The Reverend Canon Doctor Sarah Rowland Jones, who reflects on the theme of "Stories of Hope" and establishing God's authority, also introduces the service.
ITEM 1 INTRO    REV. CANON DR. SARAH ROWLAND-JONES
     Good morning, bore da, a chroeso.  Welcome, to St John's, built in the twelfth century to serve Cardiff's Castle, and still the city's civic church.  With the Six Nations rugby tournament in full flow and preparations in place for St. David's Day later this week, the surrounding shops and streets display a colourful array of flags and bright daffodils.  Spring is in the air – a time of fresh beginnings, a time of hope.
     Hope, the Christian hope, was central to the life of Dr. Billy Graham who died on Wednesday, aged 99.   One of the most celebrated evangelists in Christian history Billy Graham, from his student days to well into his 80s, consistently preached that "Jesus Christ is the Son of God who alone can save us from our sins". Countless people found faith through his simple, clear message, responding to his call to "pray to Him for forgiveness and, by faith, receive Jesus Christ into your life."
      Known affectionately as God's Ambassador, Billy Graham counselled twelve American presidents, from Dwight Eisenhower to Barack Obama, and it's reckoned he spoke his message to well over 200 million people at crusades around the world, including famously at Haringey for three months in 1954.   But it was back in 1946 on only his second visit to the UK that he made his only public visit to Wales, where as a young man in his 20's, he preached in Pontypridd and Gorseinon, an area with close links to the Great Welsh Revival of 1904 and 1905. 
     One of the many hymns close to his heart is the one with which we begin our worship this morning and which celebrates our hope in God's amazing, saving, grace. 
ITEM 2  HYMN 1  Amazing Grace
ITEM 3 PRAYER DYFRIG
The fourth verse in that hymn speaks of how God promises good to us, as long as life endures.   During our Sunday Worships this Lent we're focusing on "Stories of Hope", considering what it means to live with our hope set on the God whose promises prove trustworthy.   As Billy Graham himself said, 'Being a Christian is more than just an instantaneous conversion – it is a daily process whereby you grow to be more and more like Christ.' 
 Let us pray:
 Almighty God,
 We thank you for the long life and faithful ministry of Billy Graham.
 We entrust him to your care, as we recall his words:
"Heaven gives us hope – hope for today, and hope for the future. No matter     what we are facing, we know it is only temporary, and ahead of us is Heaven.'
 
 We pray for ourselves to know the discipline of Lent:
 may we enter into the mystery of Christ's sufferings,
 and by following in his Way, come to share in his glory;
 through Jesus Christ our Lord.  R. Amen                                            
ITEM 4 ANTHEM
Jesu, the very thought of thee  (Bairstow)
ITEM 5 LINK  DYFRIG
     Edward Bairstow's Anthem, Jesu, the very thought of thee, sung by the Cantemus Chamber Choir who are with us this morning.
     St Paul writes to the Christians in Rome 'Rejoice in hope, be patient in tribulation, be constant in prayer.'   In times of tribulation, hope has sometimes been described as the ballast of faith. It keeps us moving forwards even when the stormy waters of life threaten to toss us off course.    Well-founded confidence offers us a better guide than our anxieties, when times are tough. Not only this, but authentic, God-given hope can actually be forged and strengthened as we wrestle with life's difficulties. 
     This is what St Paul has to say in our first reading, from earlier in the same letter.          
ITEM 6 READING 1   PAULINE
A reading from St Paul's letter to the Romans, Chapter 5, verses 1 to 5.
Therefore, since we are justified by faith, we have peace with God through our Lord Jesus Christ, through whom we have obtained access to this grace in which we stand; and we boast in our hope of sharing the glory of God. And not only that, but we also boast in our sufferings, knowing that suffering produces endurance, and endurance produces character, and character produces hope, and hope does not disappoint us, because God's love has been poured into our hearts through the Holy Spirit that has been given to us. 
This is the word of the Lord. R. Thanks be to God.         
ITEM 7 LINK DYFRIG
Billy Graham put the same thought in other words: 'Comfort and prosperity have never enriched the world as much as adversity has'.
I tend to agree - though none of us wishes for it.   We discover, in and through adversity, that godly hope does not disappoint us, because we also discover through experience that God is love, and pours his love into our lives.
No matter what life brings us we dare to believe God's redeeming love will make us whole, and bring us home – a sentiment expressed in Charles Wesley's hymn, Love Divine, all loves excelling. 
ITEM 8 HYMN 2
Love, Divine, all loves excelling   Tune: Blaenwern
ITEM 9 LINK  DYFRIG
Through his preaching and teaching, through his acts of healing love and the example of his life, Jesus demonstrated his divine authority.   And In our second reading, we hear an example of how he taught his disciples to trust in this authority.   [After which the Reverend Canon Dr Sarah Rowland Jones, the Vicar of St John's, shares her reflection.]
         
ITEM 10  READING ROSS
A reading from the Gospel according to St Mark, Chapter 6, verses 7 to 13.
Jesus called the twelve and began to send them out two by two, and gave them authority over the unclean spirits.
He ordered them to take nothing for their journey except a staff; no bread, no bag, no money in their belts; but to wear sandals and not to put on two tunics.
He said to them,
'Wherever you enter a house, stay there until you leave the place. If any place will not welcome you and they refuse to hear you, as you leave, shake off the dust that is on your feet as a testimony against them.'
So they went out and proclaimed that all should repent.
They cast out many demons, and anointed with oil many who were sick and cured them.
This is the word of the Lord. R. Thanks be to God   
ITEM 11 SERMON PART 1  SARAH
An hour before our service started this morning, the choir began to warm up – practicing scales and arpeggios, and running through their various exercises.  All of which gave them the confident knowledge that when our first hymn was announced, they could launch in, loud and clear.
     We might call this an exercise in training muscle memory, so that should their hearts and minds feel nervous and tense at the prospect of a live broadcast, nonetheless their throats and lungs would know exactly what to do, to make a joyful noise to the Lord!
     I like to think of the 40 days of Lent as a time for training the muscle memory of the soul, so that when we feel nervous or under pressure, we automatically turn to God.   Experience teaches us that we can, indeed must, rely on Jesus Christ, Redeemer and Lord, in hard times and in easy times.
     Our reading from the Gospel of Mark recounted how this was the lesson Jesus wanted the disciples to learn, as he sent them out two by two. By being despatched without bread, bag, money, spare clothes, or a planned place to stay, they are forced to rely wholly on him.
     All the inessentials are stripped away. On this, their first mission, the disciples will focus entirely on what matters:  on Jesus, his message, and their dependence on him.  They've known him long enough, and well enough, for his teaching and example to establish in them a trust in his authority.
     The healing and wholeness they are to offer, and the holiness to which they call others, is not something they can provide themselves. They speak and act solely with Jesus' authority, which he shares with them.
This is the lesson they need to learn, and follow, from the very start. It lays the foundation for everything else. 
     Later on, as they spread the good news of God's kingdom, they will travel with bread, with bag, with money and spare clothes, often staying where they are expected and welcomed – but only because they have first understood that, when it comes to the crunch, all of these are secondary to their reliance upon Jesus, as they live God's way and do God's work.
     We too can build similar habits and we don't have to look far today to see how that can be done.  Billy Graham was raised on a dairy farm, rising at 3.30 daily to milk the cattle, and learnt the discipline of hard work. He also learnt to make time for avid reading, from which he never ceased. Growing up in the poverty of the Depression, he found true riches through his conversion just before his 16th birthday. 
     These practices and perspectives shaped his whole life. Later asked in an interview by Sir David Frost how he wanted to be remembered, he replied, after a moment's thought: 'As a person who had integrity, and who was faithful to his calling, and who loved God with all his heart, mind and soul.'
     The period of Lent challenges us to get our practices and perspectives right – as we take up the call to trust in Jesus' authority by laying aside our other reliances.   In place of bread, bag, money and so forth, we might ask ourselves how much we depend on material resources, or the baggage of our knowledge and experience, or the financial safety net of insurance policies. In place of spare tunics, how important is our image to us. And are we prepared to let life take us where Jesus leads?
     No matter how uncomfortable and awkward it feels, let us remind ourselves that reliance on Jesus is always our starting point, always the place to which – to whom – we come home, and find our rest and refreshment, our new strength.
ITEM 11A ANTHEM
Requiem Psalm 23      Herbert Howells
ITEM 12 SERMON PART 2  SARAH
Those words, from Psalm 23, to a setting by Herbert Howells, remind us that God is with us, guiding and leading, whether we're in life's greenest pastures, or the darkest valleys of the shadow of death.  
       God trains us, whether through taking us outside our comfort zones, or through times of hardship, to hope in him. We learn to walk close to him so that when life is easy we don't stray off; and when times of trial come we know how to rely on him!
       I found this with my first husband, Justus, as he was dying of smoking-related cancer.
       Some of the feelings which we experienced then are summed up in words from T S Eliot's poem, East Coker.
He wrote,
I said to my soul, be still, and wait without hope
For hope would be hope for the wrong thing; wait without love
For love would be love of the wrong thing; there is yet faith
But the faith and the love and the hope are all in the waiting.
     Justus and I didn't know what we should hope for, as his health lurched from bad to worse. We were afraid to love – or at least, to cling onto – the wrong things in life too, but we wanted to be there for each other as best we could.
     But we did have faith. We trusted in the God who shows himself trustworthy in Jesus Christ, and so we consciously decided we could and would hope only in him.  We would ask only for more of him, and for his will to be done – daring to call to mind St Paul's words that in all things God works for good, for those who love him.
     Through that suffering and endurance, habits of hope in Jesus Christ anchored us.   All things considered, it was a year of ridiculous love and joy and laughter. Through the awfulness of terminal illness and death, the peace of God which passes all understanding, all common sense, all rational analysis, always seemed to have the final word, for this life and the life to come.
     Even when life is far less dramatic, and we're tempted to think we can manage on our own, we still need to rely on Christ in all things.
     I'm reminded of this on days when I'm tired and grumpy and it seems everyone else is an annoying idiot. The penny soon drops: the problem isn't them, it's me; doing things my way.
     Recognising this of myself, in Lent, and more generally, I've found myself praying increasingly not for strength but for weakness.
     I need to keep being reminded of my dependence on the sure and certain hope that is ours in Jesus Christ, especially when I feel I can handle what life throws my way.  And whether or not I think I know the way ahead, I've also taken to praying for faithful obedience – it's another way of expressing total dependence on Jesus' authority and leading. 
     Perhaps you've heard the joke – if Jesus is the answer, what's the question? 
     I believe that Jesus is the answer to any question worth asking, any problem worth solving, and to all the challenges or dangers we may face.  And Lent challenges us to practice letting Jesus be the answer.
ITEM 13 ANTHEM  Ubi Caritas   Paul Mealor
ITEM 14 INTERCESSIONS
Dyfrig:
Ubi caritas et amor, deus ibi est - Wherever there is charity and love, God is present – to a setting by the celebrated Welsh composer Paul Mealor.
 
So let us pray to the God of love, with whom we have peace through our Lord Jesus Christ, asking that he may sustain us on our Lenten journey, with the hope that does not disappoint us.                                                                                    
 
Vanessa:
1.      Loving Father, give us grace to rely on your Son above all else, following the example of your Son's first disciples, and of Billy Graham and your faithful servants in every age
God of mercy,
Sustain us with your hope.
 
2.      Loving Father, who gave all authority in heaven and on earth to your Son bring the rulers of the world to follow his example of servant leadership
God of mercy,
Sustain us with your hope.
POSS SUNG RESPONSE HERE  TBC
Steal away steal away steal away to Jesus
Steal away, steal away home. I aint got long to stay here.
3.      Loving Father, with whom we have reconciliation through your Son, bring your peace to all who suffer through violence, war and conflict
God of mercy,
Sustain us with your hope.
 
4.      Loving Father, your Son sent his followers to anoint and cure the sick, grant healing to all who suffer, in body, mind and spirit, for this life and for the life to come
God of mercy,
Sustain us with your hope.
POSS SUNG RESPONSE HERE  TBC
Steal away steal away steal away to Jesus
Steal away, steal away home. I aint got long to stay here.
Vanessa:
5.      Loving Father, as St David's Day approaches, help us to learn from his example to be 'faithful in the little things'.
God of mercy,
Sustain us with your hope.
 
ITEM 15 LORD'S PRAYER
Dyfrig: We join in the prayer that Jesus taught his disciples
Our Father who art in heaven, hallowed be thy name,
thy kingdom come, thy will be done,
on earth as it is in heaven.
Give us this day our daily bread.
And forgive us our trespasses
as we forgive those who trespass against us.
And lead us not into temptation,
but deliver us from evil.
For thine is the kingdom, the power and the glory,
for ever and ever. Amen.        

ITEM 16 HYMN 3 
All my hope on God is founded  Tune: Michael
ITEM 17  PRAYER SARAH
Our service ends, with words echoing a passage from the Letter to the Ephesians:
We pray that the God of our Lord Jesus Christ, the Father of glory, may give us a spirit of wisdom and revelation as we come to know him, so that, with the eyes of our hearts enlightened, we may know what is the hope to which he has called us, what are the riches of his glorious inheritance among the saints, and what is the immeasurable greatness of his power for us who believe, according to the working of his great power.
ITEM 18 BLESSING 1
Christ give you grace to grow in holiness,
To deny yourselves, take up your cross, and follow him.           
Keep your eyes fixed on Jesus, who was wounded for our sins,
that you may bear in your life the love and joy and peace
which are the marks of Jesus in his disciples;      
And the blessing of God almighty, the Father, the Son and the Holy Spirit, be with you all, ever more. Amen.    
BLESSING 2
A bendith Duw Hollalluog, y Tad, y Mab a'r Ysbryd Glân, a fo yn eich plith ac a drigo gyda chwi yn wastad.  Amen.    
And the blessing of God almighty, the Father, the Son and the Holy Spirit, be with you all, ever more. Amen.
BLESSING 3
And the blessing of God almighty, the Father, the Son and the Holy Spirit, be with you all, ever more. Amen.
ITEM 19 ORGAN VOLUNTARY
CLOSING ANNO FROM R4
Chorale Prelude "Christus, der uns selig macht" by Johann Sebastian Bach bringing this morning's Sunday Worship to a close.  The live service from the City Parish Church of St. John the Baptist in Cardiff, was led by the Rev'd Dyfrig Lloyd and the preacher was the Rev'd Canon Dr. Sarah Rowland Jones.  The Cantemus Chamber Choir was directed by Huw Williams. The organist was Peter King and the producer was Karen Walker.
And you can find a link on the Sunday Worship website to the various resources complementing Radio 4's worship programmes during the season of Lent. 
Next week's Sunday Worship for Lent is a Mass live from St. Aloysius Roman Catholic Church in Glasgow.