Main content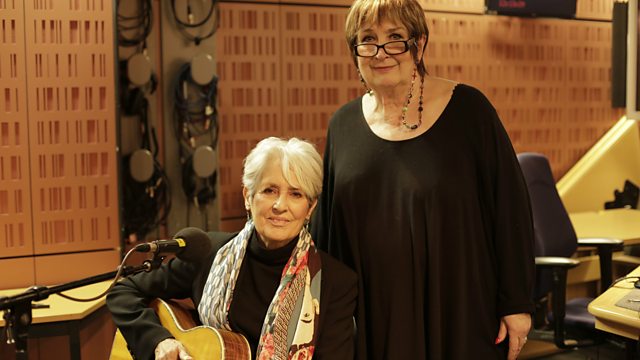 Weekend Woman's Hour: Joan Baez, Teens and Xanax, Kate Figes
Joan Baez performs Diamonds and Rust and talks about her career. Plus a look at whether teenagers should count calories to manage their weight and women in music technology.
As Joan Baez prepares to embark on her last formal tour she talks about the highlights of her career and performs Diamonds and Rust.
We hear from Paul, a teenager, about what it's like to take the drug Xanax and why he decided to take a drug that he hadn't been prescribed. His mum Dawn describes the impact of his drug taking on their family.
A woman being held at Yarl's Wood detention centre tells us why she's striking against the system of immigration detention. We also hear from Gemma Lousley from Women for Refugee Women.
The journalist Kate Figes on her latest book: On Smaller Dogs and Large Life Questions.
Why are an increasing number of parents choosing to educate their children at home instead of in a conventional school? Vickie 'unschools' her daughter, Callie Vandewiele was home educated in the US and is now completing a PhD at Cambridge University and Dr Helen Lees is a Reader in Alternative Education Studies at Newman University in Birmingham.
Nearly a quarter of the nominees at this year's Music Producers Guild Awards are women. Catherine Marks, who won UK Producer of the Year and Steph Marziano, nominated for Breakthrough Engineer of the Year tell us what it's like to work in the industry.
What is the best way to tackle teenage obesity? Weight Watchers are promoting a new initiative for teenagers from 13-17 years who will now be able to sign up for free. Is this a possible solution to the number of teenagers who are obese? We hear from Steph Yeboah, a plus size blogger, who feels she developed negative associations with food when she joined a slimming club, Zoe Harcombe a researcher in the field of diet and health and Peymane Adab professor of public health at Birmingham University.
Presented by Jenni Murray
Produced by Rabeka Nurmahomed
Edited by Jane Thurlow.
Credits
| Role | Contributor |
| --- | --- |
| Presenter | Jenni Murray |
| Interviewed Guest | Joan Baez |
| Interviewed Guest | Gemma Lousley |
| Interviewed Guest | Kate Figes |
| Interviewed Guest | Callie Vandewiele |
| Interviewed Guest | Helen Lees |
| Interviewed Guest | Catherine Marks |
| Interviewed Guest | Steph Marziano |
| Interviewed Guest | Steph Yeboah |
| Interviewed Guest | Zoe Harcombe |
| Interviewed Guest | Peymane Adab |
| Performer | Joan Baez |
| Producer | Rabeka Nurmahomed |
| Editor | Jane Thurlow |