Main content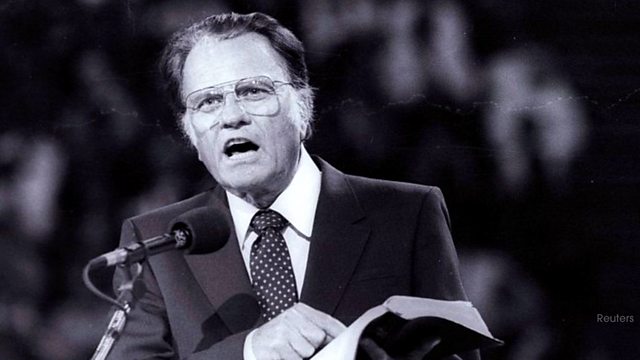 When Billy Graham came to Wales
Evangelist Billy Graham has died after a global ministry spanning seven decades. We recall his only visit to Wales and meet some of those for whom the encounter was life-changing.
This week we mark the death of one of the most celebrated preachers in Christian history. In a ministry spanning seven decades, Billy Graham travelled the world preaching to huge audiences. Nine million people are reckoned to have heard him speak in Britain alone, a million on a single occasion in South Korea.
In more than half a century, he met every one of the twelve American presidents, from Harry S Truman to Barack Obama. He prayed with most of them and became a close confidante to several.
He counselled Dwight D Eisenhower before he sent troops to Little Rock, Alabama, during the civil rights protests. He made frequent visits to Lyndon Johnson at the White House; he was a personal friend of Richard Nixon from the early fifties; was with George Bush senior on the night before the first Gulf War. Little wonder he became known as America's pastor.
Billy Graham was criticised by some for his links with politicians, for his theology and for his methods. But unlike many contemporary televangelists, he maintained an untarnished personal reputation. He headed a multi-million dollar organisation, but drew a salary in line with that of a pastor of a large church. And when his wife Ruth died in 2007 they'd been married for 64 years and raised five children.
It was in 1954 that Graham took Britain by storm with a 12 week mission to London which culminated in a final meeting in Wembley Stadium packed by nearly 140,000 people.
But he had been here before, in 1946, when he made his only public visit to Wales and began a week-long preaching tour in Capel Salem, Gorseinon. To mark the fiftieth anniversary of that event, All Things Considered tracked down some of the people who were there, and who looked back on it as life-changing.
Last on
Broadcast

Podcast
Religious affairs programme, tackling thorny issues in a thought-provoking manner