Main content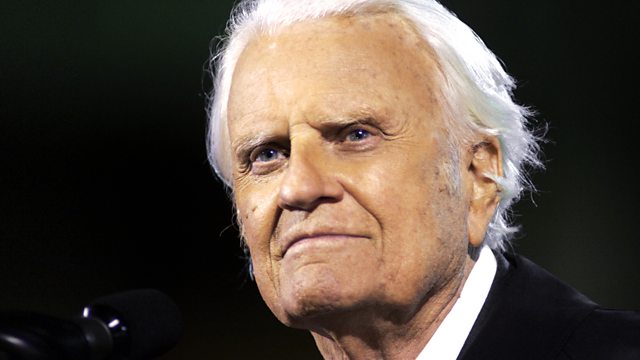 Billy Graham, Laura Lee, John Morris, John Bosco McAtasney, John Pitman
Matthew Bannister looks back at the lives of evangelist Billy Graham, sex worker Laura Lee, composer John Morris, weaver John Bosco McAtasney and reporter John Pitman.
Photo: Billy Graham
Matthew Bannister on
The evangelist Billy Graham who preached to millions around the world and offered spiritual advice to 12 American Presidents.
Laura Lee, the sex worker who campaigned for the rights of her colleagues.
John Morris who composed many film soundtracks, including the music for Mel Brooks' comedies The Producers and Blazing Saddles.
John Bosco McAtasney, the last hand weaver of damask linen in Ireland.
And John Pitman, the TV reporter and producer who started his career on Braden's Week and took Sheena Easton into the Big Time. Esther Rantzen pays tribute.
Archive clips from: I GOT UP OUT OF MY SEAT, Radio 4 25/05/2007; THE FROST COLLECTION, Radio 4 20/05/2008; MEN'S HOUR, Radio 5 Live 18/05/2014; COUNTRY TIMES, Radio Ireland 03/04/2000; STILL STANDING, Radio Ireland 06/04/1992; BRADEN'S WEEK, BBC TV 29/4/1972; MAN ALIVE, BBC TV 16/01/1979; THE BIG TIME:SHEENA EASTON:THE MAKING OF A STAR, BBC TV 21/04/1981; JUST ANOTHER DAY: GREYHOUND RACING, BBC TV 12/12/1986.
Billy Graham
Last Word spoke to Harvey Thomas, his former head of PR, and journalist and writer Michael Goldfarb.
Born 7 November 1918; died 21 February 2018, aged 99.
Laura Lee
Last Word spoke to Lucy Smyth, founder of the sex worker support group National Ugly Mugs.
Died 7 February 2018, reportedly aged 39.
John Morris
Last Word spoke to his daughter Bronwen Morris, and director Mel Brooks. 
Born 18 October 1926; died 25 January 2018, aged 91.
John Bosco McAtasney
Last Word spoke to his daughter Bronagh McAtasney.
Born 11 April 1934; died 29 January 2018, aged 83.
John Pitman
Last Word spoke to his friend and colleague, journalist and presenter Dame Esther Rantzen.
Born 18 November 1939; died 14 February 2018, aged 78.
Credits
| Role | Contributor |
| --- | --- |
| Presenter | Matthew Bannister |
| Interviewed Guest | Harvey Thomas |
| Interviewed Guest | Michael Goldfarb |
| Interviewed Guest | Lucy Smyth |
| Interviewed Guest | Mel Brooks |
| Interviewed Guest | Bronwen Morris |
| Interviewed Guest | Bronagh McAtasney |
| Interviewed Guest | Esther Rantzen |