Main content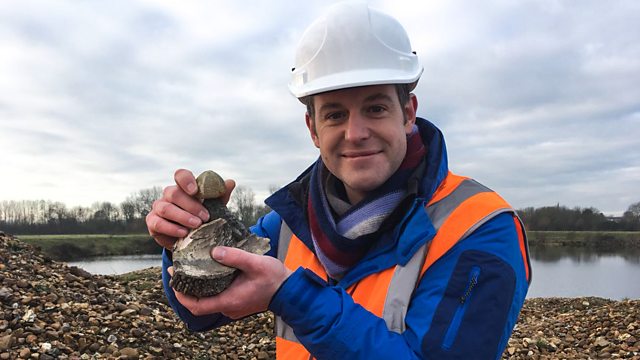 Cambridgeshire
Ellie Harrison and Matt Baker are in Cambridgeshire, where Matt looks at a huge project to turn a quarry into the UK's biggest reed bed.
Ellie Harrison and Matt Baker are in Cambridgeshire, where Matt looks at a huge project to turn a quarry into the UK's biggest reed bed. Thousands of tons of sand and gravel are being shifted at Ouse Fen to create the perfect habitat for wildlife, including one of the UK's rarest birds, the bittern. Matt is also on hand to help release some fish into specially created pools.
Ellie is with a team from Cambridge University whose work is throwing new light on the secret life of truffles. She also takes a walk in the woods with botanical artist Caroline Henricksen, who reveals a world of wonder beneath Ellie's feet.
Wildlife cameraman Richard Taylor Jones witnesses a wildlife spectacle of a lifetime, Adam Henson meets a young farmer making a go of it in the New Forest, plus the latest instalment from the young vets.
Tom Heap has an exclusive interview with Bill Gates about why he's making the most of British agricultural expertise.
Ouse Fen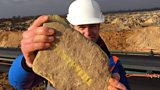 Something amazing is going on at Ouse Fen. Together, the RSPB and Hanson are halfway through a 30 year project to create an enormous inland wetland which will include Britain's biggest reed bed. The wetland is being developed in order to provide habitat for species such as the bittern which are under threat. Matt meets Hilton Law, Unit Manager for Hanson, to discover just how big this project is and how amongst the millions of tons of premium grade sand and gravel that's been undisturbed for millions of years, they are finding ancient treasures.
The Secret Life of Truffles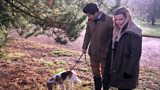 Truffles are one of the world's most expensive ingredients, and also one of the most mysterious. Now, with the help of a 170-year-old 'living laboratory' and a dog called Lucy, researchers at Cambridge University are studying the seasonal changes and productivity of the Burgundy truffle. Ellie joins Professor Ulf Büntgen and his dog Lucy on one of their hunts for truffles in the Cambridge Botanic Garden.
When Tom met Bill!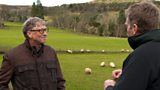 We have some of the oldest and most esteemed agricultural research establishments in the UK and they're getting international recognition. Tom meets up with Bill Gates who has decided to invest millions of pounds in the Roslin Institute in Edinburgh to help the lives of some of the poorest farmers in the world. But if someone like Bill Gates can see how good we are, why aren't we making the most of this science on our own farms?  
Country Vets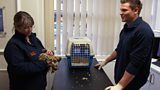 Once again our country vets are out and about in the Cotswolds and every day is different but this time it's certainly not something for the faint-hearted! Most of the teams work is with cattle and this week is no exception. A cow is in trouble while calving and Chris from the vet team has a difficult job to save her. Meanwhile back in the office Emma and Ben are faced with a prize chicken with a bad case of diarrhoea.   
Botanical Artist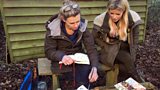 With spring on the horizon, Hayley Wood nature reserve is beginning to wake up. For botanical artist Caroline Henricksen, this is a magical time of the year to find colour in the natural world, if you know where to look that is. Caroline takes Ellie on a voyage of discovery along the forest floor as they discover a brand new world directly under their feet. With their findings laid out on a woodland table, Caroline takes out her sketchbook and prepares to paint these objects using beautiful watercolours. Who would have imagined there was so much beauty under your feet?
Young Commoners
It might not feel like it but winter is on its way out. For the farmers and their animals that have endured it the longer days are the first sign that spring is on the horizon. Adam's in the New Forest where the cattle and the ponies, who use the land for common grazing, are getting a winter once over to put them in good stead for the year ahead.
Releasing the Fish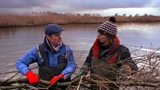 Back at Ouse Fen wetlands, Matt gets chest deep in water helping RSPB Wardens as they prepare for the very first fish release of over a thousand Perch and Rudd. Matt Joins Hannah Bernie as they get to work on some fish refuges constructed of willow, these are being sunk to the bottom to create a habitat and hiding place for the fish. With the job completed it's now up to Warden Chris Hudson to deliver and release the first batch of fish.
Credits
| Role | Contributor |
| --- | --- |
| Presenter | Ellie Harrison |
| Presenter | Matt Baker |
| Presenter | Richard Taylor Jones |
| Presenter | Adam Henson |
| Presenter | Tom Heap |
| Participant | Caroline Henricksen |
| Interviewed Guest | Bill Gates |
| Executive Producer | William Lyons |
| Series Producer | Joanna Brame |