Main content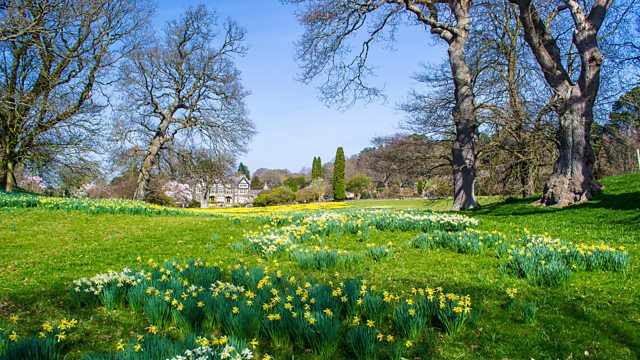 Bodnant Gardens
Eric Robson and the panel are hosted by Bodnant Gardens in North Wales. Pippa Greenwood, Bob Flowerdew and Matt Biggs answer the audience's horticultural questions.
Producer: Hannah Newton
Assistant Producer: Laurence Bassett
A Somethin' Else production for BBC Radio 4.
Bodnant Garden Fact Sheet
Q – I thought October was the best time for planting tulips but I found out that Bodnant didn't do theirs till December.  What is right?
John (Bodnant Head Gardener) – I think the right time to do something is when you've actually got time to do it!
Pippa – You plant late to avoid Tulip Fire. 
Q – About fifteen years ago I was given a 12-inch (30cm) Eucalyptus tree in a pot.  It is now taller than the house.  I am fond of it so can I cut it back to a decent height?
Bob – I think you should cut it down.  The branches can snap off in the wind.  You can pollard or coppice young trees; less so with older ones
Matt – You can cut them back and they will respond well
Q – I've been given a small plot in a polytunnel.  Can I plant a lemon tree in it in a raised bed?
Bob – I'd keep it in a container – they quite like confinement.  Keep it up higher in the warmer air.  You will lose it in a hard frost, so keep it wrapped when frosty. 
Q – The soil in our garden is very stony.  What should I grow in it?
Bob – Hazels.  Most plants like stones in the soil.  Go for perennials. 
Pippa – Hawthorn will do well.  Tamarisk. 
Matt – I wouldn't see it as a problem.  Make a little Alpine bed.  Blue Poppy (Meconopsis betonicifolia)).  Himalayan Daphnes. 
Feature:
Cimicifuga
Fatsia polycarpa
Holboellia coriacea
Dutchman's Pipe (Aristolochia)
Oreopanax
Aspidistras
Ruskas
Q – Where narcissi are left in the ground should I feed them?  They are King Alfreds that have been in the ground for fifty years
Pippa – Definitely.  The fancier ones run out of steam quicker than the basic ones so it's more important to feed them to avoid them going blind.  You can water in a general feed or use a folia feed when the leaves are still green and upright.
Bob – Mark where the big clumps are when they flower and then once they die back split up those big clumps
Matt – Make sure you deadhead them
Pippa – Put the feed on in spring/early-summer
Q – What is the best time to scarify a lawn?
Bob – Scarifying is scratching the lawn with a wire brush to get out the moss and old, dead grass.  It's a lot of work.  I wouldn't bother. 
Pippa – If you use a moss killer make sure the moss is dead before scarifying, otherwise you'll just flick the moss around the lawn.  I would brush in a sandy top soil afterwards.  I would do it in autumn. 
Q – We have a stream by the garden which now has a clay/rubble bank built upon it after it flooded.  What can we grow in it?
Bob – Make sure you don't plant anything than can break off and invade somewhere downstream.  Primulas.  Cowslips, primroses, drumstick Primula denticulata. 
Pippa – Hostas and astilbes
Matt – Coloured-stemmed Dogwoods. 
Q – We have a large Magnolia 'Susan'.  It's too big (30ft x 20ft/9m x 6m); can we prune it?  It'
Pippa – They don't like pruning I'm afraid.  They can get coral spot if you prune too.
Matt – And they get water shoots growing off them.  If you need to prune it then I would get a professional in to do it. 
Bob – Leave it alone!
Q – My grandson bough me a terrarium that I have planted with succulents.  I would like to grow some from seed.  What can you recommend?
Matt – You can buy packets of mixed succulent seeds quite easily.  Sow them in spring and keep them warm and moist. 
Pippa – You can propagate easily from just the leaf of another plant