Main content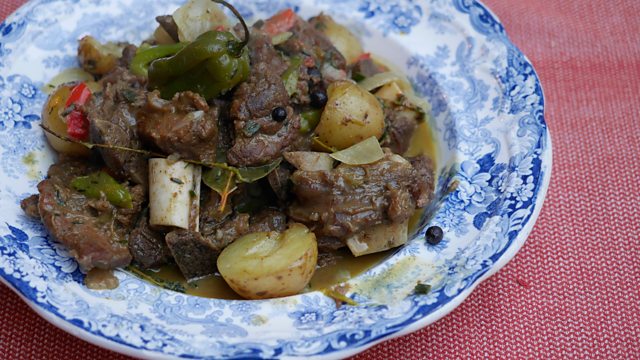 Comfort food for dark days
Sheila Dillon celebrates the power of food to comfort us in hard times: a feast of dumplings, marshmallows, chicken soup, fried chicken - and curried goat.
Sheila Dillon celebrates the power of food to comfort us in hard times, especially during these dark days of the year. Dumplings, marshmallows, chicken soup, fried chicken, curried goat: all the things we long to eat when we're sad, or sick, or homesick. She talks to Antarctic explorers about the food they miss from home, and eating marshmallows at the South Pole; to teenagers in a Fried Chicken shop; to homesick Polish emigres eating proper Polish dumplings, and to a class of eight-year-olds about what their parents cook for them when they're sick. Chef Raymond Blanc goes into an almost mystical trance as he remembers the puddings his mother cooked for him as a child and their trembling caramel; he confesses this is what he craves now when he's sick. Rabbi Laura Janner-Klausner reveals the secret of "Jewish penicillin", or chicken soup; Dr Rupy Aujla reflects on what you might call the culinary placebo effect; and Reggae singer Levi Roots explains about the consoling power of curried goat. Not forgetting Jill Archer's famous flapjacks - the Food Programme presents a comfort feast for February!
Presenter: Sheila Dillon
Producer: Elizabeth burke.
Last on
Four Comfort Food recipes from the programme
Jewish Chicken soup by Rabbi Laura Janner-Klausner
Ingredients:
        6 chicken thighs with the fat removed
        2 chicken carcasses
        2 white onions
        1 whole garlic
        6 carrots
        Fresh dill (according to taste)
        3 celery stalks
        2 ripe tomatoes
        Salt and pepper (to taste)
Method:
Fry the onions very slowly for 10 minutes on a low heat, add the garlic for another 5 minutes. Add the carrots and celery (chopped into 2 cm pieces), fry for 5 minutes.
Add the tomatoes, quartered. Add the thighs and carcasses and 2 litres of water (or more if necessary to cover all the ingredients).
Bring to the boil and reduce the heat. Add the dill, salt and pepper. Simmer for 2 hours.
Allow the soup to cool completely and remove any fat from the top with kitchen towel.
Heat thoroughly before serving
Curry goat by Levi Roots
Ingredients:
         1 kg lean goat meat, cut into large chunks
         ½ limes, juice only
         2 tbsp mild curry powder
         2 tbsp all-purpose seasoning
         6 tbsp groundnut oil
         425 ml vegetable stock
         1 onion, roughly chopped
         2 cm piece fresh root ginger, finely chopped
         1 red chilli or scotch bonnet pepper, chopped
         2 cloves garlic, finely chopped
         10 allspice berries
         ½ red peppers, seeds removed, cubed
         ½ green peppers, seeds removed, cubed
         2 spring onions, green parts only, roughly chopped
         2 waxy potatoes, cut into chunks
         2 tbsp chopped flat-leaf parsley
         2 tbsp chopped fresh coriander
         boiled rice, to serve
Method:
Place the goat into a large bowl and add the lime juice, curry powder and all-purpose seasoning. Mix well to coat the meat in the seasoning, then cover with clinf film and marinate in the fridge for four hours.
Heat a large non-stick casserole or heavy-based pan until very hot, then add the groundnut oil. When the oil is nearly smoking, add the goat and turn the meat in the oil until well coated.
Cover the pan with a lid and turn the heat down to low. Cook for 45 minutes, checking the meat every so often to ensure it isnt browning too much on the bottom.
Increase the heat, add 150ml of the stock and bring to the boil. Turn the heat back down and simmer for another 45 minutes. Add another 150ml of stock and cook for a further 45 minutes.
Add the onion, ginger, chilli, garlic and allspice berries and stir gently. Add all of the remaining ingredients except for the potato, herbs and rice. Bring to the boil, then turn the heat down, cover and cook for another two hours, stirring occasionally. Add more stock if the mixture seems too dry.
About 20 minutes before the end of cooking time, add the potatoes. When the potatoes are cooked and the goat is very tender, season to taste with salt and freshly ground black pepper.
To serve, spoon the curry alongside some boiled rice and garnish with the fresh chopped herbs.
Medicinal Broth by Dr Rupy Aujila
Ingredients: (serves 4)
      3 tsp butter or coconut oil
      4 garlic cloves, roughly chopped
      5cm piece root ginger, peeled and grated
      1 star anise
      1 tsp turmeric
      3 cloves
      3 green cardamom pods, bruised gently in a pestle and mortar
      4 bone-in chicken thighs, skin removed (optional)
      300g sweet potato or butternut squash, cut into 4cm cubes
      1 litre vegetable stock
      2 tsp dried chilli flakes
      50g spring greens, finely chopped
      50g red cabbage, finely chopped
      Sea salt & freshly ground black pepper
Method:
Melt the butter or coconut oil in a large pan over  a medium heat, add the garlic, onion, ginger, star anise, turmeric, cloves and cardamom pods and saute for about 1 minute, then add the chicken (if using), sweet potato or squash and cook for 3-4minutes until browned
Pour in the stock, season with salt and pepper, add the chilli flakes and simmer for at least 20 minutes, until the chicken is cooked through and the vegetables are soft. Remove from the heat. You can cook for longer if you wish.
Add the spring greens and red cabbage to the pan, stir and cover the pan for 2 minutes.
Jill Archers Flapjacks
Jill Archer is a loving but controlling matriarch who rules the roost at Brookfield Farm in Ambridge. She's famous for her ability to calm any situation with a home-baking solution. Her flapjacks are legendary and have huge emotional currency in the family. Here is the recipe for Jill's flapjack. Use it carefully.
Ingredients: (makes 12)
      12oz whole rolled oats
      7oz unsalted butter
      4oz golden syrup
      3oz demerara sugar
      ½ lemon, finely grated zest
      Pinch of salt
Method:

Preheat oven to 180C, grease and line baking tin of good depth.
Combine the butter, golden syrup and sugar in a saucepan over a low heat.
Keep stirring until the butter has melted and then take off the heat. Stir in the oats and lemon zest.
Turn out mixture into prepared baking tin and flatten, pressing down firmly.
Bake until the top is golden. (While flapjacks are baking why not rustle up a quick Lemon Drizzle Cake?)
Allow to cool a short while before cutting into bars. Allow to cool completely before removing from the tin. Store in an airtight container.
Credits
| Role | Contributor |
| --- | --- |
| Presenter | Sheila Dillon |
| Interviewed Guest | Raymond Blanc |
| Interviewed Guest | Laura Janner-Klausner |
| Interviewed Guest | Rupy Aujla |
| Interviewed Guest | Levi Roots |
| Producer | Elizabeth Burke |
Broadcasts