Main content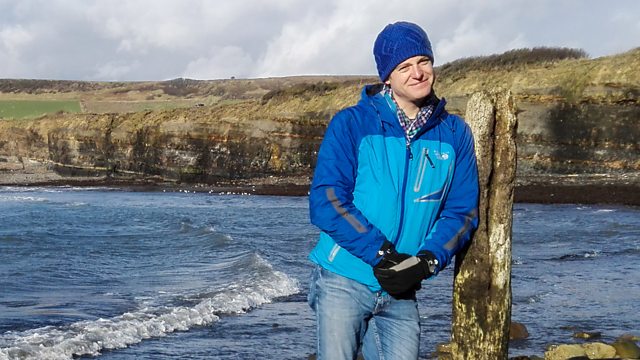 Winter Special
Matt Baker meets the Dorset man championing local winter produce. Anita Rani finds out how making jewellery inspired by nature can improve the winter blues.
Today, Countryfile embraces the wonders of winter. Matt Baker is on the Dorset coastline to meet a man who's championing local winter produce. Anita Rani finds out how making jewellery inspired by nature can improve the winter blues. In the Highlands, Steve Brown mushes with a pack of huskies, and we catch up with Eddie the Eagle, 30 years after his appearance at the Winter Olympics. We also take to the wilds with the artist who loves painting mountains. Joe Crowley meets the man with a lifelong passion for deer, while Ellie Harrison finds out about our long fascination with foxes. And Adam Henson is on a farm where gathering in the sheep is a risky business.
Winter Pigs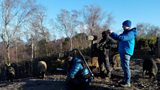 Winter in the UK brings stormy waters and heavy snow, but for the farmers, shepherds, fishermen and food producers across the country, it's still business as usual. Matt Baker is in Dorset meeting with local farmer and chef, James Warren, to find out what it takes to rear livestock in the harshest winter months. James shows Matt his hardy Mangalitza pigs and explains how their foraged diet and slow growing nature makes them the perfect winter pig. 
Winter Foxes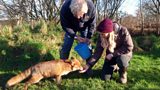 From the works of Roald Dahl to Aesop's fables, foxes have long been characterised in literature as cunning or wily. But where did this reputation come from? Ellie Harrison is in the Surrey countryside to meet author and journalist, Lucy Jones, to find out more about foxes in our cultural history. She then catches up with David Mills, of the British Wildlife Centre, and comes face to face with resident fox, Flo. 
Dear Oh Deer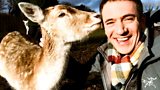 Joe Crowley is on the Dorset, Somerset, Devon border meeting with a man dedicated to his doe-eyed friends. Mike Gage, founder of the South West Deer Centre has been a deer enthusiast all of his adult life and is showing Joe around all of the breeds he has at the centre… fallow, axis, sika, red and muntjac. Some of the deer have been rescued from private collectors who no longer want them or from places of potential danger. Winter time can be tough for one man and more than a hundred deer… so Joe is helping him out on the feeding run. 
Winter Fishing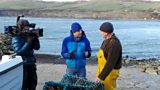 Winter is a waiting game for fisherman up and down the UK coastline. With rough seas and stormy weather, it is not a time for the faint hearted to take to the water. Matt meets Nick Ford, who fishes from Kimmeridge Bay in Dorset and who supplies James Warren's local shop with shellfish, when the weather allows. Will Matt be able to get out on the water and help Nick bring in some locally caught brown crabs, or will the seas be just too rough? 
Salt Marsh Sheep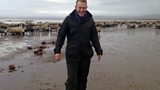 Adam is visiting a farm on the Gower Peninsula in Wales, where the livestock live along the edge of this unusual coastline. The sheep graze on the salt marshes and during a high tide they need moving to higher ground. The working dog is essential on this terrain, as many parts of the salt marshes are inaccessible by vehicle. Adam helps gather the flock with his sheepdog Peg and puts her swimming skills to the test. 
Husky Running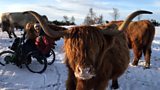 The Scottish wilderness can be a harsh environment in winter. Yet there are some people who crave these conditions and can't wait to get outdoors. Deep in the Perthshire countryside live a family whose lives revolve around their animals and at this time of year the landscape is the perfect environment for their dogs. John and Mary Carter met through racing and training huskies and between them hold a multitude of titles. Steve Brown has come to the farm to meet them, as well as fellow dog runner and family friend Catherine Lewis. Catherine has had spina bifida all her life, but this hasn't kept her from running dogs and even competing! Steve has come to see how Catherine works the dogs and to see if he has what it takes to become a musher!
Making Winter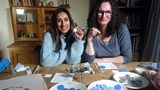 As the long dark winter days drag on, many of us struggle to find the energy to get outdoors. For Emma Mitchell, this was all too true and she found herself suffering from Seasonal Affective Disorder. However Emma's health has vastly improved, all thanks to a simple remedy. Emma found that just being outdoors was enough to lift her mood and on top of that, if she could make something from nature she made herself better. Anita Rani has come to the Cambridgeshire fens to forage for some natural curiosities before turning her hand to jewellery making.
Winter Feast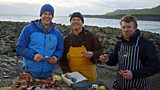 Back in Dorset Matt's discovering the best of local British produce, even in the cold and wet winter months. He's seen pigs with farmer James Warren and crabs with fisherman Nick Ford, and now it's  time to cook up a feast on the rough water's edge at Kimmerirdge Bay and get a taste of winter in this beautiful place.
Credits
| Role | Contributor |
| --- | --- |
| Presenter | Matt Baker |
| Presenter | Anita Rani |
| Presenter | Steve Brown |
| Presenter | Joe Crowley |
| Presenter | Ellie Harrison |
| Presenter | Adam Henson |
| Executive Producer | William Lyons |
| Series Producer | Joanna Brame |