Main content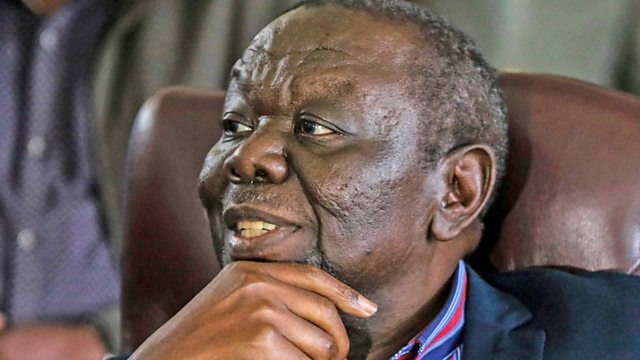 Morgan Tsvangirai, Douglas Botting, Professor Patricia Lindop, Asma Jahangir, Vic Damone
Matthew Bannister on Zimbabwean politician Morgan Tsvangirai, explorer Douglas Botting, radiation biologist Patricia Lindop, human rights lawyer Asma Jahangir, singer Vic Damone.
Photo: Morgan Tsvangirai
Matthew Bannister on
Morgan Tsvangirai, leader of Zimbabwe's opposition Movement for Democratic Change and Prime Minister from 2008 to 2013.
Douglas Botting, film maker, author and explorer who flew a hot air balloon across Africa and sailed a hovercraft down the Orinoco.
Professor Patricia Lindop, who researched the effects of radiation on human tissue.
Asma Jahangir, the lawyer from Pakistan who campaigned for the rights of the country's persecuted minorities.
And Vic Damone, the crooner who recorded more than two thousand songs.
Interviewed guest: Alex Magaisa
Interviewed guest: Anna Botting
Interviewed guest: Dr Giles Camplin
Interviewed guest: Patricia Dixon
Interviewed guest: Mohammed Hanif
Archive clips from: The Choice, Radio 4 07/12/2004; The World About Us: River of Death, BBC Two 19/01/69; Balloon From Zanzibar, BBC Two 23/08/62; The World About Us: Three Men in a Balloon, BBC Two 13/12/70; On The Bosom of the Air, Radio 4 19/09/1962; Hot to Handle: The Two Faces of Radiation, BBC One 17/03/66; Science and Society, BBC One 22/03/66; Nihal, BBC Asian Network 17/11/2010; Taking A Stand, Radio 4 01/01/2002; Outlook, BBC World Service, 22/11/2010; Woman's Hour, Radio 4, 07/06/2005; The Arthur Askey Variety Show, Radio 4 Extra, 07.06.2015; The John Dunn Show, Radio 2, 01/01/00.
Morgan Tsvangirai
Last Word spoke to Alex Magaisa, his former advisor.
Born 10 March 1952; died 14 February 2018, aged 65.
Douglas Botting
Last Word spoke to his daughter, Sky News presenter Anna Botting, and Dr Giles Camplin, fellow traveller and Vice President of the British Balloon Museum & Library.
Born 22 February 1934; died 6 February 2018, aged 83. 
Professor Patricia Lindop
Last Word spoke to her daughter Patricia Dixon.
Born 21 June 1930; died 1 February 2018, aged 87.
Asma Jahangir
Last Word spoke to journalist Mohammed Hanif, former head of the BBC's Urdu service.
Born 27 January 1952; died 11 February 2018, aged 66.
Vic Damone
Born 12 June 1928; died 11 February 2018, aged 89.
Credits
| Role | Contributor |
| --- | --- |
| Interviewed Guest | Alex Magaisa |
| Interviewed Guest | Anna Botting |
| Interviewed Guest | Giles Camplin |
| Interviewed Guest | Patricia Dixon |
| Interviewed Guest | Mohammed Hanif |
| Presenter | Matthew Bannister |