Main content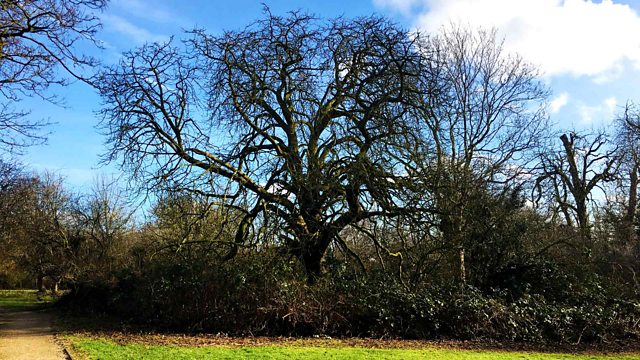 Newtown Linford, Leicestershire
Eric Robson and the panel are hosted by the Newtown Linford Gardening Club in Leicestershire. Matthew Wilson, Matt Biggs and Christine Walkden answer the horticultural questions.
Eric Robson and the panel are hosted by the Newtown Linford Gardening Club in Leicestershire. Matthew Wilson, Matt Biggs and Christine Walkden answer the horticultural questions.
This week the panellists help an audience member with lichen, offer tips on how to prepare for opening a private garden to the public, suggest ways to protect trees form disease and advise on controlling pests in your carrot patch.
Each panellists also picks a historic gardener they wish they could have worked with, while Matthew Wilson takes a tour of nearby Attenborough Arboretum and Bob Flowerdew gives a masterclass in recycling coconuts.
Producer: Dan Cocker
Assistant Producer: Laurence Bassett
A Somethin' Else production for BBC Radio 4.
Fact Sheet
Q – Why do I have lichen on every shrub in my garden?  It's unsightly
Matthew – Lichen is associated with clean air and gardens that are mature and less disturbed. 
Matt – It won't damage healthy plants
Matthew – I think it looks gorgeous!
Q – I'm opening my gardens in May this year.  How can I make it look good?  I have planted both my Tulips and Alliums late… will they flower and what else can I do for colour?
Christine – They won't flower.  Buy some potted bulbs instead. 
Matthew – Get some annuals like Orlaya grandiflora.  Euphorbias like 'Redwing'.  Perennial wallflowers like Erysimum 'Constant Cheer' and 'Bowles Mauve' – get loads of those.
Q – I have an ongoing problem with pests in my vegetable patch, mainly Carrot Fly, Allium Leaf Miner and small black slugs.  Last year I controlled with nematodes, but the slugs are now back, what can I do?
Christine – Sometimes you just have to live with the slugs!  Good garden hygiene is a good place to start.  There are something like 400 different theories on getting rid of slugs but none are completely reliable. 
Q – Can you prune Japanese Acers?
Matt – Acers don't like pruning.  Keep it to a minimum and do it either when the tree is dormant or in full leaf.
Feature:
Tibetan Cherry
Salix viminalis
Creeping Spearwort
Danish Scurvygrass
Horse chestnut
Q - What can gardeners do to help prevent diseases in our trees and what can we do if we suspect our trees to have one of these diseases?
Matthew - I would love to be able to buy Fraxinus raywood (Claret Ash) again. 
Matt - Most garden trees such as Acers, Malus, Crataegus and Prunus are not the ones that get affected by major diseases. Phytophthora can be a concern but is often to do with drainage issues. The landscape species are more at risk. 
Christine - Plants are often prone to diseases when they are the wrong plant for the wrong place. Make sure you get problems correctly identified because some symptoms of diseases could actually be nutrient problems. 
Q - I have a large, 100-year-old beech tree in the garden. What should I do with all the leaves? 
Matthew - If you want to make really good leaf mould, you need to bag it. I use crane bags with a handle in each corner. I leave it in there for a couple of years and then it is a very good soil conditioner or a base for compost.
Q - Why do some seeds collected from my garden come true and others don't? 
Matthew - Plants like Aquilegia (Columbine) are very rarely true to type from seed. The stability of the colour comes through vegetative propagation. 
Matt - It also depends on what populations are close by. The pollination will create a genetic mix from the seeds. 
Q - I have an ornamental cherry tree which is suffering, the bark is splitting and exposing dry, bare wood beneath. Is there anything I can do to save the tree?
Matthew - Cherry trees are not long-lived trees but 10 years seems short. 
Matt - Get a sharp knife and take off the flap of bark that is there. Leave it and let the bark heal.