Main content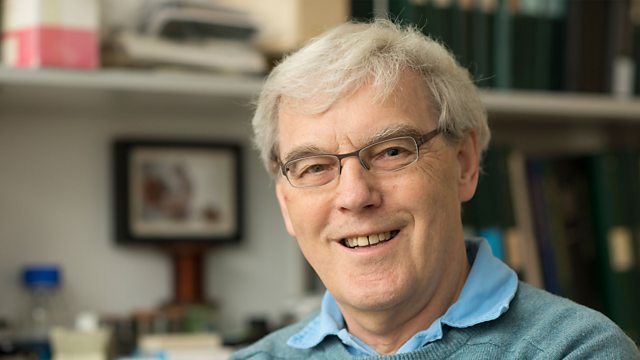 Richard Henderson zooms in on the molecules of life
Jim Al-Khalili talks to leading scientists about their life and work. 2017 Nobel Prize-winner Richard Henderson tells Jim how he zoomed in on the molecules of life.
What once took decades, now takes days, thanks to an astonishingly powerful new technique invented by Richard Henderson, winner of the 2017 Nobel Prize for Chemistry.
Richard grew up in a remote village in the Scottish borders exploring the countryside and reading the weekly bundles of comics sent by his great aunt, as part of a care package for his family. When he started work at the Laboratory of Molecular Biology in Cambridge, a string of Nobel Prizes had been awarded for x-ray crystallography, a technique that had revealed the double helix structure of DNA, and the atomic structure of haemoglobin, vitamin B12 and insulin. But Richard decided to experiment with a radical new approach, using electrons not x-rays. After an early success in 1975, he spent the next 15 years trying to improve the resolution of electron crystallography and, in 1990, he managed to see in astonishing atomic detail how individual atoms were arranged within a particular biological molecule. Next, however, he decided that the future of microscopy lay in different direction and,despite the initial results being very blurry, he embraced a more direct approach to microscopy that involved flash freezing molecules to catch them, mid-movement, as they existed in nature.
Undeterred by a steady stream of technical problems, Richard spent the next 17 years refining this new approach to microscopy convinced that it should outperform all the others and, in 2012, he was proved right. Cryo electron microscopy now enables us to see how the individual atoms are arranged within biological molecules that were previously opaque. We are seeing atomic structures that have never been seen before and, since these are the molecules that make life possible, knowing what they look like is worth millions to pharmaceutical companies trying to design drugs to activate or inhibit their action.
Richard talks to Jim Al-Khalili about half a century of problem solving and the bold strategic decisions that led him to be awarded the 2017 Nobel Prize for Chemistry, together with Joaquim Frank and Jacques Dubochet.
Producer: Anna Buckley.
Last on
Broadcasts

Sleep – the mystery state