Main content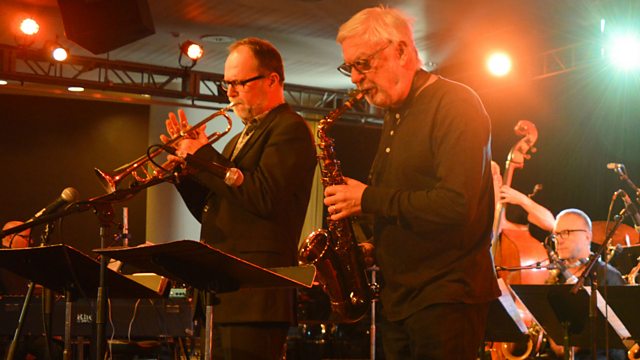 Tolvan Big Band
In his final visit to the 2017 EFG London Jazz Festival, Soweto Kinch presents a concert from the Clore Ballroom at the Royal Festival Hall by Sweden's contemporary big band specialists, the Tolvan Big Band. Also, Al Ryan catches up with Welsh pianist Huw Warren to discuss his newly released album.
PLAYLIST
Artist              Soweto Kinch
Title                The Healing
Composer     Kinch
Album            The Legend of Mike Smith
Label              Soweto Kinch Recordings
Number        SKP003 CD 2 Track 39
Duration       12"
Performers: Soweto Kinch, as, rhodes, prog; Shabaka Hutchings, ts; Karl Rasheed-Abel, b; Graham Godfrey, d. . 2015
Effortlessly - Tolvan Big Band - 42" 
Noturna - HUw Warren - 42" 
Title                 A Walk in the Centrepoint
Composer        Helge Albin
Duration          10'08
Title                 Papa Knows Best
Composer        Cennet Jonsson
Duration          12'47
Title                 Shortcuts
Composer        Helge Albin
Duration          10'14
Title                 Bluesy Minor
Composer        Helge Albin
Duration          8'21
Title                 The Other Day
Composer        Cennet Jonsson
Duration          8'50
Title                 Find your Way Out
Composer        Helge Albin
Duration          7'41
BAND PERSONNEL
Helge Christian Albin                          Saxophones & woodwinds
Ulf Martin Holmström                        Saxophones & woodwinds
Lars Inge Petersson Lindbäck                         Saxophones & woodwinds
Cennet Jönsson                                   Saxophones & woodwinds
Peter Wilgotsson                                 Saxophones & woodwinds, Manager
Anders Gustavsson                              Trumpet
Leif Christer Gustavsson                     Trumpet
Roy Charles Kenneth Wall                  Trumpet
Fredrik Davidsson                               Trumpet
Mads Lacour                                       Trumpet
Vincent Nilsson                                   Trombone
Ola Karl Viktor Åkerman                    Trombone
Nils Ola Ingemar Nordkvist                Trombone
Carl Christoffer Wilhelm Sjögren       Trombone
Björn Hängsel                                            Trombone           
Nikolaj Bentzon                                   Piano
Lennart Grufstedt                               Drums
Patrik Christian Albin                          Bass
AL Ryan interviews Huw Warren: 
DISC 
Title                 O Farol Que Nos Guia 
Artist               Huw Warren   
Composer        Hermeto Pascoal, arr. Warren 
Track               1 
Dur                  2.47
DISC 
Title                 Prelude 
Artist               Huw Warren   
Composer        J S Bach 
Track               5  
Dur                  4.48
DISC 
Title                 Against The Odds 
Artist               Huw Warren   
Composer        Huw Warren 
Track               2
Dur                  4.58
DISC 
Title                 Noturna 
Artist               Huw Warren   
Composer        Guinga, arr. Warren 
Track               12 
Dur                  4.19