Main content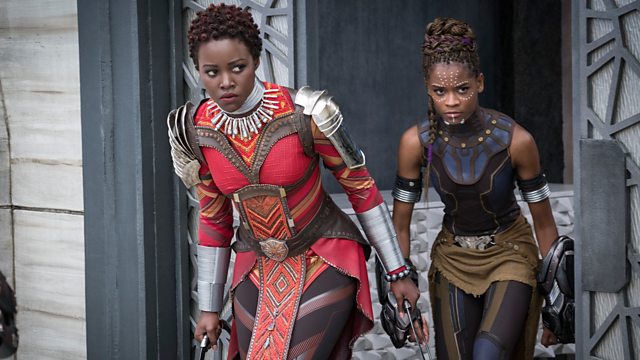 Black Panther
Superhero film Black Panther, women and homelessness in Scotland, untold suffragette stories, former astronaut Nicole Stott and women's current role in so-called Islamic State.
Marvel's first black superhero film - The Black Panther - premiers in the UK today. It's already attracted a lot of attention online - both for its representation of people of colour and strong female characters. Basma Khalifa, a fashion designer, and public speaker Nicole Crentsil join Jane to discuss the cultural importance of the film, particularly for black female viewers.
A report out today is calling on the Scottish government to do more in its approach to tackling homelessness and rough sleeping. Following a year-long inquiry, the Scottish Parliament's Local Government and Communities Committee are recommending a "Housing First" approach. This housing model aims to quickly provide a home to those in need, rather than going through several levels of temporary accommodation. Jane talks to Bob Doris MSP (SNP), Convener of the Committee and Simone Smith who became homeless at 17 and was attacked whilst in temporary accommodation.
Most people have heard of Emmeline Pankhurst or Millicent Fawcett - but what about the less well known members of the suffrage movement? Who were they and what impact did they have? A new exhibition at the Museum of London pays tribute to these women. Jane Garvey meets Beverley Cook, the curator of 'Votes for Women'.
Nicole Stott is a former NASA astronaut, making her one of only 60 women to complete a space flight, compared to 500 men. She's now an ambassador for the Kennedy Space Center Visitor Complex in Florida, where she inspires the next generation, and is pursuing her long term passion in art. She joins Jane to discuss her career, painting in space, and what it's like coming back down to earth.
A new propaganda video from so called Islamic State shows women fighting on the frontline for the first time. What does this change of tactic tell us about women's role within ISIS? Elizabeth Pearson, Associate Fellow at the independent think tank, RUSI and Dr Katherine Brown, Lecturer in Islamic studies at Birmingham University join Jane.
Presenter: Jane Garvey
Producer: Kirsty Starkey.
Credits
| Role | Contributor |
| --- | --- |
| Presenter | Jane Garvey |
| Producer | Kirsty Starkey |
| Interviewed Guest | Nicole Krystal Crentsil |
| Interviewed Guest | Basma Khalifa |
| Interviewed Guest | Simone Smith |
| Interviewed Guest | Bob Doris |
| Interviewed Guest | Beverley Cook |
| Interviewed Guest | Nicole Stott |
| Interviewed Guest | Elizabeth Pearson |
| Interviewed Guest | Katherine Brown |