Main content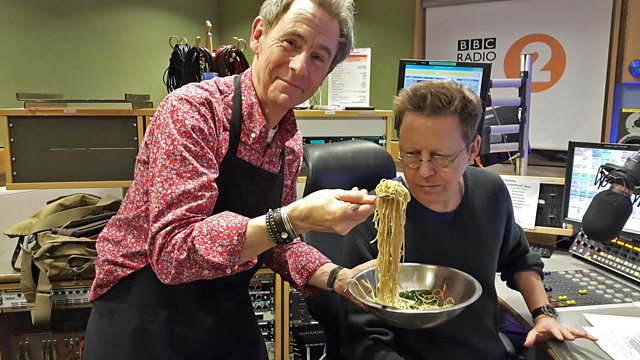 Char Siu Pork with Spicy and Sour Noodles, Cow Confession, Diaphragms!
Resident cook Nigel Barden is here with Char Siu Pork with Spicy & Sour Noodles in 'Foodie Thursday'. Plus, Simon has another one of your confessions for the collective to mull over. Plus there's a track from the fourth and final Best Album nominee at The 2018 Radio 2 Folk Awards.
Hong Kong Char Siu
by Jeremy Pang from Hong Kong Diner (Quadrille)
Serves 4-6 if served with side dishes
Ingredients
2 x 300g (10½oz) pieces of pork neck fillet, (swapsies: pork belly slices for extra fat, or pork fillet for a leaner finish)
The Marinade
½ a thumb-size piece of ginger
2 cloves of garlic
½ tsp five-spice
½ tsp white pepper
2 tsps tomato purée (tomato paste)
2 tsps dark soy sauce
2 tbsps light soy sauce
2 tbsps Shaoxing rice wine
4 tbsps hoisin sauce
2 tsps pure sesame oil
4 tbsps honey
Method
Finely chop the ginger and garlic, then mix with all the rest of the marinade ingredients in a small bowl.
Massage the marinade into the pork neck fillets, then cover and put into the fridge to marinate for at least 1 hour, or overnight for best results (though this dish can be cooked immediately if you're too hungry to wait).
Place the meat on a grill tray, reserving the marinade for basting.
Preheat the oven to 160°C /140°C Fan /Gas 3 and roast the pork for 1–1½ hrs, until well charred on the outside, turning once and basting intermittently with the sauce to get a good caramelized finish on the meat. The slower the cooking process, the more succulent the meat will become.
If barbecuing instead of roasting, get your barbecue temperature as close to 150°C as possible and barbecue for 1–1½ hrs, until well charred on the outside. Baste as you would in the oven for more flavour and caramelization.
Tip: For a quick dinner, you can also cook this in a preheated oven at 200°c /180°c Fan / Gas 6 for 20 mins on either side, turning once to char both sides of the meat and basting every 10 mins or so for added depth of flavour.
Spicy and Sour Noodles
by The Dumpling Sisters from The Dumpling Sisters Cookbook (Weidenfeld and Nicolson)
These noodles are simply slurp-worthy as a quick snack.  We find that the best noodles to use here is wholewheat spaghetti because the nutty flavour stands up well to the punchy hot and sour of the dressing.  Try to choose a chilli oil that has lots of sediment – the chillies and other ingredients that the oil was soaked in – visible at the bottom of the jar.
Serves 2, or one very hungry person
Ingredients
150g dried wholewheat spaghetti
1-2 tsps chilli oil, plus its sediment
1 tsp sesame oil
1½ tsps Chinkiang vinegar (or Nigel says substitute with Balsamic)
½ tsp soft brown sugar
scant ¼ tsp salt
¼ spring onion, thinly slices diagonally
1 small fresh red chilli, sliced
Method
Bring a large saucepan of water to the boil and cook the spaghetti until al dente. 
Drain in a colander, rinse under cold water then shake off any excess water.
Put the spaghetti in a bowl and mix in the rest of the ingredients, adjusting each to your own taste. 
Serve with some extra chilli oil, just in case you are in the mood for a more fiery kick.