Main content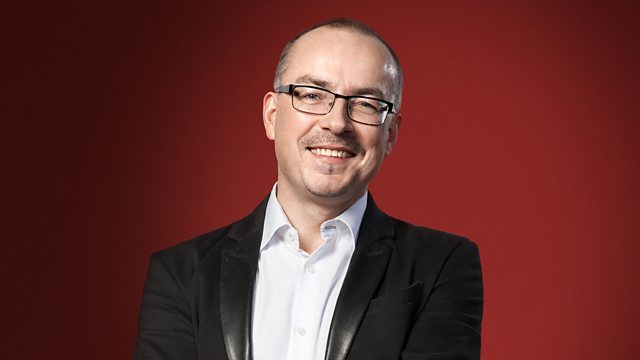 Andrew McGregor with Harriet Smith and Simon Heighes
With Andrew McGregor. Including Building a Library.
with Andrew McGregor
9.30
Building a Library: Harriet Smith makes a personal choice from among the available recordings of Beethoven's Piano Sonata No. 30 in E major, Op. 109.
Like all the major works from the extraordinary final decade of Beethoven's life, his Piano Sonata No. 30 breaks the mould of conventional form in the quest for ever-deeper personal expression. This, the first of his final three piano sonatas, is a technical and interpretative challenge every major pianist has wanted to take on, reflected in an exceptionally rich and varied recorded legacy going back to the 1930s.
10.55
Simon Heighes assesses recent releases of Baroque music.
11.45
Andrew chooses an outstanding new release as his Disc of the Week.
Record Review
9.00am
FOUR PIECES - FOUR PIANOS
FRANZ SCHUBERT:
Fantasie in C major, D760 'Wanderer'
FRÉDÉRIC CHOPIN:
Études, Op. 10
FRANZ LISZT:
Réminiscences de "Don Juan" (after Mozart), S. 418
IGOR STRAVINSKY:
Three Movements from Petrushka
Alexander Melnikov (pianos)
Harmonia Mundi: HMM902299 (CD)
HAYDN: AN IMAGINARY JOURNEY
JOSEPH HAYDN:
An Imaginary Orchestral Journey
I. Introduction. Representation of Chaos. Largo (From The Creation, Hob.XXI.2)  
II. The Earthquake. Presto e con tutta la forza (From The Seven Last Words of our Saviour on the Cross, Hob.XX.1)  
IIIa. Sinfonia. Largo - Vivace assai (From L'isola disabitata, Hob.Ia.13  
IIIb. Sinfonia. Allegretto - Vivace (From L'isola disabitata, Hob.Ia.13  
IV. Largo (From Symphony No. 64 in A Major, Hob.I.64)  
V. Minuet & Trio (From Symphony No. 6 in D Major, Hob.I.6)  
VI. Finale. Presto (From Symphony No. 46 in B Major, Hob.I.46)  
VII. Finale. Prestissimo (From Symphony No. 60 in C Major, Hob.I.60)  
VIII. Introduction to Winter (Original version) (From The Seasons, Hob.XXI.3)  
IXa. Finale. Presto (From Symphony No. 45 in F-Sharp Minor, Hob.I.45  
IXb. Finale. Adagio (From Symphony No. 45 in F-Sharp Minor, Hob.I.45)  
X. Music for Musical Clocks (From Flötenuhrstücke, Hob.XIX.1-32)  
XI. Finale. Allegro assai (From Symphony No. 90 in C Major, Hob.I.90)  
London Symphony Orchestra, Sir Simon Rattle
LSO Live LSO0808 (Hybrid SACD)
MARTINU: EARLY ORCHESTRAL WORKS VOL. 3
BOHUSLAV MARTINU:
Vanishing Midnight, H. 131
Balade, "Vila na moři" (The Villa by the Sea), H. 97
Sen o minulosti (Dream of the Past), H. 124
Sinfonia Varsovia, Ian Hobson
Toccata Classics TOCC0414 (CD)
PULSE/QUARTET
STEVE REICH:
Pulse
Quartet: I. Fast
Quartet: II. Slow
Quartet: III. Fast
International Contemporary Ensemble, Colin Currie Group
Nonesuch 075597932454 (CD)
9.30am – Building a Library

Composer:     Beethoven


Piece:                         Piano Sonata No. 30 in E major, Op. 109


Reviewer:       Harriet Smith



Recommended Recording:

Richard Goode
Beethoven: The Complete Sonatas
Nonesuch 10CDs (0075597936384)

Other Recommended Recordings:

Below are other recordings that Harriet also liked, although we can't guarantee the availability of these discs.


Annie Fischer  (EMI 5 69217-2) (4 CD)


Igor Levit  (Sony Classical 88883703872) (2CD)


Emil Gilels  (DG 477 6360) (9 CD)


Mitsuko Uchida  (Philips 475 6935) (CD)
10.20am
INSPIRATION
YOSEF HADAR:
Evening Of Roses (Arr. Cello, Clarinet & Ensemble)
CAMILLE SAINT-SAËNS:
Le carnaval des animaux: 13. The Swan
ANON.:
Song Of The Birds (Arr. Casals)
DMITRI SHOSTAKOVICH:
The Gadfly - Concert Suite, Op. 97a: 10. Nocturne
Cello Concerto No. 1 in E flat major, Op. 107
JACQUES OFFENBACH
Harmonies des bois, Op. 76, 2. Jacqueline's Tears (Arr. Cello & Orchestra)
PABLO CASALS:
Sardana
BOB MARLEY:
No Woman, No Cry
LEONARD COHEN:
Hallelujah
Sheku Kanneh-Mason (cello), Guy Johnston (cello), Yong Jun Lee (cello), Alinka Rowe (viola), Didier Osindero (violin), Oliver James (clarinet), Katherine Thomas (harp), City of Birmingham Symphony Orchestra, Mirga Gražinytė-Tyla
Decca 4832948 (CD)
SYMPHONIC PSALMS AND PRAYERS
LEONARD BERNSTEIN:
Chichester Psalms
IGOR STRAVINSKY:
Symphony of Psalms
ARNOLD SCHOENBERG:
Friede auf Erden, Op. 13
ALEXANDER VON ZEMLINSKY:
Psalm 23, Op. 14 'Der gute Hirt'
David Allsopp (countertenor), Tenebrae, BBC Symphony Orchestra, Nigel Short
Signum SIGCD492 (CD)
11.00am – New Releases: Simon Heighes – Baroque Round-Up
MUSIC IN A COLD CLIMATE
NICOLAUS A KEMPIS:
Symphony à 4 No. 1, Op. 12 Symphonia No. 1 a 4
WILLIAM BRADE:
Der heilig Berg
Peggy Bell
Ein Schottisch Tanz
ANTONIO BERTALI:
Sonata a 4 in D minor
HEINRICH ALBERT:
Das Lied ist Hier
JOHANN SOMMER:
Susanna Paduanna
THOMNAS BALTZAR:
A Prelude for the Violin
John Come Kiss Me Now
MELCHIOR SCHILDT:
Paduana Lachrymae (after J. Dowland)
ANTONY HOLBORNE:
Image of Melancholy
ANDREW KEELING:
Northern Soul
JOHANN SOMMER:
Der 8. Psalm
JOHANN STADEN:
Sonata 31 a 4
JOHANN SCHOP:
Lachrimae Pavan
In Echo; Gawain Glenton (cornetto and director)
Delphian DCD 34206 (CD)
BACH: MAGNIFICATS
JOHANN SEBASTIAN BACH:
Magnificat, BWV 243
JOHANN CHRISTIAN BACH:
Magnificat, E22
CARL PHILIPP EMANUEL BACH
Magnificat, H772
Joélle Harvey (soprano); Olivia Vermeulen (mezzo); Thomas Walker (tenor)
Iestyn Davies (countertenor); Thomas Bauer (baritone);
Arcangelo, Jonathan Cohen (conductor)
Hyperion CDA68157 (CD)
BACH: SECULAR CANTATAS, VOL. 9 - THE CONTEST BETWEEN PHOEBUS & PAN
JOHANN SEBASTIAN BACH:
Cantata BWV201 'Geschwinde, ihr wirbelnden Winde'
Cantata BWV207a 'Auf, schmetternde Toene'
Bach Collegium Japan; Masaaki Suzuki (conductor)
BIS BIS2311 (Hybrid SACD)
HANDEL: CONCERTI A DUE CORI
GEORGE FRIDERIC HANDEL:
Concerto in F Major, HWV 334
Concerto in B-Flat Major, HWV 332
Concerto in F Major, HWV 333
Freiburger Barockorchester, Gottfried von der Goltz (violin/director), Petra Müllejans (violin/director)
Harmonia Mundi HMM905272 (CD)
11.45am – Disc of the Week
Rachmaninov: The Bells & Symphonic Dances
SERGEY VASSILIEVICH RACHMANINOV
The Bells, Op. 35
Symphonic Dances, Op. 45
Tatiana Pavlovskaya (soprano), Oleg Dolgov (tenor), Alexey Markov (baritone), Symphonieorchester des Bayerischen Rundfunks, Chor des Bayerischen Rundfunks, Mariss Jansons
BR Klassik 900154 (CD)