Main content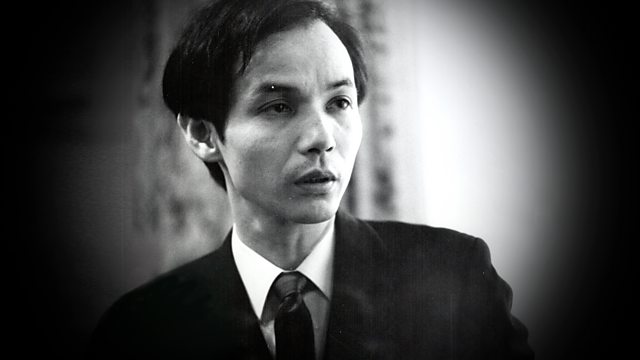 Takemitsu Meets Stravinsky and Cage
Donald Macleod journeys with Takemitsu as he meets Igor Stravinsky and John Cage during the 1950s and 1960s.
Donald Macleod journeys with Takemitsu as he meets Igor Stravinsky and John Cage during the 1950s and 1960s
In Composer of the Week, Donald Macleod explores the life and music of the Japanese composer Toru Takemitsu. Known in his early career for his experimental approach to music, Takemitsu first came to international attention when Stravinsky heard a recording of his Requiem during a visit to Japan. From that point onwards, Takemitsu gradually became a composer of world renown, and his music not only ranged from works for the concert hall to composing nearly one hundred scores for film, but it also bridged the divide between East and West. The music of Takemitsu often became a synthesis between traditional Japanese instruments, something he initially rejected, and Western musical procedures. He created a unique and personal musical language, and his works were often inspired by nature or art, with unique titles including A String Around Autumn, or A Flock Descends into the Pentagonal Garden.
From early on in his career, Takemitsu had an interest in music for the screen. He wrote many scores for film including The Face of Another, Women of the Dunes and Harakiri. But Takemitsu consistently composed for the concert hall as well and he met Igor Stravinsky, who was greatly impressed by the younger composer's Requiem. As a result, Takemitsu was launched onto a world stage and a prestigious commission came his way from the conductor Serge Koussevitsky.
During the 1960s, Takemitsu also became very interested in the avant-garde techniques of American composer John Cage. This filtered through into Takemitsu's own compositions. In 1964 he met with Cage in America and a few years later came another important commission, this time from Leonard Bernstein for the New York Philharmonic Orchestra. The result was November Steps, which combines a western orchestra with Japanese instruments including the biwa and the shakuhachi.
Waltz (The Face of Another)
London Sinfonietta
John Adams, conductor
Uninterrupted Rest
Peter Serkin, piano
Ring
Ryu Noguchi, flute
Harumi Ibe, terz guitar
Mitsuhiko Hamada, lute
Women of the Dunes
Studio orchestra
Harakiri
Kinishi Tsuruta, biwa
November Steps
Katsuya Yokoyama, shakuhachi
Kinshi Tsuruta, biwa
Concertgebouw Orchestra, Amsterdam
Bernard Haitink, conductor.
Last on
Music Played
Toru Takemitsu

Waltz (Face of Another)

Orchestra: London Sinfonietta. Conductor: John Adams.

NONESUCH : 7559-79404-2.
NONESUCH.
4.

Toru Takemitsu

Uninterrupted Rest

Performer: Peter Serkin.

Peter Serkin Plays the Music of Toru Takemitsu.
RCA.
3.

Toru Takemitsu

Ring

Performer: Ryu Noguchi. Performer: Harumi Ibe. Performer: Mitsukito Hamada.

Takemitsu - Quatrain - a Flock Descends.
Deutsche Grammophon.
5.

Toru Takemitsu

Woman in the Dunes

Orchestra: Studio Orchestra.

The Film Music of Toru Takemitsu.
Nonesuch.
10.

Toru Takemitsu

Harakiri

Performer: Kinishi Tsuruta.

The Film Music of Toru Takemitsu.
Nonesuch.
5.

Toru Takemitsu

November Steps

Performer: Katsuya Yokoyama. Performer: Kinshi Tsuruta. Orchestra: Concertgebouw Kamerorkest. Conductor: Bernard Haitink.

PHILIPS : 426-667-2.
PHILIPS.
1.
Broadcast