Main content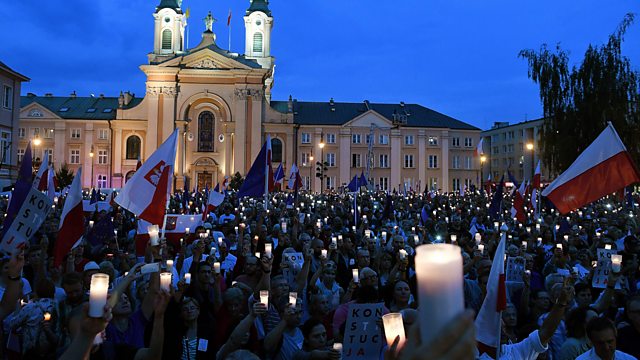 The Illiberal Democrats
Poland and Hungary appear to be on paths to what the Hungarian PM called 'illiberal democracy'. Is this incompatible with EU values, or a fair reflection of voters' wishes?
Poland and Hungary appear to be on paths to what the Hungarian Prime Minister Viktor Orban called "illiberal democracy". What does this mean for the European Union? Naomi Grimley hears how in Hungary a respected newspaper was shut down overnight after criticising government officials. A liberal university is fighting for its survival. In Poland, a popular singer was disinvited from a festival after speaking out against the proposed outlawing of abortion. Laws have been passed which give politicians more control over the appointment of judges. Both countries are in trouble with the European Commission. And yet, the view from Warsaw and Budapest is that their governments were democratically elected, and that they are enacting the will of their peoples - a will that may not be the same as that of Brussels, but has a popular mandate. In Hungary, Naomi is told that the country simply wants to keep its Christian identity. In Poland, the argument is that the changes of the court systems are simply an overdue updating of the judiciary after the Communist era, and that Poland is entitled to develop as its voters see fit. Could their new paths divide East and West and eventually threaten the EU itself?
Producer: Arlene Gregorius.