Main content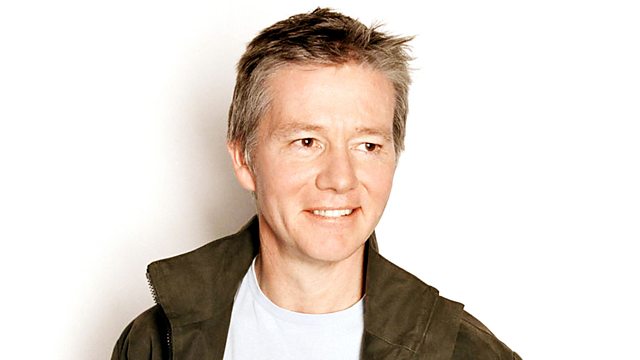 Programme 12, 2017-18
Tom Sutcliffe is in the chair as the current season of the lateral thinking quiz reaches its climax, with Wales taking on Northern Ireland.
(12/12)
Tom Sutcliffe chairs the last contest of this year's Round Britain Quiz tournament, with Northern Ireland (Paddy Duffy and Freya McClements) taking on Wales (Myfanwy Alexander and David Edwards). Can the Welsh make it a clean sweep again this year by winning all four of their fixtures across the series?
All of the questions in this final programme have been selected from listeners' suggestions, and there are some highly devious ones among them - including 'Why would rays of sunlight follow the state of Minnesota, a lookout position, a machine-readable label and Mother Teresa as of 2016?'
Tom will also be revealing the answer to the teaser puzzle left unanswered at the end of the previous contest.
Producer: Paul Bajoria.
Last on
Last week's teaser
Tom asked what Walt Disney, Somerset Maugham, Stafford Cripps, Ralph Vaughan Williams and Jean Cocteau, have in common - and why you might have been pleased to see any of them in a time of strife?
The answer is that they were all, at some time or other, ambulance drivers in the First World War. Walt Disney was an ambulance driver for the American Red Cross in France and Germany from 1917-18. W.Somerset Maugham worked for the Red Cross and the ambulance corps before being recruited into the British Secret Intelligence Services in 1916. The future Chancellor of the Exchequer Stafford Cripps didn't join up immediately in 1914 but went to France and worked as a lorry driver, and then an ambulanceman, for the Red Cross for a year.
Ralph Vaughan Williams served with the 2/4th Ambulance Division in France in 1916. Playwright and surrealist film-maker Jean Cocteau also drove a Red Cross ambulance in France in the First World War, long before his alleged sympathies towards the Nazi regime got him into trouble during the Second.
Other famous former wartime ambulance personnel include Ernest Hemingway, Jerome K. Jerome, and Ray Kroc, the founder of McDonald's restaurants.
Rankings so far in this series
The Round Britain Quiz league table stands like this with just one match to go. It's ranked according to the number of outright victories. After this week's contest we'll post the final league table for 2017-18 on the homepage.
1  WALES  Played 3  Won 3  Drawn 0  Lost 0  Total points 55
2  SOUTH OF ENGLAND  P4  W2  D1  L1  Pts 75
3  NORTH OF ENGLAND  P4  W2  D1  L1  Pts 72
4  SCOTLAND  P4  W1  D2  L1  Pts 71
5  THE MIDLANDS  P4  W1  D0  L3  Pts 67
6  NORTHERN IRELAND  P3  W0  D0  L3  Pts 46
Questions in this programme
Q1 (from George L. Gillespie)  According to the King James Bible, what type of fruit grows on the tree of knowledge of good and evil; how many wise men worship the infant Jesus in Matthew's Gospel; what type of fish swallows Jonah; and what is Mary Magdalene's profession?
Q2 (from Mark Caltonhill)  What links a quiz-show host who liked 'digging and delving', a psychologist noted for his 'identity crisis', a knighted cricketer from Antigua, and the pseudonym of Thomas Percy's servant who'd apparently been left to guard some firewood?
Q3 (from Svavar Sigurdarson)  Music - How could this remind you of Burt Reynolds' nemesis, the mountain range separating Tennessee and North Carolina, and a very northerly capital?
Q4 (from Peter Williams)  Why would rays of sunlight follow the state of Minnesota, a lookout position, a machine-readable label, and Mother Teresa as of 2016?
Q5 (from Richard Freeland)  In what other field might you hear of actors known for their roles in The Man With the Golden Gun, Once Upon a Time in China and Psycho?
Q6 (from Michael Trevett)  Music - Listen to these pieces and decide why, collectively, they might give you a sign.
Q7 (from John Slater)  How could a reforming monk become a Baptist dreamer; a Massachusetts senator become a Duke; and a Duke become a famous victim of emasculation?
Q8 (from Cristian Mocanu)  At the foot of the mountain, where the old lady wears black and white stripes and God's first world in the Vulgate is set on four wheels, there is a place that - in scale at least - would help you measure the danger of... what?
Broadcasts