Main content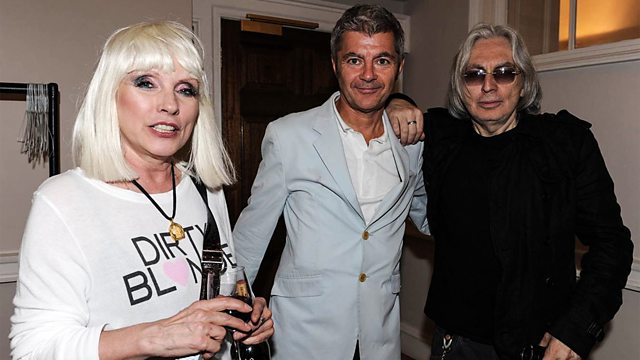 Revivals and Reunions
Alan Edwards explores the reunion phenomenon - why bands are getting back together, what it's like for them when they do and how it's changing the business.
Part three of this entertaining, behind-the-scenes series about how the music business works, explores the phenomenon of band reunions.
With unique revelations, rare archive and backstage access to an impressive line-up of old favourites strutting their stuff once more, music PR legend Alan Edwards tells the story of why so many bands are getting back together, what happens when they do - and how it's changing the music business.
Alan Edwards, who has looked after everyone from Prince to The Rolling Stones, from David Bowie to The Spice Girls, is our musical guide. He's been in the business long enough to see countless acts enjoy pop stardom, split up, fall out, only to re-emerge triumphant decades later, to the joy of their fans.
Alan starts by telling the story of the UK's first revival concert which took place over 40 years ago at Wembley Stadium. Featuring some of the biggest acts from the birth of rock 'n' roll - Bill Haley and the Comets, Little Richard and Jerry Lee Lewis - the concert opened the eyes of promoters to the power of yesterday's hitmakers to reach an audience and make serious money.
From there, Alan takes us on a musical journey through some of the biggest reunions of the last thirty years. Highlights include Glen Matlock, ex-bassist in The Sex Pistols who talks candidly about their 1996 reunion. Called the Filthy Lucre tour, Glen reveals how one section of the band had to travel on a separate tour bus just to keep the fragile band reunion on track so they could finish the tour.
Alan also meets the three remaining members of Blondie, who tell him how they've navigated their reunion. Debbie Harry reveals how she didn't want to get back together with the band at first, had to be persuaded to do it, but then teared up when they first played together - 'when we put the band back together for the first time and everybody started playing I sort of teared up because, oh there really is that sound, that really does exist, we do have an identity and that is probably the really successful band is to have a successful uniqueness to it.'
Stewart Copeland, the drummer in The Police, tells us about their reunion tour, one the most successful of all time. In rare archive of the band's rehearsals, Stewart tells us these 'were hell'. Copeland also reveals how the band had therapy during their comeback tour, 'we started to say things that I, we'd never said. I heard things from him (Sting) that just blew my mind, that's what you've been thinking for thirty years.'
Melanie C talks about The Spice Girls' reunion and reveals which of the girls called to ask her to give it another go. Alex James from Blur gives us the inside track on how Blur's revival happened and Shaun Ryder, with typical bluntness, tells us why he decided to take The Happy Mondays back on the road. We also hear from OMD, who for the first time reveal what really happened during their bitter break-up.
Eighties musical phenomenon Musical Youth take us behind the scenes of their rebirth and tell us why they still do it, and one of the biggest bands of the 60s, The Zombies, tell the remarkable story of how good old-fashioned 'word of mouth' played a big part in their rebirth.
The programme also looks at how to stage a reunion when no members of the band want to get involved. Alan Edwards explores how pop music is increasingly popping up in West End musicals and at how bands are staging their own exhibitions as a way to come back without actually having to stage a reunion.
And finally, Alan ponders the ultimate comeback - from beyond the grave - and asks whether technology and the arrival of hologram performances mean that in the future bands will never really break up, they'll just keep on regenerating.
Credits
| Role | Contributor |
| --- | --- |
| Presenter | Alan Edwards |
| Executive Producer | Richard Bright |
| Producer | James Giles |
| Director | James Giles |
| Interviewed Guest | Debbie Harry |
| Interviewed Guest | Shaun Ryder |
| Interviewed Guest | Alex James |
| Interviewed Guest | Glen Matlock |
| Assistant Producer | Lorna Lithgow |
| Production Manager | Laura Deponio |
| Camera Operator | Barry Ronan |
| Camera Operator | Duncan Stingemore |
| Camera Operator | Anton Jeffes |
| Editor | Damian Leask |
| On-line editing | Adam Hall |
| Re-recording mixer | Sam Castleton |
| Production Coordinator | Amanda Perry |
| Production Coordinator | Sharon Wood |
Featured in...
Series in which three music industry insiders reveal how the business really works.

Get the inside track on some of music's most influential songs, albums and personalities.