Main content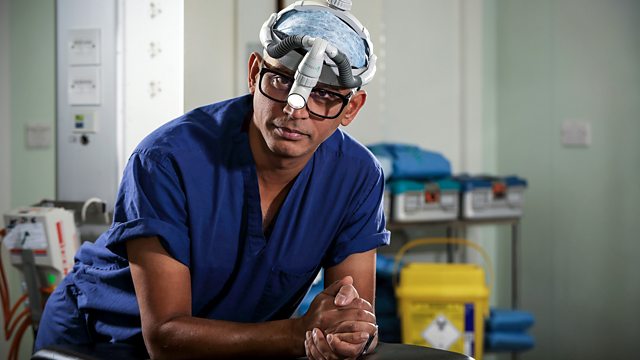 Some of the country's top surgeons perform high-stakes surgery. This episode follows surgeons and patients through three clinical trials at the vanguard of medicine.
The groundbreaking series concludes with the extraordinary stories of clinical trials being carried out at the surgical unit at the Queen Elizabeth Hospital Birmingham.
Surgeons allow the cameras to follow as they venture into uncharted territory, performing new kinds of surgery on human subjects for the very first time. Tracking three clinical trials at the vanguard of medicine, the programme asks what it is like to take part in this kind of experimental treatment, for both surgeons and patients. For all involved, the stakes could not be higher. The surgeons relish the intellectual challenge and the thrill of pushing science forwards - but they know that reputations and self-belief are on the line. For the patients, there is the desire to benefit from potentially lifesaving new techniques and treatments - but also the risk of unpredictable adverse reactions that could even be life-threatening. As one surgeon says, 'Clinical trials wouldn't be possible if there weren't patients who were brave enough to take part and put their health and lives on the line. So we have a duty to make the trial as safe as we can.'
Many clinical trials target the nation's most acute health issues. With deaths from liver disease soaring by 40 per cent in a decade, more and more patients are waiting for vital liver transplants. There is a shortage of organ donors and many donated organs are rejected as only those in excellent condition are considered suitable for a transplant procedure. Surgeons Richard Laing and Thamara Perera are part of a team at QEHB trialling a revolutionary way to tackle this crisis, by maximising the number of donor organs that can be safely re-used.
The film follows the trial every step of the way, as Richard receives a donor liver that would usually be rejected and tries to prove it is viable for transplant by rejuvenating and testing it on a perfusion machine. This machine sustains the liver by mimicking the supply of blood, oxygen and nutrients an organ receives inside a live, healthy human body. Once the donor liver has proved itself fit for transplant, the surgical team start to remove grandmother Connie O'Driscoll's severely diseased liver. Once the donor liver has been disconnected from the perfusion machine, they have just 20 minutes to place it in Connie's body and plumb it into the complex and delicate network of hepatic blood vessels.
More episodes
Next
You are at the last episode
Clips

Credits
| Role | Contributor |
| --- | --- |
| Series Producer | Jamie Seal |
| Director | Jamie Seal |
| Executive Producer | Simon Kerfoot |
| Executive Producer | Richard Bond |
| Executive Producer | Jo Hughes |
| Production Company | Dragonfly Film and Television |