Main content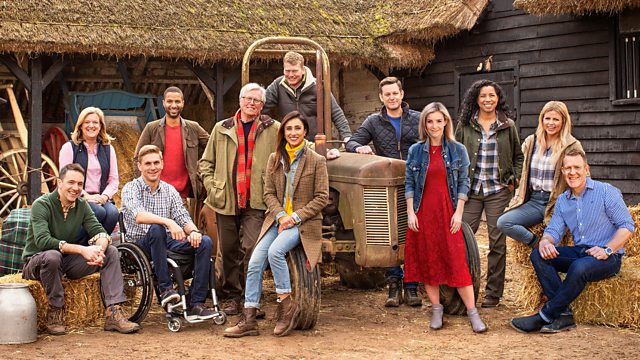 Leicestershire
Anita Rani visits Leicester University's herbarium to investigate the city's plants' past, present and future, and Tom Heap looks at the rural fire services.
It's a floral phenomenon that has baffled botanists - an early explosion of spring plants flowering at the wrong time. In a normal cold winter, botanists would expect no more than 20 to 30 types of wild plants to be in flower in Britain at this time of year. But a couple of years ago 612 plants were found to be in bloom on New Year's Day. That's 20 times as many species as botanists' bibles suggest.
Anita Rani joins some budding 'citizen scientists' taking in the New Year Plant Hunt. Leicestershire has more than 300 rare species of plant, but they're being lost at a rapid rate. Anita visits Leicester University's herbarium to investigate the city's plants' past, present and future.
Steve Brown gets to know some of Rutland Water's winter visitors better and looks forward to the Big Garden Birdwatch, as well as meeting the young birdwatchers taking part and revealing how to take part in this years' event.
Tom Heap looks at the problems faced by rural fire services.
New Year Plant Hunt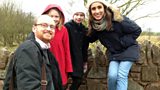 Anita joins a group of 'citizen scientists' in the heart of the National Forest for a New Year Plant Hunt to find out more about a floral phenomenon that has baffled botanists. She meets up with Louise Marsh from the Botanical Society of Britain & Ireland and discovers that botanists are astonished at how many plants are flowering across the country in midwinter. Anita and the botanists then head to a former industrial site in Leicester to find out if there are more wildflowers blooming in the city or in the countryside - and why that might be. 
Winter Birding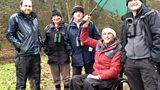 January may seem cold and grey, but at Rutland Water Nature Reserve it's the best time to see their winter visitors. Steve Brown meets the reserve manager Mat Cottam who introduces him to the birds overwintering here. Steve then joins bird recorder Lloyd Parker and his volunteers for a tricky bird count and finds out about some newcomers from the Mediterranean. Steve's birdwatching day ends feeding some garden birds and a reminder that you too can get involved in next week's RSPB Big Garden Birdwatch Weekend.
Rural Fires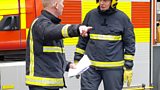 The time it takes for the fire brigade to reach rural fires is going up, but why? Tom heads to North Wales to find out how difficult it is becoming  to recruit retained firefighters, the men and women that staff most of our rural fire stations. Tom then heads to Buckinghamshire to discover what it takes to take on this vital job.
Alpaca Therapy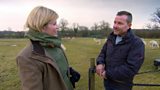 Ellie Harrison visits an alpaca farm in Leicestershire to meets pupils from a local school who have benefited from weekly visits to the farm. The calm and gentle nature of alpacas has helped to reduce anxiety and anger levels in children from the school who live with behavioural issues such as autism.
Rural Vets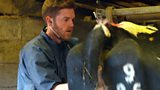 We're back behind the scenes at a rural vet's practice in the Cotswolds and this week, farm vet Will is called out to perform emergency surgery on a cow with a twisted stomach. Meanwhile, Angela from the equine team has gone to see Titch the pony who has also been having stomach issues. With the use of a gastroscope, Angela can see if Titch is on the mend but will she give him the all clear?
Adam's Farm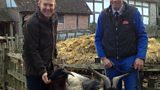 The goat is one of our oldest domesticated breeds of livestock. They are farmed all over the World because they're versatile and thrive in a wide variety of conditions. They're also dual-purpose, which means they're used for both milk and meat. Adam keeps several breeds such as the Boer, Golden Guernsey and Bagots and each has their own story to tell. But when Adam visits Mary Arden's farm in Wilmcote, Warwickshire, he finds a special breed of old English goat, which has been on a remarkable journey to the other side of the World and back. 
The Charnwood Fossil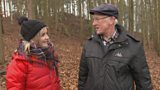 When Charles Darwin published 'On the Origin of Species' he had a problem; the earliest known fossils appeared to have been made by complex organisms rather than the simple ones he expected. Surely life on earth couldn't have begun with creatures as advanced as these? Helen Skelton meets Roger Mason who, almost a century later came upon a fossil in Charnwood Forest that would change our understanding of life on earth and provide the missing link in the fossil record that had Darwin stumped. 
Leicester Herbarium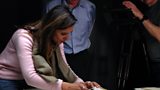 After gathering valuable data on the early-flowering plants Anita heads to the University of Leicester Herbarium to preserve her very own botanical discovery. Anita meets Professor Pat Heslop-Harrison who couldn't be happier with the new addition to their collection.  As well as the plants of the past and present, they are also saving the plants of the future here and Anita meets scientist Anna Farrell to see how. 
Credits
| Role | Contributor |
| --- | --- |
| Presenter | Anita Rani |
| Presenter | Steve Brown |
| Presenter | Tom Heap |
| Executive Producer | Bill Lyons |
| Series Producer | Joanna Brame |