Main content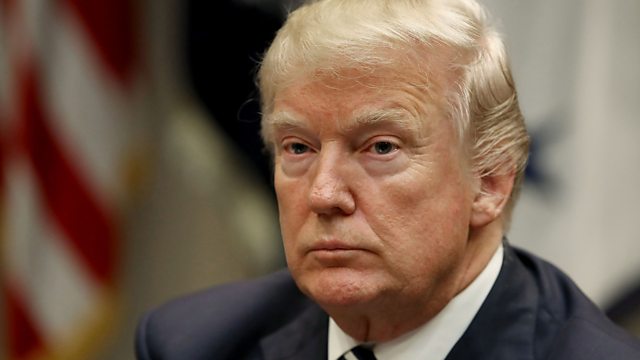 Is Trump Remaking America?
James Naughtie looks at a revolution that is altering the face of America, in ways that may last far beyond Donald Trump's presidency.
From the start, it was meant to be a presidency that would make the ground shake - Donald Trump presented himself as a President who would ride into Washington with a swagger, as the people's avenger.
And a year on, Donald Trump still talks like that candidate: and voters who wanted that wilful passion let loose on their behalf, he's a president of purpose who is reshaping their country.
In this programme BBC special correspondent James Naughtie examines the ways in which President Trump is changing America for the long-term through actions which have been overshadowed by the President's war of words on social media and the on-going White House soap opera.
Although his relationship with the Republican-controlled Houses of Congress is fractious and unhappy, the legislative accomplishments meagre, and many foreign governments are irritated by his speeches President Trump has achieved something remarkable: a counterculture brought to power.
CONTRIBUTORS
Philip Bobbitt, Professor of Jurisprudence at Columbia University School of Law
Paul Bledsoe, former Director of Communications of the White House Climate Change Task Force under President Clinton, now lecturer at American University.
Diane Katz, Senior Research Fellow in Regulatory Policy at The Heritage Foundation.
Hawk Newsome, President of Black Lives Matter of Greater New York
Shira A. Scheindlin, retired United States District Judge of the United States District Court for the Southern District of New York.
Last on

Has the Democratic Party found a new direction since losing the election to Donald Trump?

What do the events in Charlottesville, Virginia, tell us about the far-right in America?
Broadcast

Featured in...
Programmes and content analysing the political landscape of the United States of America.