Main content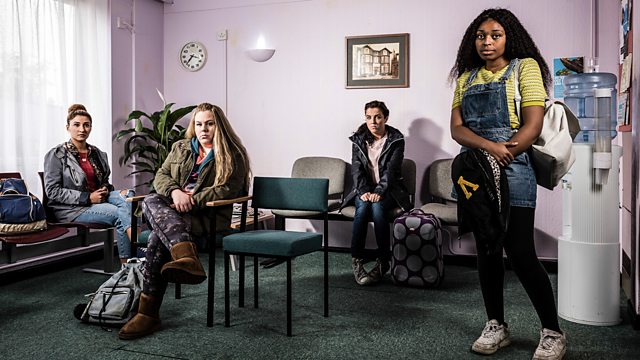 I Told My Mum I Was Going on an RE Trip
Based on real interviews, and interweaving song and spoken word, this warm and honest drama explores issues around abortion for young women today. Adapted from hit theatre show.
Introduced by Julie Hesmondhalgh, this performance is a warm and honest drama exploring issues around abortion for young women today. Told through the voices of four young women, the production interweaves real interview material, song and spoken word to portray true stories and experiences.
The programme deals with challenging themes but filmed on the 50th anniversary of the legalisation of abortion in Britain, writer Julia
Samuels explores the way in which society treats this subject and how this impacts on women today, and importantly asks what would happen if we started to talk openly about it?
This TV production for Performance Live uses the theatre technique of recorded delivery, where the actors listen to the real recorded interviews through earphones and repeat the words as they hear them, bringing the audience as close to the truth behind the words as possible. Featuring interviews from Great Britain, Northern Ireland and beyond, we meet health professionals, women, men and young people on all sides of the debate.
Julia Samuels, writer and producer, says 'The experience of having an abortion is such a taboo in society, and many women feel that they have to keep it a secret. We are pleased to be able to share these stories far and wide, and help combat the stigma around something that happens to one in three British women in their lifetimes.'.
Credits
| Role | Contributor |
| --- | --- |
| Paige | Emma Burns |
| Leah | Jamie-Lee O'Donnell |
| Tanaya | Aizah Khan |
| Cousin | Dorcas Sebuyange |
| Director | Lindy Heymann |
| Composer | Keith Saha |
| Director of photography | Deepa Keshvala |
| Producer | Roxanne Moores |
| Producer | Julia Samuels |
| Writer | Julia Samuels |
| Series Producer | Andrew Fettis |
| Executive Producer | Justine Potter |
| Producer | Sarah Lewis |
| Production Company | Contact |
| Production Company | 20 Stories High |
| Production Designer | Miriam Nabarro |