Main content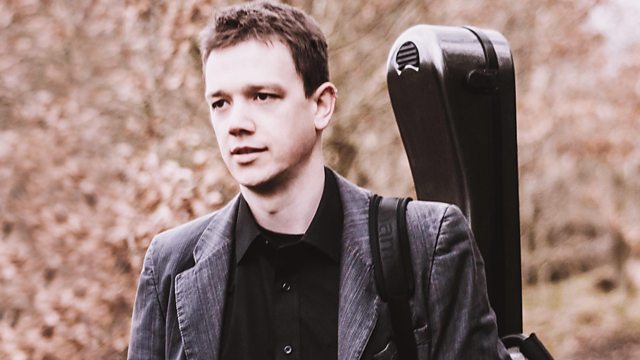 Thursday- Opera matinee: Giordano's Siberia
In our opera matinee, Tom McKinney introduces Giordano's Siberia with Sonya Yoncheva as Stephana and Murat Karahan as Vassili, recorded at last year's Montpellier Festival.
In our opera matinée, Tom McKinney introduces Umberto Giordano's rarely heard opera Siberia with the acclaimed soprano Sonya Yoncheva as Stephana, the mistress of a prince, and the tenor Murat Karahan as officer Vassili, her lover, in this tragic tale of romance, treachery and deception, taken from a performance at last year's Montpellier Festival in France. Domingo Hindoyan conducts a stellar cast as well as the Latvian Radio Chorus and the Montpellier Occitanie National Choir and Orchestra. The opera is followed by a a new recording of Sir Arthur Bliss's Introduction and Allegro from the BBC Symphony Orchestra under Sir Andrew Davis. Then a concert given recently by the BBC Singers at St Paul's Knightsbridge, in London, celebrating the music of Edward Cowie, also including pieces by Elgar, Vaughan Williams and Geoffrey Poole.
2pm
Giordano: Siberia
Stephana ..... Sonya Yoncheva (soprano)
Vassili ..... Murat Karahan (tenor)
Gleby ..... Gabriele Viviani (baritone)
Nikona ..... Catherine Carby (mezzo-soprano)
Girl ..... Anaïs Constant (soprano)
Ivan/Cosack ..... Marin Yonchev (tenor)
Captain/Walinoff/Governor ..... Riccardo Fassi (bass)
Alexis, Il Sergente ..... Alvaro Zambrano (tenor)
Miskinsky the banker/Lame man ..... Jean-Gabriel Saint-Martin (baritone)
Inspector ..... Laurent Sérou (bass)
Latvian Radio Chorus
Montpellier Occitanie National Choir
Montpellier Occitanie National Orchestra
Domingo Hindoyan (conductor)
c.3.40pm
Bliss: Introduction and Allegro
BBC Symphony Orchestra
Andrew Davis (conductor)
c.3.55pm
Edward Cowie: Okavango Dawn Rite
Vaughan Williams: Three Shakespeare Songs
Edward Cowie: Cathedral Music 1
Elgar: They are at rest
Geoffrey Poole: Imerina
BBC Singers
Nicholas Kok (conductor).
Synopsis
Act 1: "The Woman"
19th Century Saint Petersburg, August, during the Festival of Saint Alexander
Stephana is the mistress of Prince Alexis, having been seduced and then sold to him by Gleby in return for a generous pension. Stephana loves Vassili, a Lieutenant who believes her to be no more than a common peasant girl. Stephana is summoned to war but first goes to meet Stephana, who tells him the truth about her background. The Prince enters, demanding to know why the two are meeting. This develops into a duel , resulting in the Prince's death at the hands of Vassili. Vassili is captured and taken to the police.
Act 2: "The Lover"
The frontier between Russia and Siberia in winter
Several prisoners, having been sentenced to forced labour in the mines, struggle through the snows of Siberia as women and children bid them farewell from the roadside. Amongst them is bedraggled and desperate Vassili. Stephana arrives in a sleigh, having abandoned her comfortable life to join him. Vassili pleads for Stephana to return but she refuses and is ordered into the wastes alongside her lover.
Act 3: "The Heroine"
A hut in the mines of Trans-Baikal on the eve of Russian Easter
The prisoners have been allowed to organise a feast in celebration of Easter. Stephana, with the help of an old convict, begins to plan her and Vassili's escape. At that moment, her seducer & betrayer Gleby arrives.  Recognising Stephana, he begins to hurl insults at her. Vassili attempts to attack him but is held back by the other convicts. The church bell rings and prayers start. During the night Vassili and Stephana execute their plan to escape but Gleby spots them and alerts the guards who give pursuit. Shots are heard and, soon after, a wounded Stephana is brought back without Vassili. After one final farewell to her beloved, she dies from her injuries.