Main content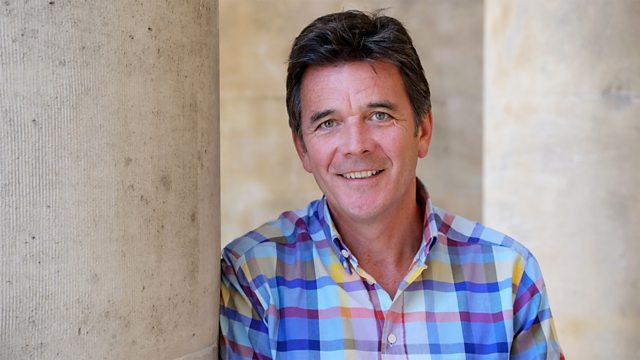 Blood Clots, Iron Supplements, Doctor's Bag
Prevention of Blood clots acquired in hospital. Iron deficiency, a very common problem, but what is the best way to treat it? And what is in a doctor's bag? With Dr Mark Porter.
Over half of all blood clots are acquired during hospitalisation, particularly for surgery, so prevention is key. Deep vein thromboses - DVTs - typically occur in the veins of the leg and central to prevention is the need to assess individual risk, while taking steps like special stockings, leg massagers and anticoagulant "blood thinning" drugs to mitigate them. But there are concerns in some quarters - particularly among orthopaedic surgeons - that the drive to protect patients against clots has exposed them to risks of bleeding and that the pendulum has swung too far the other way. Three leading specialists discuss the issues. And iron deficiency, a very common problem, but what is the best way to treat it? New research from Switzerland unexpectedly suggests that giving less iron, less frequently, leads to more absorption. Plus, what's in a doctor's bag?
Programme Transcript - Inside Health
Downloaded from www.bbc.co.uk/radio4
THE ATTACHED TRANSCRIPT WAS TYPED FROM A RECORDING AND NOT COPIED FROM AN ORIGINAL SCRIPT.  BECAUSE OF THE RISK OF MISHEARING AND THE DIFFICULTY IN SOME CASES OF IDENTIFYING INDIVIDUAL SPEAKERS, THE BBC CANNOT VOUCH FOR ITS COMPLETE ACCURACY.
INSIDE HEALTH – Programme 5.
TX:  30.01.18  2100–2130
PRESENTER:  MARK PORTER
PRODUCER:  FIONA HILL
Porter
Coming up today – iron deficiency, a very common problem, but what's the best way to treat it?  If you are one of the many people currently taking iron supplements, you will want to hear why less might be better.
Clip
Essentially, it comes down to just simply more was better and some would get in and just give a large dose every day.  But actually, there's very little evidence base to support that recommendation.
Porter
And the mysteries of the doctor's bag – what exactly do we carry around in it?
But first blood clots, and NICE's plans to update guidance for reducing the risk of hospital acquired clots.  Deep vein thromboses – DVTs – typically occur in the veins of the leg and hospitalisation, particularly for surgery, dramatically increases the odds of developing one.
DVTs in themselves normally only result in localised symptoms like pain and swelling, but in around one in 10 cases bits of the clot can break off and travel around the circulation to the lungs – a potentially fatal complication known as pulmonary embolus or PE.  And it is because of the threat posed by PE that hospitals now take blood clots so seriously.
Clive developed a DVT after a knee operation he had done privately.
Clive
I had difficulties in walking with my right knee.  It occasionally would give way and there was pain.  And the surgeon that I went to see advised me that I needed a partial knee replacement on my right knee.  I was in hospital for three days and I was given aspirin to take along with painkillers and to wear a stocking on my leg called a T.E.D. and a tuber grip bandage on my right leg.  I was advised not to drive for three months and probably six months off work.  It was a fairly serious operation. 
Within about a week I recognised the knee was hurting, it felt as if it was going to explode, it was very hot and inflamed.  The pain was excessive.  I decided to speak to my local GP and on inspection he thought it was wise I went to the local hospital, had an ultrasound on my leg, a DVT was found in the lower calf muscle.  Comments were positive – right leg DVT.  This was obviously a bit of a surprise to me, as I'd been on aspirin beforehand.  But I was advised that I would have to take anti-coagulants.  When reporting back to my surgeon and his team this was to a degree dismissed, they didn't label it as a DVT.  The important thing is I am recovered, I'm still hobbling around on a crutch but hope to be better soon.
Porter
Not everyone is a lucky as Clive.  When NICE launched its first guidance on preventing DVT back in 2007 it estimated that there were at least 25,000 preventable deaths from blood clots every year in the NHS.
Central to the guidance is the need to assess individual risk, and to take steps, like special stockings, leg massagers and anticoagulant "blood thinning" drugs to mitigate it.  But there are concerns in some quarters, particularly among orthopaedic surgeons, that the drive to protect patients against clots has exposed them to other risks.  That the pendulum has swung too far the other way.
Xavier Griffin is Associate Professor of Trauma Surgery at the University of Oxford and on the committee at NICE responsible for updating the 2007 guidelines.
Griffin
So historically, the last set of guidance was very controversial in the orthopaedic community because it just didn't seem to tally with the everyday experience that clinicians were finding in their normal practice.  Some papers would suggest that the number of people that sustain a complication is up to 40% and that just didn't seem real to clinicians.  And certainly, other members of the committee, who weren't orthopaedic surgeons, so it was a very general committee, certainly felt that in their practice, in their specialty, we were probably prescribing too much anti-coagulation and probably experiencing too many complications associated with bleeding.
Porter
Is one of the problems that blood clots, although potentially a very serious complication, is something that happens further on down the line and that perhaps a lot of orthopaedic surgeons weren't witnessing first-hand what was happening to their patients once they'd been discharged from hospital?
Griffin
So, that's a really common conception.  So, if you were to have a hip replacement, you see your orthopaedic surgeon about how your hip replacement's doing.  But you wouldn't necessarily see the same surgeon because you had a problem with a blood clot, you'd go to see a haematologist or other specialty that would treat that.  However, we do see our patients that have hip replacements over a very long period of time, and I'm sure there'll be people listening who've had a hip replacement and 10 years down the line are still seeing their orthopaedic surgeons and we are just not seeing the manifestation of so many people having blood clots.  And there's this important distinction between symptomatic blood clots that patients have, which is probably somewhere in the order of 4 or 5% in people having hip replacement and research studies which go specifically looking for blood clots which may have never been important for patients.  And what we've been able to do here is we've reset our calibration for how common blood clots are and we're using data from real world experience from the National Joint Registry to help us make better decisions.
Porter
And the practical impact of that is likely to be what – that fewer people will be given such aggressive therapy, might that be one result?
Griffin
So, I think the practical implication is that we have reset the balance in terms of deciding how big the problem is and therefore how aggressive we should be in treating it because once – when we very aggressively treat blood clots we generally cause an increase in bleeding because it's the flip side of the coin.  So overall our guidance has been changed in orthopaedic practice and one interpretation would be to say it's slightly less aggressive.  So, all patients are still receiving prophylaxis under the guidance, by which I mean a strategy which might be a drug, such as an anti-coagulant or a mechanical approach to improve the circulation in the blood but the type of prophylaxis that we recommend is probably less powerful.
Porter
What sort of challenge does it present to you as a surgeon, putting a patient on anti-coagulation, I mean it might be very good for preventing blood clots but you're cutting into these patients and stitching them up, you want them to heal and you don't want them to bleed?
Griffin
Yes, so that's a great fear of any surgeon, in fact, that the risk of bleeding is real and just as you quite correctly said we don't see the complications of blood clots, people that deal with blood clots don't see the complications of bleeding, that tends to happen early and often during your surgery or very early on afterwards.  It's a real risk and can in fact lead to some patients dying, although that's a very rare complication.  But as a surgeon we're always trying to seek the balance between preventing blood clots and preventing bleeding and I think our new version of the guidance, this update, gives us a better balance.
Porter
Xavier Griffin, reflecting some surgeons' concerns that existing guidance has led to over-zealous use of anticoagulants.  
But those on the other side of the equation – doctors like haematologists who treat DVT and PE – see it all differently.
Beverley Hunt is Professor of Thrombosis and Haemostasis at King's College, London and Ander Cohen, a vascular physician at Guy's and St Thomas's.
Cohen
Some orthopaedic surgeons feel that the 40-50% we see in the studies is not representative of blood clots but they are actually blood clots, they're mainly asymptomatic clots but they can be dangerous.
Porter
What about this balance of risk of bleeding versus risk of blood clot?
Cohen
Yeah, well we can't get that balance by looking at observational data, we have to look at clinical trials, where it's a proper experiment.  And in clinical trials it's been clearly shown that blood thinning drugs or anti-coagulants used to prevent blood clots in orthopaedic surgery reduces the rate of dying from blood clots in the lungs and does not increase the rate of dying from bleeding.  So, there's an overall clear net benefit.
Porter
Beverley, can I pick up on the point that I made to Xavier about orthopaedic surgeons not being around at the time that blood clots are most likely to dislodge and cause pulmonary embolisms?  When do these happen?
Hunt
So, one of the things that's emerged since the last guidance is that hospital acquired thrombosis, which is the term we use now, the risk extends right out to 90 days after discharge.  And actually, the average DVT occurs about day seven after discharge and the average pulmonary embolism is day 21 after discharge.  So, I really wouldn't expect a consultant orthopaedic surgeon to know that they were happening.  And then we have the other problem that's prevalent wherever you go, is that if you have a little bit of shortness of breath and you don't feel very well and you have a temperature at day 21 you may get treated for a chest infection and the diagnosis of pulmonary embolism may be forgotten. 
Porter
If you're on prophylaxis, so you're on heparin, you're on one of these new anti-coagulants, and you're around day 21, how protective are they?  I mean if you're on one can we – we obviously can't rule out a clot or a DVT?
Hunt
It's a very good point Mark.  We're just reducing risk.  So, we're reducing risk…
Porter
By what sort of margin?
Hunt
Probably about 60-70% in the surgical patients, which is brilliant but there will be a few breakthrough people.
Porter
So, you can still run into trouble when you're taking these medicines.  I mean the problem, I suppose, what happens then if I do get a DVT and I'm on the drug already, what else can you do for me?
Cohen
Well you're on the drug but you're on very low doses of the drug.  So, these are preventive doses, they're a half to a quarter of what you might use to treat.  And the other important point I think is that we must not just consider whether you have a recurrence or a clot or not, it's the size of the clot.  And, these drugs not only reduce the number of clots, they also reduce the impact of the clots – they're much smaller and less life-threatening than the ones you might get had you not had any treatment.
Porter
NICE always reviews its guidance, that's routine practice, but does this guidance need reviewing from your perspective, is there something awry with what we're doing now, could we do better?
Hunt
Yes, because the evidence base has changed.  So, we've got compression stockings…
Porter
That's sort of step one isn't it?
Hunt
And I think what we've come to realise is that the evidence base for stockings is incredibly low.  But if you go on a ward you see row of white legs… and NHS England spends over £63 million a year on stockings.  So, at the moment we actually have a trial going…
Porter
I get the impression, from your perspective, you're not going to pre-empt the results of your own trial but what you're suggesting is that stockings may not be that effective from existing evidence.
Hunt
Yes, that's what's coming from some of the clinical trials.  Perhaps the best of the clot studies in stroke patients and they randomised two and a half thousand patients with stroke to stocking versus no stocking and they showed no difference in rates of venous thromboembolism. 
Porter
And the problem with that would be that we might be over-dependent, falsely reassured…
Hunt
Yes.
Cohen
Yes.
Porter
…if someone's wearing them we think we perhaps don't need to give them a drug as well.
Cohen
So, stockings have been shown to reduce DVT and that's because you're squeezing the legs and you don't see the clots.  But that may mean that the problem just moves a bit further north up the body.  And in actual fact stockings have never been shown to reduce fatal pulmonary embolus in the lungs.
Porter
So, you might still be getting a clot but in a different place.
Cohen
Exactly.
Porter
Beverley, just to be clear the classic white stockings that everyone wears are very different from pneumatic compression.
Hunt
Absolutely, intermittent pneumatic compression is actually balloon-like massages, yeah, around the leg and it does help.
Porter
Right, let's get onto the drugs.  Where are we with medicines now – I mean a lot of people are familiar with heparin, that seems to be the mainstay, the injections that people will have in the tummy.  Is there good evidence to support using that?
Cohen
There's very strong evidence for heparins and in particular low-molecular-weight heparins which are the more modern types of heparin.  They have been shown to reduce fatal blood clots in the lungs, they've been shown to reduce DVT and they have been shown to reduce symptomatic blood clots in the lungs that may not lead to death.
Porter
Now these – I mean it depends what you're in for and what you're having done – but an orthopaedic patient having a hip might be on these up until about four plus weeks after their operation, so they'll be using them at home.  The other alternatives, of course, are the newer anti-coagulants, the tablet version, where do they fit into all of this?
Cohen
Well the tablets definitely have a role in major orthopaedic surgery and in many respects, they can replace the injections of heparin that we used to use.  And in particular they're being looked at in elective orthopaedic surgery, so patients having hip replacements and knee replacements.
Porter
Now you've just done a trial, you're quite evangelical about these new drugs.  I mean the problem from my perspective is that they're extremely expensive.  So, do they give an added benefit in your opinion?
Cohen
Yeah, well we've tried to use the injections long term in non-surgical patients, so patients with heart disease and lung disease and infections and giving injections long term has led to more bleeding.  But we now have tested a drug called betrixaban, which was not associated with increased major bleeding and led to a 35-45% reduction in symptomatic blood clots in the legs and the lungs.  So, I think for the first time, we have a treatment that can reduce blood clots after hospitalisation for the most common medical problems.
Porter
Beverley, your take on this new class of drugs, which are – they're sweeping into use across the NHS?
Hunt
Yes, I think I have to challenge you when you say they're much more expensive.
Porter
I think the price perspective comes from – I mean in general practice we so often compare them to of course warfarin, which is as cheap as chips and these drugs are £60-80 a month or something.
Cohen
But what we have to remember is that we're just looking at the cost of drugs, whereas if we look at the cost of having a two-and-a-half-fold increase in fatal bleeding with warfarin compared to these drugs or a two-and-a-half-fold increase in bleeding into the brain, then not only are they cheaper from the complication point of view but they also reduce mortality.
Porter
And looking at the draft guidance from NICE I was surprised to see aspirin there, I mean my impression was that aspirin is not very good at protecting people from blood clots in this situation.
Cohen
Yes, it isn't particularly good, in fact in some settings – say patients that have like fractures of the hip – it might reduce the occurrence of clots by about 30%.  But in patients having elective surgery, like hip replacements and knee replacements, the large randomised trial, the PEP trial, showed no effect on blood clots in that setting.
Porter
So, Beverley, where did this come from – how did it get into the draft guidance?
Hunt
So, there have been some more modern studies since the PEP study, which suggests it is as effective when you use it after low-molecular-weight heparin, when patients are discharged home, in preventing clot.
Porter
So, it has a place in some patients.
Hunt
So, it has a place probably in some aspects of orthopaedic surgery.
Cohen
That was a small study, down in Canada and I don't think that's sufficient for us to change our practice.
Porter
So, aspirin, in your opinion, doesn't have a lot of benefit, what about the downsides?
Cohen
Well the downsides is that it seems to cause as much bleeding as the more effective drugs and this has been shown in a number of studies now.
Porter
So, if you're going to take that risk you'd want more benefit.  And if you were going in yourself you'd rather have one of the newer agents than aspirin is what you're saying?
Cohen
Without a doubt.
Porter
Beverley, the irony of all of this is that as a GP I'm constantly being asked about blood clots in relation to long distance travel, people – international flights etc., but I haven't been asked by anybody about blood clots in hospital.
Hunt
As you can see, I'm rolling my eyes and it's very difficult to get the general public to become aware that hospital acquired thrombosis is the biggest cause of venous thromboembolism.  It's 55% of all the blood clots.  Having a clot after a long-haul flight is very rare.
Porter
Beverley Hunt and Ander Cohen.  And there is a link to the new guidance from NICE, which is currently out for consultation, on the Inside Health page of the Radio 4 website.
Less is more is a much-abused cliché, but one that resonates with surprising new research into the best way to take iron supplements.  Iron deficiency and resulting complications like anaemia are a common problem, particularly in teenage girls and women in whom menstrual bleeding depletes iron stores.  Treatment is simple – look for and deal with any underlying cause and boost stores with a course of iron supplements.  But iron isn't that easy to take.  It is poorly absorbed and any left in the bowel can cause unpleasant side effects, including abdominal pain, sickness, constipation or diarrhoea. 
The new research, by a team from Switzerland, unexpectedly suggests that taking lower doses, less often, is likely to boost absorption.  Professor Michael Zimmerman works at the Human Nutrition Department at the Swiss Federal Institute of Technology in Zurich.
Zimmerman
The recommendations from most medical textbooks and most experts are to give daily a large dose of iron, usually divided into two or three doses throughout the day.  It's thought that larger doses will provide more absorbed iron and that splitting the dose will allow the body to absorb more iron as well.  So, that's the current thinking and that's where most recommendations are.  But actually, there's very little evidence base to support that recommendation.  It essentially comes down to simply more was better and some would get in and just give a large dose every day.  But what we've done, for the first time, is actually measured the amount absorbed.
Porter
And you found the opposite to be true.
Zimmerman
That's right.  It is counterintuitive but we found that actually giving a lower dose of iron every other day in a single dose is more effective than giving daily iron doses that are high and split throughout the day.  It's a simpler regimen and it results in about 30-40% higher iron absorption from the supplements.
Porter
Because iron's quite hard to absorb in this form isn't it?
Zimmerman
That's right, the body can't excrete iron, so it regulates its body iron stores by very carefully regulating iron absorption.  We need iron, of course, to produce new red blood cells and iron is essential for life but at the same time too much iron can be toxic actually to the body because iron causes oxidation reactions in the body and can damage cells and damage tissues.  So, we very carefully regulate the amount of iron that comes into the body.
Porter
And in terms of the individual dose of those supplements that you're giving every other day how do they compare to the ones that, for instance, we give three times a day at the moment?
Zimmerman
Yeah well, we give 60 milligrams, 60 milligrams of iron is a high dose but it's not as high as what's currently recommended.  Usual recommendations for iron supplements are for 60 milligram dose three times a day, so a total of maybe 120-180 milligrams per day.  So, we gave about one-third of the usual recommended dose.  And what we're realising is that the body very carefully regulates absorption and it doesn't like to see high doses every day, it likes to see doses given at smaller levels and given every other day.  And basically, I think that our research will lead to a shift away from larger doses to more moderate doses and dosing regimens that aren't daily or split during the day but rather a new regimen for iron supplementation might be three doses a week, maybe given on Monday, Wednesday and Friday, first thing in the morning before breakfast.  So real simple.
Porter
Is this response explicable in evolutionary terms?  I'm imagining that historically, many thousands of years ago, we wouldn't have come across many natural sources of iron and maybe it might have once every three or four days and you had to make the most of it there and then.
Zimmerman
Very true, it could be because in the old days we're not used to seeing in our diets the large doses of iron that are provided in oral iron supplements.  For example, we'd have a meat meal, maybe every few days, which would provide a large dose of iron and, yeah, the body adapted to this idea that you might occasionally have large doses of iron but you had to be careful  not to have too many large doses of iron too often because that would lead to too much iron in the body.
Porter
So, if you have a lot of iron in your bowel, paradoxically that's actually shutting the door to absorption, so you absorb less, is that what you're saying?
Zimmerman
Yeah, that's what happens is as you take an iron supplement and iron is absorbed into your bloodstream it stimulates the production from the liver of a small peptide, a small protein, called hepcidin and hepcidin essentially closes the door to further iron absorption from the gut into the bloodstream.
Porter
So, the more often you have iron in the bowel the more often you have hepcidin floating around your system and closing that door?
Zimmerman
Right.  So, we think that in the long term if a woman was to take supplements every other day this increase in absorption would lead to quicker recovery from anaemia.
Porter
One of the other problems with iron therapy of course is not just the response of the blood but side effects and that's often attributed to unabsorbed iron.  On your regime are women likely to have fewer side effects from the iron?
Zimmerman
Yeah, well I think besides the advantage of better absorption the every other day regimen may lead to less gastrointestinal side effects.  We found in our study that there were 33% less gastrointestinal side effects in the women who took the supplements every other day versus every day.
Porter
Michael Zimmerman talking to me from Zurich.  And listening to that in our Glasgow studio is Dr Margaret McCartney.  Margaret, people may be surprised that existing iron courses aren't based on evidence.
McCartney
Well I was surprised as well Mark and I have to say I feel a bit ashamed as well, looking at the lack of evidence for how often we should give iron, it's quite clear that there have been uncertainties about this for decades and yet the amount of trials on how to deal with this super big problem, it's such a common thing, I'm sure most doctors are prescribing iron most days in general practice, the lack of trials about this really is astonishing.
Porter
If only it were limited to iron though.
McCartney
Well exactly.  So, there are so many other areas where there has been research and that has really helped us to do things better.  So, one example would be urinary tract infections, another really common problem.  I remember, as a junior, a seven-day course of antibiotics would be very much the standard and now the research has moved on – my local guidelines say three-day courses in many cases are just as effective.  But guidelines in other places say something slightly different.  So, I think there's still a lot of uncertainty and ambiguity about it.
Porter
But the other thing we have to watch – and looking at this iron story – is if you're one of those people who are struggling to take their iron supplements because of the side effects and taking it less frequently, you might actually inadvertently be doing some good.
McCartney
Well I think that a lot of GPs have pragmatically been dealing with this problem for years, by saying well look just take what you can manage, take less.  I know certainly that's some advice that I do give to patients because it seems to make sense and we know that most of the iron that you take by tablet doesn't actually get absorbed anyway.
Porter
On a very different note Margaret, can I ask you what your medical bag looks like?
McCartney
Oh well, I happen to have it beside me today, I don't usually, but I didn't want to leave in the car, coming into studio today, so it's a bit of a boring black suitcase type object but very firm, so I can write on it, which is handy.
Porter
So, it's a triumph of function over form.
McCartney
It's a function of substance over style Mark.
Porter
Yeah, well I thought you might say that because I'm of a classic bag man.  In fact, Ros, my wife, bought me a fantastic leather Gladstone for Christmas.  Now it's instantly recognisable to GPs of Dr Finlay's era but it's a very different bag from the one carried by my partner, Dr Richard Probert, but it's what's inside that matters.
Well the first thing to notice is that mine's got a brass clasp, typical old Gladstone's bag, yours is all zips and Velcro and it's bright red.
Probert
Yes, so this is the grab bag for the surgery and if we take a look inside we can see boxes of drugs, needles and syringes, all labelled and all clearly set out.  We've got ability to resuscitate patients, we've got sonic nebulisers which can deliver aerosol medication to the patient without the need for electricity.  Lots of…
Porter
So that's for treating asthma attacks, yeah.
Probert
Treating asthma attacks and exacerbation of COPD.  And then all the usual things of gloves, urine dip sticks, gel sprays for antiseptic handwashing, if the facilities aren't available and resuscitation equipment if needed.
Porter
I mean it's a pretty complete set of kit, I mean that would cover most eventualities.  What about the other thing – do you carry any – we have to have correspondence as well, do you carry writing papers and stuff like that for doing referral letters or do you come back to the surgery and do them?  I'm looking at mine, I've got some in here which looks like I've been carrying for two years and have never used.
Probert
I hardly use a pen at all nowadays.  I mean we have electronic prescribing, we have a 4G enabled laptop.  Technology's moved on.  We've bought pulse oximeters, there's the new trend for near patient testing.  And a lot of the information that we need would be stored on the patient's electronic notes.
Porter
I mean looking here, you mention pulse oximeter, that's a new device that Dr Finlay wouldn't have recognised, little thing goes on the finger normally to measure oxygen levels, useful in things like chest infection.  I've got another one here, this is a blood glucose thing for testing for diabetes, they wouldn't have that of course.  But looking at most of the stuff in my bag I mean I hardly ever use it, it's there just in case.
Probert
Yes, and I think that's the way that medicine is moving nowadays is you target the appropriate treatment to the patient.  The old-fashioned devices we used are used less.  Certain things would be the same as they are today, so there's the stethoscope, the blood pressure measuring device, specialist torches.  But what's changed recently is the need for technology to bring information nearer to the patient.
Porter
Well let's talk about that tech because a lot of what we're doing now is we're assessing patients in terms of guidelines that are laid out, there are protocols, things that we measure and test and we can score things.  And that's all on smartphone.
Probert
Yes, as a houseman and where I started we would have three or four books in our bag containing the British National Formulary, up-to-date guidelines, textbooks that would give us information on subjects that we have learnt and needed refreshing on.  Nowadays it's all accessible on smartphones with validated apps. 
Porter
Do people expect to see a doctor with a bag?
Probert
The way doctors luck has changed beyond all measure now.  We're not meant to wear ties, we're naked from the elbows down.  No white coats.  No old-fashioned Gladstone bags.  We're just sort of members of the sort of relaxed 21st century society.
Porter
If it's the scruffy one it's probably the doctor.
Probert
Probably.
Porter
Sign of the times.
But both our bags are smart.  Dr Richard Probert talking to me at our practice in Gloucestershire.
Just time to tell you about next week's programme, when we investigate a blast from the past – rickets.  Still very much around and still known as the English disease.  And drug abuse – why do some people find kicking their habit easier than others?
ENDS