Main content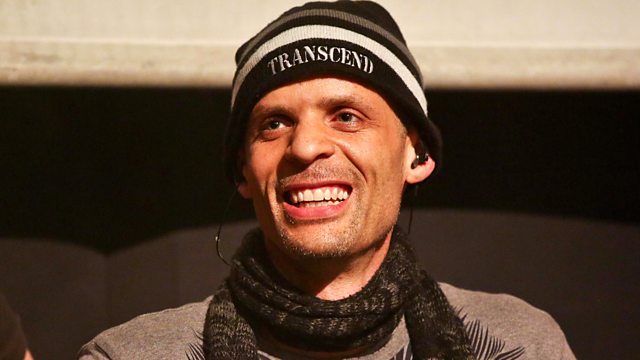 Max Reinhardt
Immersive musical explorations with the ever-inquisitive Max Reinhardt. Featured artists include Akio Suzuki, Jaimeo Brown, Spaceship, and Thru Colours.
Immersive musical explorations with the ever-inquisitive Max Reinhardt. Tonight we take a trip to an underground reservoir in Fife with sound artist Akio Suzuki, to a Mississippi prison with jazz drummer Jaimeo Brown, to Epping Forest with field recordist Spaceship, and to an intergalactic bar with producer Thru Colours.
Moreover, a spin of another favourite Mark E. Smith moment, to mark the passing of a musical great.
Produced by Jack Howson for Reduced Listening.
Last on

Music Played
Von Südenfed

Dearest Friends (feat. Mark E. Smith & Mouse on Mars)

Tromatic Reflexxions.
Domino.

Thru Colours

Lights Down

Intergalactic Bar Jukebox.
Self-released.

Jaimeo Brown Transcendence

Be So Glad

Jaimeo Brown Transcendence.
Motéma Music.

Andrés Landero

Cumbia En La India

Thierry Pécou

L'Oiseau Innumérable - Concerto Pour Piano Et Orchestre (2006) II - Deuxième Mou

Performer: Alexandre Tharaud. Ensemble: Ensemble Orchestral de Paris. Conductor: Andrea Quinn.

L'Oiseau Innumérable.
Harmonia Mundi.

Ian McMillan

&

The Unthanks

Dream Of A Tree In A Spanish Graveyard

Harbour Of Songs.
The Stables.

Malak Helmy

Music For Drifting

Ghostpoet

Many Moods At Midnight

Dark Days + Canapés.
Play It Again Sam.

Steven Daverson

Schattenwanderer

Performer: Nina Janßen-Deinzer. Ensemble: Ensemble Modern. Conductor: Oswald Sallaberger.

Shadow Walker.
Col Legno.

John Coltrane

Giant Steps

Denys Baptiste

Neptune

The Late Trane.
Edition Records.

Spaceship

Wake Valley Pond to Baldwins Pond 1.2

A Prospect of Loughton Brook.
Forged River Recordings.

David Allred

What Would You Do?

In A Town You Wouldn't Know.
Self-released.

3MA (Ballaké Sissoko, Driss El Maloumi and Rajery)

Samedi glace

鈴木明男

&

John Butcher

Reservoir

Immediate Landscapes.
Ftarri.

Hand Habits

Actress

Wildly Idle (Humble Before The Void).
Woodsist.
Broadcast