Main content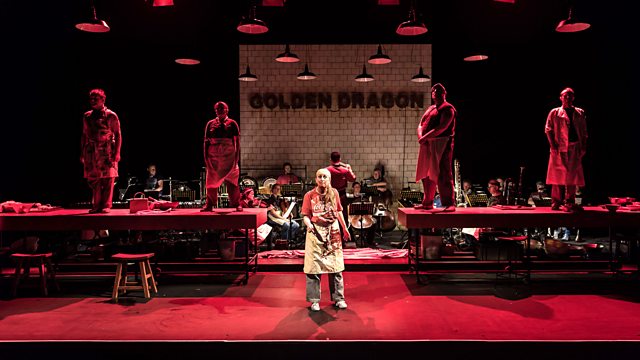 The Golden Dragon
Tom McKinney introduces music by Peter Eotvos including a recording of his opera The Golden Dragon, a gritty indictment of attitudes to migration, given by Music Theatre Wales.
Tom McKinney introduces music by Peter Eötvos including music for percussion and orchestra and his opera The Golden Dragon, a controversial and gritty indictment of attitudes towards migration and to the exploitation of those forced to find an existence on the extreme fringes of society. The opera was given last year to critical acclaim by Music Theatre Wales and is inspired by an allegorical play by Roland Schimmelpfennig and Aesop's fable of "The Cricket and The Ant". It is "part comedy and part tragedy", a quasi Brechtian drama in style, with the singers performing multiple role types and telling many stories, all of which converge to convey a moving and sometimes very shocking, visceral comment on the human potential for brutality. The programme includes an interview with the director Michael McCarthy.
Peter Eötvos: Speaking Drums (2012/13) for percussion and orchestra
BBC Philharmonic / Juanjo Mena (conductor)/ Martin Grubinger (percussion)
(Recorded in Gasteig, Munich on March 16 2017 )
Peter Eötvos: The Golden Dragon (2013/14)
(Recorded at the Birmingham Repertory Theatre, 3rd October 2017)
Cast:
Llio Evans (The Little One)
Lucy Schaufer (Old Cook, Granddaughter, The Ant, Hans, Chinese Mother)
Andrew Mackenzie-Wicks (Waitress, young Asian, Grandfather, The Cricket, Chinese Aunt)
Daniel Norman (Old Asian, Eva - the brunette air stewardess, the friend of the granddaughter, Chinese Father)
Johnny Herford (An Asian, Inga- the blonde air stewardess, Chinese Uncle)
The Music Theatre Wales Ensemble conducted by Geoffrey Paterson.
Stockhausen's Gruppen – What's the Big Deal?