Main content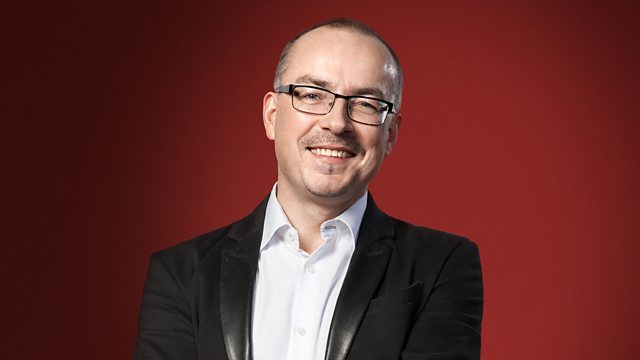 Andrew McGregor with Sarah Devonald and Jeremy Sams
Andrew McGregor looks at Dvorak's Serenade for Strings with Sarah Devonald, and Jeremy Sams sifts through recent releases of Debussy from a number of leading pianists.
with Andrew McGregor
930
Dvořák's Serenade for Strings in E major with Sarah Devonald.
In his early thirties and with a newborn son, Antonín Dvořák was struggling to make ends meet, a professional viola player and virtually unknown as a composer, without even a piano to his name. But in 1874 he won a state competition which not only came with a very welcome cash prize but also the recognition and enthusiastic endorsement of one of the most influential names in music, Johannes Brahms. The sunny and genial five-movement Serenade for Strings is one of a clutch of new works from the following year and marks the beginning of Dvořák's international reputation.
1100
2018, the centenary of Claude Debussy's death, promises to be a good year for recordings of his music. Jeremy Sams sifts through recent releases of Debussy solo piano works from a handful of leading pianists, including Cathy Krier, Steven Osborne, Seong-Jin Cho, Michael Korstick and Stephen Hough.
1145
Andrew chooses an outstanding new release as his Disc of the Week.
Record Review
9.00am
MOZART: PIANO CONCERTOS NOS. 25 & 27
WOLFGANG AMADEUS MOZART:
Piano Concerto No. 25 in C major, K503
Piano Concerto No. 27 in B flat major, K595
Piotr Anderszewski (piano), Chamber Orchestra of Europe
Warner Classics  9029572422 (CD)
TRANS LIMEN AD LUMEN
ROMAN RUTISHAUSER:
Tenebrae: I. Tristis est anima
Tenebrae: II. Vinea mea
Tenebrae: III. Eram quasi
Tenebrae: IV. Velum templi
Tenebrae: V. Tenebrae
PAUL GIGER:
Pert Em Hru: I. Media vita in morte sumus
Pert Em Hru: II. Altus solo I
Pert Em Hru: IV. Altus solo II
Pert Em Hru: V. Hinausgang der seele ins volle tageslicht
David James (counter-tenor), Paul Giger (violin), Marie-Louise Dähler (harpsichord), Pudi Lehmann (percussion) The Hilliard Ensemble, Collegium Vocale, Tablater Konzertchor, Hans Eberhard
Divox CDX21702 (CD)
PIAZZOLLA & GALLIANO: CONCERTOS FOR BANDONEON ACCORDION
ASTOR PIAZZÓLLA:
Concerto for Bandoneon & Orchestra 'Aconcagua'
Pedro y Pedro
Oblivion
ENRIQUE GRANADOS:
Danza española, Op. 37 No. 5 'Andaluza' arr. for bandoneon
ISAAC ALBÉNIZ:
Córdoba (No. 4 from Cantos de España, Op. 232) arr. for bandoneon
RICHARD GALLIANO:
Opale Concerto
GWEN CRESENS:
Nobody Likes an Angry Bunny
Suite Espagnole: La noche anterior
Gwen Cresens (accordion & bandoneon), Brussels Philharmonic, Diego Matheuz
Warner Classics 5419794935 (CD)
9.30am – Building a Library
Composer:                  Dvorak
Piece:                          Serenade for strings in E op 22
Reviewer:                    Sarah Devonald
Recommended Recording:
Prague Philharmonia; Jakub Hruša (conductor)
Supraphon SU39322
Other Recommended Recordings:
Below are other recordings that Sarah also liked, although we can't guarantee the availability of these discs.


Orpheus Chamber Orchestra
DG 4153642 


Czech Chamber Orchestra; Josef Vlach (conductor)
Supraphon SU42032
English Chamber Orchestra; Charles Mackerras (conductor)
Classics For Pleasure CDCFP4597 
10.20am
FORQUERAY - COMPLETE WORKS
ANTOINE FORQUERAY:
Suite No. 1 in D minor
Suite No. 2 in G major
Suite No. 3 in D major
Suite No. 4 in G minor
Suite No. 5 in C minor
Allemande
Courante in D Minor
Sarabande in D Minor
Bransle in G Major
La Girouette in G Minor
Musette in A Major
JEAN PHILIPPE RAMEAU:
La Forqueray in D minor
FRANÇOIS CLÉMENT:
La Forqueray - Fièrement sans lenteur
Sixième Sonate for Violin and Harpsichord
Quatrième Sonate pour violon et clavecin: Arias I & II
La Forcroy – Largo
Première Sonate for Violin and Harpsichord
LOUIS-ANTOINE DORNEL:
Sonate IV in D major, 'La Forcroy', Op. 2
PIERRE-ALAIN BRAYE-WEPPE:
Tombeau de Forqueray for Harpsichord
JACQUES DUPHLY:
La Forqueray
CLAUDE-FRANÇOIS RAMEAU:
La Forcray for Harpsichord in D Major
FRANÇOIS COUPERIN:
The Proud One, or La Forqueray
ANA GIURGIU:
Carillons pour Forqueray
JOSSE BOUTMY:
La Forcroy
Michèle Devérité (clavecin), Kaori Uemura (viole de gambe), Ricardo Rodriguez (viole de gambe continuo) & Ryo Terakado (violon)
Harmonia Mundi HMM90528689 (5CDs)
11.00am – New Releases: Jeremy Sams on Debussy piano music
DEBUSSY: PIANO MUSIC VOLUME 5
12 Études, L. 136, Book 1
Études pour piano (12) (complete)
Etude retrouvée
Masques
D'un cahier d'esquisses
L'isle joyeuse
Danse, L. 69 "Tarantelle styrienne" Nocturne
Michael Korstick (piano)
SWR Music  SWR19044CD (CD)
DEBUSSY: PRÉLUDES, BOOK 1 & 2
Préludes - Book 1 (12, complete)
L'isle joyeuse
Angela Brownridge (piano)
Challenge Classics CC72727 (CD)
DEBUSSY: IMAGES, CHILDREN'S CORNER AND SUITE BERGAMASQUE
Images I, L. 110
Images II, L. 111
Children's Corner
Suite Bergamasque
L'isle joyeuse
Seong-Jin Cho (piano)
DG 4798308 (CD)
CATHY KRIER: DEBUSSY & SZYMANOWSKI
DEBUSSY:
Images pour piano - Book 1
Images pour piano - Book 2
Masques
Szymanowski: Masques (3), Op. 34
Cathy Krier (piano)
Avi-Music AVI8553379 (CD)
DEBUSSY: PIANO MUSIC
DEBUSSY:
Masques L 110
Masques L 112
L'Isle Joyeuse, L 109
Images pour piano - Book 1
Images pour piano - Book 2
Estampes (3) (Complete)
Children's Corner
Steven Osborne
Hyperion CDA68161 (CD)
DEBUSSY: PIANO MUSIC
DEBUSSY:
Estampes (3) (Complete)
Images pour piano - Book 1
Images pour piano - Book 2
Children's Corner
La Plus Que Lente, L 128
Stephen Hough                      
Hyperion CDA68139 (CD)
11.45am – Disc of the Week
DVOŘÁK: STRING QUINTET OP. 97 & STRING SEXTET OP.48
ANTONIN DVORAK:
String Sextet, Op. 48
String Quintet No. 3, Op. 97
Jerusalem Quartet, Veronika Hagen (viola), Gary Hoffman (cello),
Harmonia Mundi HMM902320 (CD)