Main content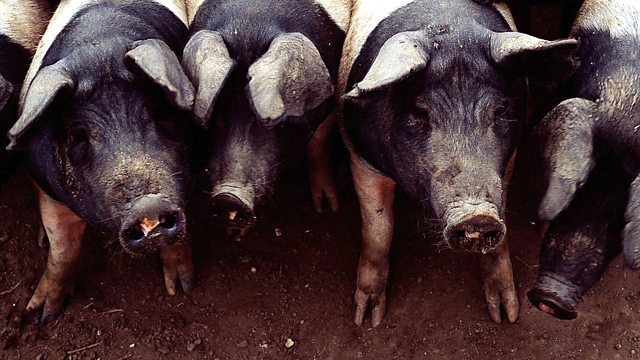 Dairy Prices, Animal Sentience, Beef to China, Farm floods, Colostrum
As major UK milk processors drop their farmgate prices, the dairy sector is bracing itself for another dip - but just how low will it go?
Arla is to invest half a billion pounds over the next few years, £72 million here in the UK. The company - a co-operative owned by 12,000 European farmers, including about 2,500 in Britain - says its Aylesbury dairy will produce lactose-free milk while other plants will be upgraded.
But from today, the co-operative will reduce the price it pays farmers for milk. The drop of 1.73 pence follows a small price reduction last month, giving Arla's British producers 29.27 pence per litre.
This might all sound rather familiar - in recent years, dairy prices have been something of a rollercoaster: at one point in 2015, farmers were receiving less money for their milk than it cost to produce it. By the start of this year, they'd clambered back up to around 30 pence a litre.
So should farmers be bracing for another big drop? Andrew Cozens has a herd of 230 dairy cattle near Stroud, and sells his milk to Arla. Lucy Taylor visited to get his take.
Meanwhile Charlotte Smith asks independent dairy industry commentator Ian Potter how he sees the market progressing in coming months.
The Environment, Food and Rural Affairs Select Committee has told the government to go back to the drawing board, with its latest plan for boosting animal welfare legislation post-Brexit. The proposal covers tougher sentences for animal cruelty, as well as a recognition of animal sentience - but the Committee says it's hasty and ill-defined and that animal sentience needs its own, dedicated bill. Charlotte speaks to Labour MP Angela Smith, who's on the EFRA Committee.
British beef could be returning to Chinese menus - but how soon? On a trade visit to Beijing, Theresa May announced that the government will be working with China to get a ban - imposed in 1996, because of BSE - lifted within six months. However it could take much longer to get over other regulatory hurdles.
Farming Today is talking about water all week - and for many farmers floods on their land are routine. But what's the longer term effect? Hillesden Estate Farm in Buckinghamshire is a mixed farm with arable crops and a small dairy herd - and a few of their fields are regularly underwater. That has an impact on the soil, which a research project on the farm is now monitoring. Howard Shannon took a tour of the sodden fields with farm manager Jamie Orpwood.
Colostrum is a sort of 'super-milk' produced by new mothers, containing antibodies to protect newborns from disease.
This month, RUMA - the Responsible Use of Medicines in Agriculture Alliance - is promoting colostrum to farmers as part of efforts to reduce the use of antibiotics in agriculture. The idea is that the right amount of colostrum, of the right quality, given at just the right time, will minimise the animal's need for antibiotics in later life. Charlotte asks RUMA's chair, Gwyn Jones, whether this is something farmers already know?
Last on
Broadcast