Main content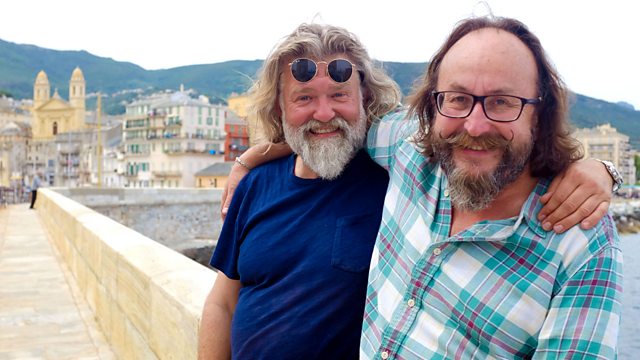 The Corsican 'trinity' of meat, chestnuts and cheese forms the basis of the bikers' exploration but it is the independent spirit of the people that shines through.
The bikers' Corsican adventure begins in Bonifacio in the south of the island. They head straight for one of the best delis in town to scope out the local cuisine, including the legendary sausage figatelli. Tony, the owner, tells them that there is a holy trinity of ingredients that makes up the basics of Corsican food - meat, cheese and chestnuts. He suggests that the best way for the bikers to understand what makes Corsicans tick is to meet the producers. This gives them a clear mission for their trip across the island, starting with a world-class meat producer. Jacques Abbatucci raises a unique breed of cattle, the vache tigre or tiger-cow, a breed recognisable by its distinctive stripes. His free-range and organic approach results in some of the best meat that the bikers have ever eaten. Their next foray into the island's interior takes them to the high plateau where another producer is raising rare-breed pigs. Again, the animals roam freely, grazing on chestnuts in the autumn. Here the charcuterie leaves them in awe. As they lunch with the producer, they also taste a cake made with chestnut flour, another part of the trinity of Corsican flavours. As they travel, they pass through vast forests of chestnut trees and begin to understand the importance of chestnut flour in local cuisine.
Much of what is produced in Corsica is exported. Next, the bikers head to the coast where the entrepreneurial spirit has been alive and well for thousands of years. At the Etang de Diane, a salt-water inlet, the bikers discover that mussels and oysters have been grown in these nutrient-rich waters since Roman times. In fact, the Romans shucked and exported so many oysters that the left over shells have created a whole island! And so, to the final element in the trinity of Corsican foods - cheese. At a goat farm in the hills, the bikers meet Karin, a young woman who has taken over the family cheese business and produces cottage cheese alongside the local speciality - brocciu. They cook and eat in her outdoor kitchen with spectacular mountain views. As their Corsican exploration draws to its end, the bikers spend their final night in a mountaintop B&B where the family has spent years restoring abandoned houses in a bid to bring young people back to the more remote parts of Corsica. They learn that the independent spirit of Corsica is alive and well here in the hills and spend a magical evening soaking up the true essence of this unique island.
Featured recipes include veal and olive stew, stuffed mussels with courgette gratin and storzapretti (swiss chard and cheese quenelles) with figatelli sausage.
Clips

Credits
| Role | Contributor |
| --- | --- |
| Presenter | Dave Myers |
| Presenter | Si King |
| Executive Producer | Gill Tierney |
| Series Producer | Francois Gandolfi |
| Series Producer | Dick Sharman |
| Producer | Francois Gandolfi |
| Director | Francois Gandolfi |