Main content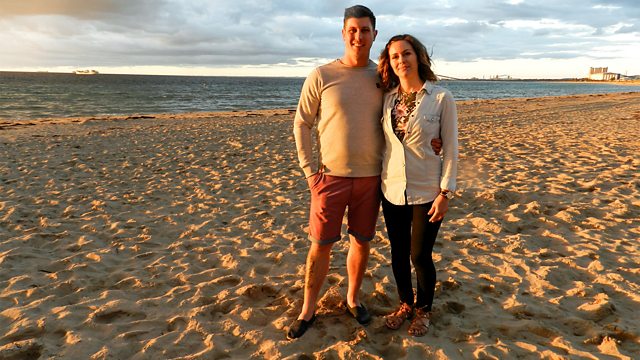 The Castlings
Newlyweds Adam and Cheryl Castling may be about to fall out over Australia. Where does their future lie, and will it be a case of till Perth do us part?
You've just got married and are deciding where to live. It happens to a lot of us. But what if your other half thought Australia was the best place in the world to settle down, and you didn't? That is the dilemma that faces the Castlings from Gateshead.
Having met at university in 2006, Adam and Cheryl Castling got hitched in February 2015, and they are both loving married life! Initially, the idea for moving down under came from Adam when he visited Australia in 2013. For a young man in his twenties, it seemed like the perfect place to be. Even Cheryl picked up on his enthusiasm and got the Aussie bug. But then shattering news of her dad's illness brought all travel plans to a shuddering halt. Not that her dad agreed they should give up on their dream, but Cheryl could not contemplate any move that would take her away from her beloved father in his final days.
Sadly her dad passed away in June 2016, leaving Cheryl devastated. But it removed her barrier to going to Australia, and the dream for Cheryl was reignited. Now that she feels certain HER chance has now come, it is Adam who has begun to have doubts about moving. His career has taken off and he has reached a position in his career in events management that he really doesn't want to give up.
If they are to move, time is of the essence. The couple want to start a family and believe it is time for them to start putting their forever roots down. The trial week will give them a chance to explore whether Perth could be part of these future plans, or will it be case of till Perth do us part?
Castling update
The Castlings are still living in the UK but are now very focussed on making the move happen to Australia.

Since the trial week in Australia, Perth has been on Adam and Cheryl's minds ever since. The couple are now looking into how to make their dream a reality and are  looking into a 189 Visa based on Cheryl's profession.  If gets a point based Visa, her profession is more in demand, meaning they would get more points.
Credits
| Role | Contributor |
| --- | --- |
| Presenter | Nicki Chapman |
| Executive Producer | Paul Connolly |
| Series Producer | Jacqui Berkeley |
| Production Manager | Joy Hines |