Main content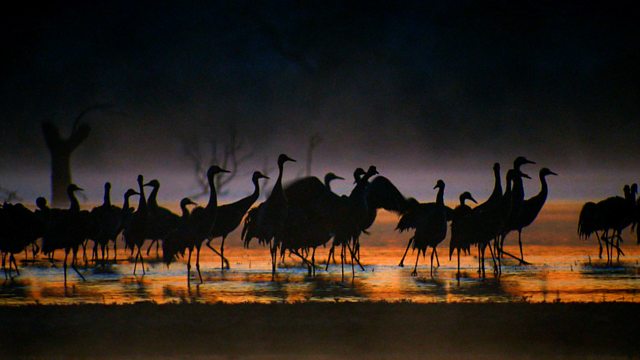 Somerset Levels
In the Somerset Levels, Matt Baker is on the hunt for the common crane, a bird that has been brought back from the brink and which now thrives in the area.
Countryfile visits the Somerset Levels, where Matt Baker is on the hunt for the common crane, a bird that has been brought back from the brink. It now thrives in this area, thanks to an unlikely union. Anita Rani meets the farmer who is turning apples into a tempting tipple. Adam Henson takes stock on his farm as winter arrives. And in the first part of a new feature, the programme discovers the highs and lows of life as a rural vet. Charlotte Smith finds out why people who swim in the sea are unwittingly exposing themselves to dangerous bacteria and discovers where they come from.
The Great Crane Project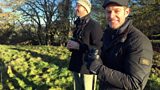 Matt Baker is back on the Somerset Levels revisiting the Great Crane Project to find out what has happened here, since he witnessed the first re-introduction of Common Cranes to the area, back in 2014. This stunning bird was hunted to extinction 400 years ago, now though it's back. Matt meets Damon Bridge, the former project lead, to hear about their breeding success and catches up with some of the project volunteers. The cranes are getting wilder by the day. Great news for the project, but bad news for those trying to spot these elusive creatures!
Somerset Cider Brandy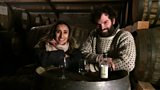 Anita heads to Burrow Hill to meet the team of traditional cider-makers, reviving a local drink with ancient roots. Among 180 acres of cider apple orchards, Farmer Julian Temperley explains how they've been pressing cider here for more than 200 years. But for the last thirty years, Julian and his team have also been quietly cultivating a tipple he coins 'the forgotten jewel in Somerset's crown' – Somerset Cider Brandy. In 1989, HM customs granted the UK's first ever, full cider-distilling licence to the farm and they've been producing cider brandy ever since.
Sea Bacteria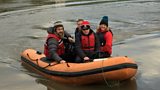 Charlotte Smith gets a first look at a new study from the University of Exeter Medical School which shows that antibiotic resistant bacteria like MRSA and E-coli are present in our sea waters. Swabs taken from surfers showed that they were 3 times more likely to have these superbugs in their guts than others. But where are they coming from and what can we do to stop them?
Somerset Farmers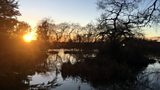 The Levels are a very special landscape and it takes a special kind of person to farm them.  Roderick Hector is a third generation farmer. As a Levels boy born and bred, he understands this land better than anyone. He might be a beef farmer, but Roderick also has a passion for wildlife, birds in particular. Matt joins him to see how he has embraced the Higher Level Stewardship scheme and the work he is doing to encourage birdlife to his farm via scrapes, reed beds and ponds and of course the work he's done to help the cranes.
Country Vets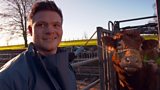 This week we're out with a Cotswold vet practice based in Malmesbury to see what they get up to at this time of year. They're one of the largest practices in the country and deal with all sorts of animals both large and small.  Whether it's putting a new ring in a bull's nose or castrating a deer it's all in day's work for these vets!
Echo Maker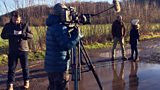 Anita meets Sean Harris, an artist and animator who has spent the past year working with local farmers and volunteers from the Great Crane Project to create a special artwork called 'Echo Maker'. The work explores the relationship between loss and return - the birds and people of the Somerset wetlands – and the creativity and adaptability that are needed by both as a way of survival here. Art and farming collide when Roderick Hector's farmhouse is turned into an animation studio, the results to be screened later on!
Winter on the Farm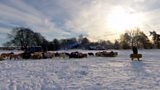 Adam's Farm has seen a foot of snow, so he's out and about making sure all his animals are OK. He has to round up his cattle who've hidden behind trees and bushes to get out of the cold and explains how a sheep's natural instinct helps it forage through the ice and snow. Of course Adam also has to look in on his latest litter of Tamworth piglets just to check everyone's warm and well fed.  
Barn Art Installation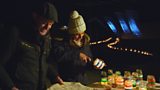 Matt and Anita meet up for a special screening of the Great Crane 'Echo-Maker' art project – shown in Roderick Hector's barn, just a few hundred yards from where the cranes are wintering. To get the screening started Somerset style, Anita brings some Somerset Cider Brandy, whilst Matt delivers some choice cuts of Roderick's succulent Ruby Red Beef. Sean Harris creates a sensory extravaganza with a remarkable projection of the stop-motion crane animations. What will everyone make of this other-worldly art installation?
Credits
| Role | Contributor |
| --- | --- |
| Presenter | Matt Baker |
| Presenter | Anita Rani |
| Presenter | Adam Henson |
| Presenter | Charlotte Smith |
| Executive Producer | William Lyons |
| Series Producer | Joanna Brame |