Main content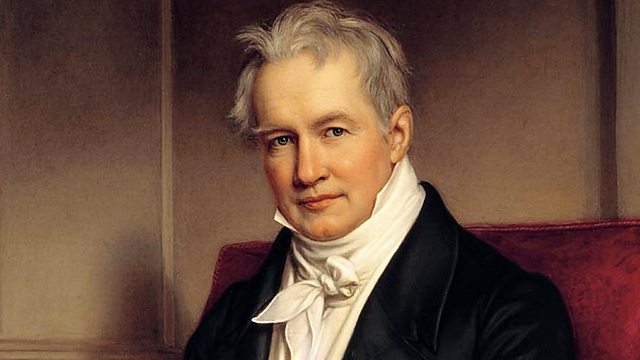 Burns the Radical; Exploration
From Ecuador to the Scottish borders: Eleanor Rosamund Barraclough talks to Maren Meinhardt and Graham Robb about exploring the Scottish borders and the Ecuador seen by Humboldt.
From Ecuador to the Scottish borders: Eleanor Rosamund Barraclough meets Maren Meinhardt and Graham Robb who explore the land on their doorsteps and also follow in the footsteps of others from Humboldt the naturalist and explorer to the forgotten territory of the Debatable Land. They'll be joined by novelist Natasha Pulley whose fascination with Victorian exploration and empire building is reflected in her latest novel The Bedlam Stacks which took her to Peru.
Another Burns night and Eleanor Rosamund Barraclough discusses the new radical ways in which Scotland's artists and writers are approaching and getting inspired by the man who almost invented the term National Bard. Burns Unbroke is a festival designed to showcase how Robert Burns speaks to Scotland's creators today and two of the featured artists are David Mach, sculptor, installation artist and poet, and Kevin Williamson of Neu! Reekie! Williamson has been exploring how Robert Burns might have performed his own poetry while David Mach reflects on why he's still in two minds about a poet who was also a tax collector who still speaks powerfully to a Scottish present.
Graham Robb's book The Debatable Land is out in February.
Maren Meinhardt's book A Longing For Wide and Unknown Things: The Life of Alexander Humboldt is published in January.
Natasha Pulley The Bedlam Stacks is out now.
Burns Unbroke - contemporary arts inspired by Robert Burns - 25 January - 10 March 2018 at Summerhall, Edinburgh
Independent Minds: New Poetry by HMP Kilmarnock ed. Kevin Williamson published by Luath Press.
Producer: Jacqueline Smith
Main Image: Alexander von Humboldt, *1769-1859+, German naturalist and geographer - by Joseph Stieler, c1843 Photo by ullstein bild/ullstein bild via Getty Images.
Last on
Credits
| Role | Contributor |
| --- | --- |
| Interviewed Guest | Maren Meinhardt |
| Presenter | Eleanor Barraclough |
| Interviewed Guest | Graham Robb |
| Producer | Jacqueline Smith |
Broadcast