Main content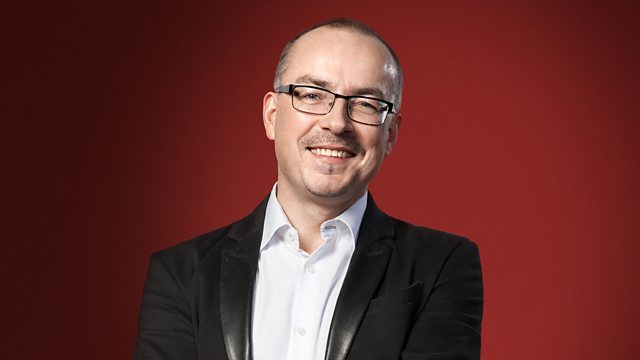 Andrew McGregor with Sarah Lenton and Katy Hamilton
With Andrew McGregor. Including Building a Library.
with Andrew McGregor
0930
Building a Library: Sarah Lenton considers the available recordings of Donizetti's evergreen comic opera, L'elisir d'amore or The Elixir of Love. It is one of the few Donizetti operas that has never been out of the repertoire since its first performance and that is largely because of the seemingly endless stream of melodies as well as an unusually well-crafted libretto from Felice Romani. The recordings spotlight the best of bel canto singing from the last few decades with singers such as Pavarotti, Domingo and Carreras, just to stick with the tenors. In fact the hit aria "Una furtiva lagrima" is a perfect demonstration of Donizetti's uncanny knack of writing effectively for the tenor voice.
1045
Andrew talks to Katy Hamilton about a fascinating group of new chamber music releases including music by Reger from Trio Lirico, the little-known Georg Witte from the Mozart Piano Quartet, and Dvorak and Tchaikovsky from the Escher Quartet.
1145
Andrew chooses an outstanding new release as his Disc of the Week.
Record Review
9.00 am
STRAVINSKY: CHANT FUNÈBRE & LE SACRE DU PRINTEMPS
IGOR STRAVINSKY:
Chant Funèbre
Fireworks, Op. 4
Scherzo Fantastique, Op. 3
Faun And Shepherdess for voice and orchestra, Op.2
The Rite of Spring
Sophie Koch (mezzo), Lucerne Festival Orchestra; Riccardo Chailly
Decca 4832562
SCHUBERT: WINTERREISE D911
FRANZ SCHUBERT:
Winterreise
Mark Padmore (tenor), Kristian Bezuidenhout (fortepiano)
Harmonia Mundi: HMM902264
SHOSTAKOVICH: SYMPHONY NO. 6 & SINFONIETTA
SHOSTAKOVICH:
Symphony No. 6 in B minor, Op. 54
String Quartet No. 8 in C Minor, Op. 110 (Arr. A. Stasevich for String Orchestra & Timpani)
Estonian Festival Orchestra, Paavo Järvi
Alpha ALPHA389
9.30am – Building a Library
Composer: DONIZETTI
Piece: L'elisir d'amore
Reviewer: Sarah Lenton
Recommended Recording:
Ileana Cotrubas (Adina), Plácido Domingo (Nemorino),
Geraint Evans (Dulcamara), Ingvar Wixell (Belcore),
Lillian Watson (Giannetta).
Orchestra and Chorus of the Royal Opera House' Covent Garden.
Sir John Pritchard
Sony 88697446442 (2 CDs)
Other Recommended Recordings:
Angela Gheorghiu (Adina), Roberto Alagna (Nemorino),
Simone Alaimo (Dulcamara), Roberto Scaltriti (Belcore),
Elena Dan (Giannetta)
Orchestre et Choeur de L'Opéra National de Lyon.
Evelino Pidò
Decca 4556912
Katia Ricciarelli (Adina), José Carreras (Nemorino),
Domenico Trimarchi (Dulcamara), Leo Nucci (Belcore),
Susanna Rigacci (Giannetta).
Orchestra Sinfonica Della Rai Di Torino; Coro della RAI di Torino.
Claudio Scimone
Philips 4127142
Mary Plazas (Adina), Barry Banks (Nemorino),
Andrew Shore (Dulcamara), Ashley Holland (Belcore).
Philharmonia Orchestra; Geoffrey Mitchell Choir.
David Parry
Chandos Opera in English CHAN3027
10.20am
REGER: STRING TRIOS
MAX REGER:
String Trio in D Minor, Op. 141b
String Trio in A minor, Op. 77b
Piano Quartet in A Minor, Op. 133
Trio Lirico, Detlev Eisinger (piano)
Audite AUDITE97714 (CD)
WITTE: PIANO QUARTET & HORN QUINTET
GEORG HENDRIK WITTE:
Piano Quartet, Op. 5
Horn Quintet, Op. post
Mozart Piano Quartet; Radovan Vlatkovic (horn); Cornelia Gartemann (violin)
MDG MDG9432046 (Hybrid SACD)
DVOŘÁK, TCHAIKOVSKY & BORODIN: STRING QUARTETS
ANTONÍN DVOŘÁK:
String Quartet No. 12 in F major, Op. 96 'American'
PYOTR ILYICH TCHAIKOVSKY:
String Quartet No. 1 in D major, Op. 11
ALEXANDER BORODIN:
String Quartet No. 2 in D major
Escher String Quartet
BIS BIS2280 (Hybrid SACD)
ROMANTIC VIOLA SONATAS
GEORGE ONSLOW:
Cello Sonata in F Major, Op. 16 No. 1 (Version for Viola & Piano)
FELIX MENDELSSOHN:
Viola Sonata in C Minor, MWV Q14
JAN KALLIWODA:
6 Nocturnes, Op. 186
Hiyoli Togawa (viola); Lilit Grigoryan (piano)
Naxos 8573730 (CD)
11.00am – New Releases
VAUGHAN WILLIAMS: BEYOND MY DREAM
RALPH VAUGHAN WILLIAMS:
The Bacchae: Thou Immaculate on High - For His Kingdom It Is There - Where Is the Home for Me
Electra: Onward O Labouring Tread
Electra: O for the Ships of Troy - There Came a Man
Iphigenia in Tauris: Prelude
Iphigenia in Tauris: Dark of the Sea
Iphigenia in Tauris: Bird of the Sea Rocks
Iphigenia in Tauris: O, Fair the Fruits of Leto Blow
Iphigenia in Tauris: Go Forth in Bliss
Heather Lowe (mezzo-soprano)
The Joyful Company of Singers, Britten Sinfonia; Alan Tongue
Albion Records ALBCD033
ELEGY FOR PAMELA
LUDWIG VAN BEETHOVEN:
String Quartet No. 13 in B flat major, Op. 130 - Cavatina
CHERYL FRANCES-HOAD:
Invocatio
MIKA HAASLER:
A Fugue for Pamela
CECILIA MCDOWALL:
To a Nightingale
ROXANNA PANUFNIK:
Votive
FREYA WALEY-COHEN:
Vitae
DAVID KNOTTS:
At the Mid Hour of Night
WILLIAM ZINN:
Kol Nidrei Memorial
Wihan Quartet
Nimbus NI6356
THOMAS TALLIS, QUEEN KATHERINE PARR & SONGS OF REFORMATION
THOMAS TALLIS:
Gaude gloriosa Dei mater
When Jesus Went (Salvator mundi II)
O Lord, give thy holy spirit
Hear the voice and prayer
Purge me, O Lord
Solfing Song
Verily, verily I say unto you
If ye love me
O Lord, in thee is all my trust
Libera (nos, salva nos)
Litany
Fantasia (O sacrum convivium)
Se lord and behold
Alamire with Fretwork, David Skinner (director)
Obsidian Records CD716
MIDNIGHT AT ST. ETIENNE DU MONT
CHARLES TOURNEMIRE:
Improvisation sur le 'Te Deum'
LOUIS VIERNE:
Suite No. 3, Op. 54: IV. Fantômes
Symphonie No. 6, Op. 59: III. Scherzo
Symphonie No.5 in A Minor, Op. 47: V. Final
MAURICE  DURUFLÉ:
Suite Op. 5
DAVID BRIGGS:
Le Tombeau de Duruflé
Joseph Nolan (organ)
Signum SIGCD470
11.45am – Disc of the Week
 LULLY: ALCESTE
JEAN-BAPTISTE LULLY:
Alceste, LWV 50
Judith Van Wanroij, Edwin Crossley-Mercer, Emiliano Gonzalez Toro; Les Talens Lyriques Christophe Rousset
Aparté AP 164 (2 CDs)