Main content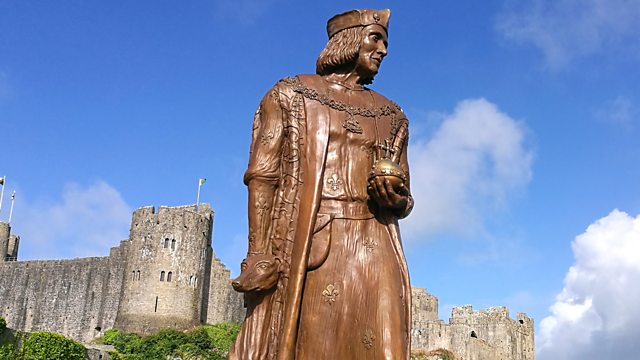 Putting Henry on the Map
Spurred on by the discovery of his enemy's bones in a Leicester car park, fans of King Henry VII in Pembrokeshire shine a new light on the Welsh-born Tudor King.
This is the story of King Henry VII, the Welsh-born founder of the Tudor dynasty, one of Britain's most enduring and successful royal dynasties, and the dogged determination of a small community in West Wales, not only to gain him some historical recognition after more than 500 years, but to put the town of Pembroke - his birthplace - firmly on the Tudor tourist trail.
Since Henry's arch enemy Richard III was dug up from a Leicester car park and famously re-interred in 2015,the number of visitors to his grave in Leicester Cathedral has increased tenfold. March 2015. The Richard III Visitor Centre attracted ninety thousand visitors last year and Richard is a big tourist attraction.
And the Tudor dynasty which succeeded Richard III also continues to be a huge draw for tourists, from the Tower of London to Stratford-upon-Avon and Hampton Court Palace.
But in West Wales, where people come primarily to enjoy the stunning coastline, you could be forgiven for remaining blissfully unaware that Pembroke was the birthplace of the King who started it all. The fascinating story of Henry VII, the Welsh-born King who defeated Richard III at the Battle of Bosworth Field, isn't celebrated locally, except at Pembroke Castle which has been running guided tours around the rooms where Henry Tudor was born and spent his formative years.
It took years of campaigning and fundraising but the town was finally been able to pay for an impressive bronze statue of Henry VII, which now stands tall on Pembroke's main bridge. But, although this marks an important first step, the team behind it say they won't stop there. Next, they want a Henry VII visitor centre to rival Richard III's in Leicester. And they are a pretty determined bunch.
In this programme we ask why Henry VII has been lost to Welsh history and consider whether he is in fact more important than Richard III. And we meet the community who fought to put him on a pedestal - literally.
Last on
Broadcasts