Main content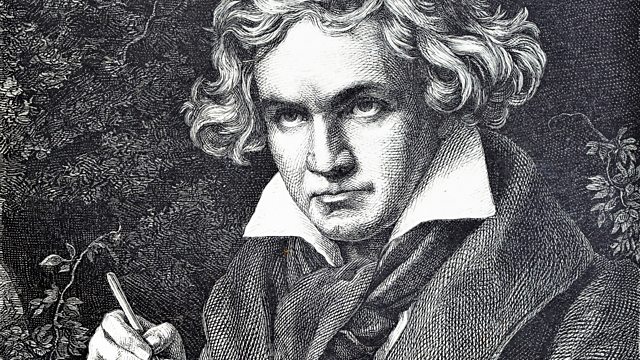 Beethoven Under Siege
Donald Macleod traces Beethoven's life and career in a Vienna under threat from Napoleon.
Donald Macleod traces Beethoven's life and career in a Vienna under threat from Napoleon
Composer of the Week explores Beethoven the pianist and composer for the piano. He became renowned in his day both as a virtuoso performer at the keyboard, and for his ground-breaking works for the instrument. When first starting out on his musical career, he greatly admired Mozart for his piano works, particularly the concertos. Beethoven sought out the older composer for lessons, although these never took place. Similar to Mozart's own career, Beethoven also made a name for himself initially not only as a composer, but as a pianist, and after Mozart's death was destined to take his place in Vienna as the leading composer there. From the outset, his works for the piano showed great skill and an independence of creative thought. In each programme this week, Donald Macleod explores one of Beethoven's five piano concertos, and the period in which it was written.
Beethoven thought that his prospects in Vienna were limited, and was convinced he had enemies in the city conspiring against him. The offer of a paid position arrived from the King of Westphalia, so Beethoven started packing his bags to leave. Once they heard news of this, Beethoven's friends and supporters put together a financial package to keep the composer in Vienna. Amongst these friends was the Archduke Rudolph of Austria, whom fled Vienna with the arrival of Napoleon's troops. Beethoven's souvenir to his friend's temporary exile was the piano sonata Les Adieux. During this difficult period of a Vienna under siege, Beethoven also worked on his fifth piano concerto, which was also dedicated to the Archduke. Due to its atmosphere of majesty and heroic grandeur, it has since attained the nickname of the Emperor. Given Beethoven's outbursts of rage against Napoleon and the French during the occupation, it's unlikely he'd have been pleased about this.
Six Variations in D major on an Original Theme, Op 76
Gianluca Cascioli, piano
Piano Sonata No 26 in E flat major, Op 81a (Les Adieux)
Angela Hewitt, piano
Piano Concerto No 5 in E flat major, Op 73 (Emperor)
Richard Goode, piano
Budapest Festival Orchestra
Ivan Fischer, conductor
Producer Luke Whitlock.